Healthcare Software Development
Do you envision software to improve the healthcare industry?
Do you want to get it into the market faster than your competitors?
You can.
With IT Craft.
Provide tomorrow's healthcare solutions to patients today.
I want to discuss my project
Healthcare Software Development Services
You can always depend on the following software development services:
Healthcare mobile app development from scratch

healthcare web app development for all devices and levels of complexity

Healthcare software reengineering

New functionality for an existing app

Technical consultation (including code inspection)

Reliable, up-to-date healthcare app support and maintenance
Portfolio
With almost 20 years in the software development business, IT Craft has helped clients worldwide with healthcare app development delivering high-quality, secure solutions for their ideas. On time. On budget.
Arctrieval
Arctrieval is a HIPAA-compliant medical system for secure correspondence between healthcare providers and patients. The system makes it possible to securely release sensitive information. Arctrieval replaces the cumbersome, paper-based workflow.
The IT Craft development team helped with healthcare app development responding to all client requests in a reliable, timely manner. The team ensured the software was secure and met HIPAA's stringent standards.
Arctrieval is easy to use and provides an effective way for communication between different users in the medical system.
View Case Study
Flexwise
Flexwise is a secure platform assisting both hospital administrators and nursing professionals. Hospital administrators can efficiently hire and manage qualified temporary employees from Flexpool. Nursing professionals manage their schedule logging the beginning and end of their shifts via a smartphone app.
The IT Craft development team helped their Flexwise client launch an MVP app. They also introduced best practices on the project, including test automation, dockerization, and deployment automation.
The result? Increased source code quality and shorter deployment time.
View Case Study
Partnering360
Partnering360 is a Web system built specifically for professionals in the life science and pharmaceutical industries. Partnering360 provides functionality for these professionals to stay in touch before, during, and after conferences: schedule conference meetings, plan business activities, and search for relevant opportunities.
The IT Craft team worked on Partnering360, closely liaising with the client's in-house development team. IT Craft's team focused on healthcare web development. Their work helped improve existing source code and enriched it with new features.
View Case Study
Do you want an estimate for your healthcare app? Contact us today. Take your first step towards success. It costs you nothing!
contact us
Flexible healthcare software development
process to fit your needs
IT Craft: Your go-to outsourcing healthcare software development company.
We help you turn your ideas into software requirements: your dream becomes your reality—your own high-quality, secure healthcare app.
Platforms
Web apps
Cloud sulutions
Native and cross-platform apps
Embedded healthcare IoT
Transition from old desktop software to a new platform
Skills
System analysis
Software architecture
Prototyping
Front-end / back-end development
Third-party services integration
Quality assurance
App deployment
Data migration
App performance optimization
Support and updates
Healthcare mobile apps keep end users in mind
Four large end-user groups in the healthcare services market benefit greatly from healthcare mobile apps.
doctors

patients

hospital administrations

insurance companies
IT Craft has extensive experience in developing apps for all four user groups.
Types of in-demand healthcare solutions IT Craft can develop for you:
Apps for doctors

Patient management apps
AI-based diagnostics apps
Reminder apps
Reference apps

Healthcare apps for patients

Telemedicine apps
Navigation apps
Electronic appointment systems
Health condition apps
Reminder apps
Apps for a healthy lifestyle

Medical apps for hospital administration

Clinical management apps
Software for data collection and processing
Apps for referencing
Apps for release of health records
Apps for emergency alerts

Apps for insurance companies

App solutions for secure data exchange
Reimbursement app
Send us your requirements. We will send you a project plan for your app.
Together we can simplify the lives of those afflicted and those who help the afflicted.
contact us
Features of healthcare apps
It is important to determine the best feature list for your app. Features help you stand above your competition.
The list of basic features for healthcare app development:
For users
Registration
User profile management
Search
Select, preview, confirm
Chat
Video/audio calls
User calendar and appointments profile management
File sharing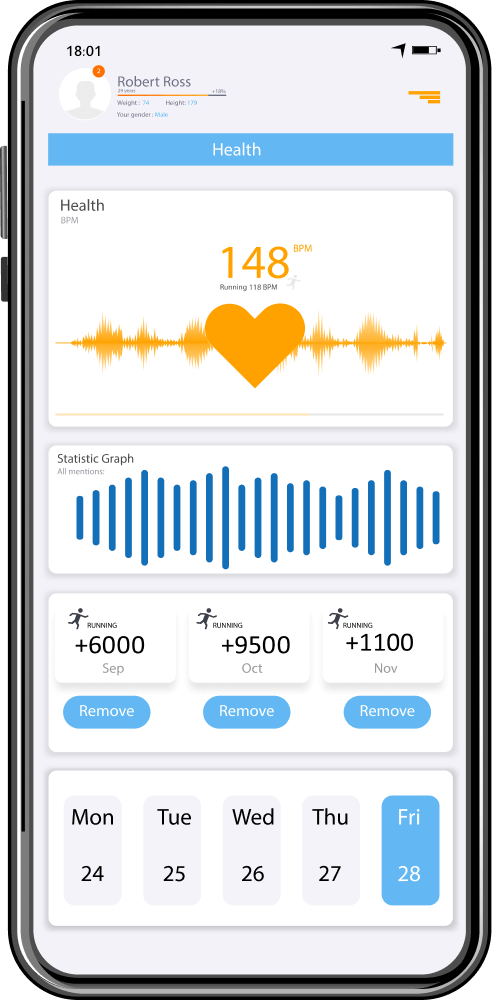 Notifications and reminders
Encounters
Payment integration and/or insurance details
History
FAQs
Support chat
Collect and monitor health parameters (for tracking apps)
Level of privacy settings
For app administrators
Dashboard
User management
Password recovery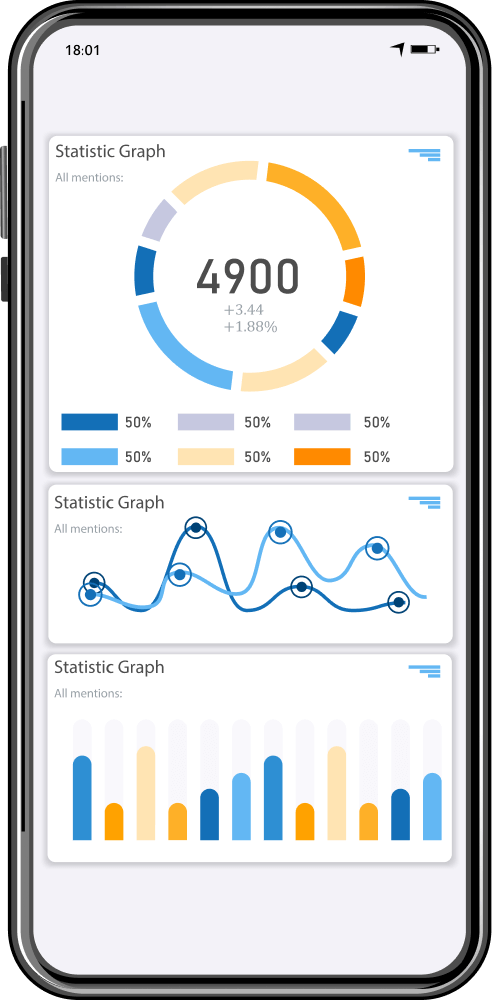 Analytics system
Log-monitoring system
Challenges of healthcare mobile app development
At every level, healthcare mobile app development is complicated.
Every product owner needs to consider the following points:
Meeting stakeholders' needs

The number of stakeholders is larger than the number of end-user groups. When designing a healthcare app, a product owner must keep in mind all possible stakeholders. They have different interests and interconnections.

Regulations

Regulatory requirements are often deemed the biggest challenge. Healthcare apps must comply with HIPAA (USA) and/or GDPR (EU) regulations. Governments take an active part in creating legal framing for eHealth. Not meeting compliance standards results in massive fines.

Integrity

Healthcare apps might need to work well with existing, locally developed solutions. They might also need to work on available infrastructure or need a small investment into hardware.

Security

Healthcare apps impose high requirements of coding standards, data exchange, and storage. Mistakes are costly. Avoid costly errors by using code inspection for a healthcare app. For your peace of mind, choose thorough user-acceptance testing.

End-user centricity

Patients need a healthcare app to get help at the right time, in the right place, using the right treatment methods—all at affordable costs. Mobile medicine apps make on-demand healthcare possible.

Quality and equality

The end goal of healthcare mobile app development is granting the same high level of medical services to everyone. People get timely consultations and receive treatment from relevant specialists. Healthcare apps make the outpatient model possible.
How we work
IT Craft applies this five-step Agile processto healthcare mobile app development: