Indoor Location Tracking
Do you want your business to succeed greatly?
Tap into shoppers' preferences with location tracking and data collection. Isn't it time to skyrocket your business?
Let's discuss
Indoor
Positioning Systems
An indoor location system helps in many cases. It creates routes, navigates users, locates items and inventory assets, and more.
What is a powerful solution for indoor positioning? A system that combines a geomagnetic map, BLE beacons, and motion sensors. Collected data is merged for navigation accuracy of approx. 2 ft. – 6 ft. (0.5 m to 2 m) possible.
User device

smartphones or wearables that support Bluetooth Low Energy technology.

Indoor location tracking app

a pre-installed app with a map of the facility.

BLE beacons

BLE beacons help identify user location or trigger an event in an app.

Indoor mapping

a map that is prepared with geomagnetic fingerprinting.
Beacon tag

an active transmitter that is installed on an asset or inventory for location tracking.

Gateway

device designed to detect and track beacon tags.

Tracking app

an app that displays equipment location and movement in real time.

Indoor mapping

a geomagnetic map is needed to determine location boundaries.
Navigation Capabilities
Real-Time Indoor Positioning
Real-time navigation apps help manage busy venues, guiding users to a selected destination point. IT Craft integrates indoor location services of several types ensuring accurate positioning inside all venue types.
turn-by-turn navigation
sensor-fusion algorithms
indoor-outdoor transition
hardware calibration
GPS and Navigation Applications
Optimize routing by a custom mapping app. Add required layers and points automatically. Track users with help of GPS, Wi-Fi, or 4G LTE networks. Our team delivers a stand-alone app exchanging data with external software.
custom features
route generation and planning
data processing and reports
3rd-party integrations
Point-of-Interest Locating
Help users organize an adventure tour across the city. Provide instructions for reaching destination points. Activate interesting visual and audio content. We build a system and help you update it regularly ensuring high-level user engagement.
promotion and engagement
offline mode
gamification
multi-language support
Geo App Development
Successful apps often depend on correct outdoor/indoor location tracking: it boosts transparency and thus, customer loyalty. We adjust your app to your specific idea encouraging your users to remain loyal.
instant status updates
on-demand services
accurate timeline calculations
planning and instructions
Integrations and Customizations
Custom solutions create the most value; they are the best fit when you need technical excellence. Our team provides necessary improvements by integrating required technologies into your project or introducing custom algorithms.
heat map analytics
data synchronization
API development
access to device hardware
Geofencing and Location-Based Services
Geofencing technologies help determine user proximity and trigger an event based on that. Safety increases. Context-based promotional campaigns also become possible. We help you build geofences, set up triggers, and detect user activities.
context-based marketing
optimized power consumption
event scheduling
security alerts
Our clients'

success stories.
We love to hear what they say about us.

Stories of people impressed by our service offerings
UAE
Mustafa Alhashemi, Founder at Smart Navigation Systems
"IT Craft has managed the project in a very efficient manner with a high degree of professionalism and responsiveness."
USA
Charles Sakkal, Founder at eLaundry
"IT Craft excels in this industry, and I'm happy with them."
USA
Chris Scheid, Founder at MyCarrier
"They make development easy for clients with more business expertise than technical savvy."
Our Portfolio
RocketRoute
RocketRoute integrates information from third-party resources and provides all required reference information at your fingertips.
The team launched an MVP and quickly expanded it to mobile iOS and Android apps.
SoS Pro
This advanced alarm app helps determine user location in an emergency situation and immediately sends an alarm notification to the responsible person.
Several technologies are used to determine precise user location. Users can set up parameters in just five minutes. They can also customize alert settings.
eLaundry
This CRM automates order processing while factoring in multiple parameters. A special GPS tracking app ensures optimum routes and schedules.
The team took over the project, improved source code, and completed the CRM system.
Our School Bus
Our School Bus tracking app helps parents and school administrators monitor the exact location of children and buses on their way to/from school.
The app also automatically scans students when they get on the bus and sends information to the server. This keeps parents "in the know" regarding the exact location of their children and diminishes stress parents often feel when their children are beyond their immediate protection.
InNav
The InNav app helps users find the best route within a venue, find their friends, and locate their car parked "somewhere" in the parking lot.
The app also provides a heat map tool on user activity and an administration panel where administrators can manage BLE beacons.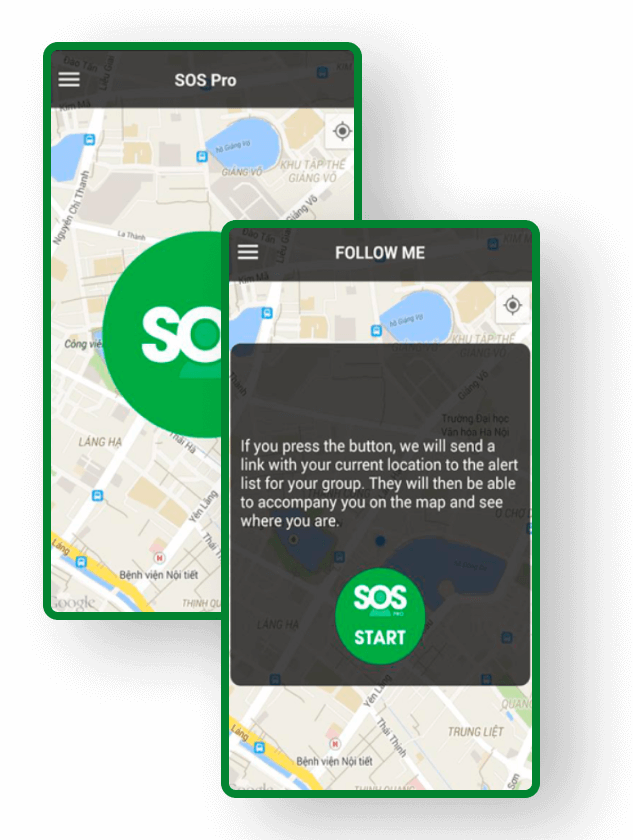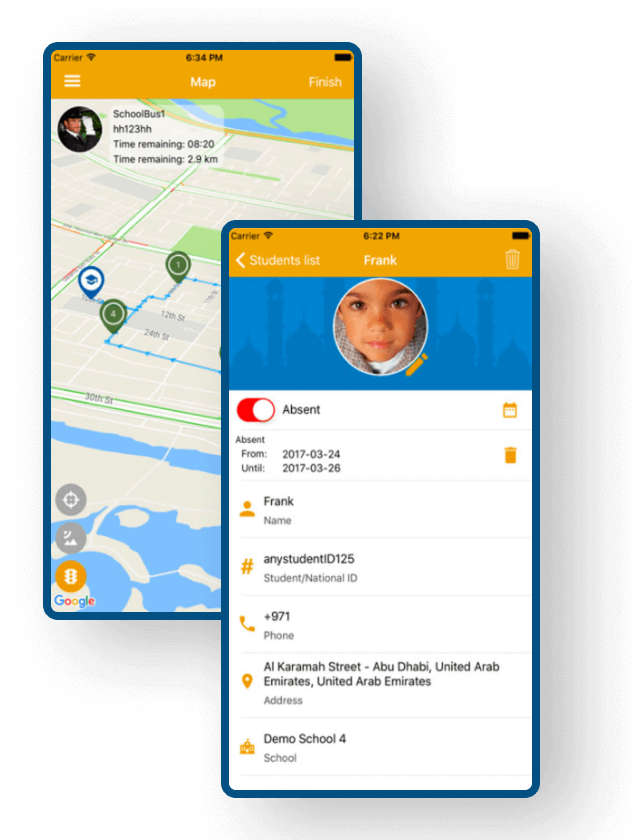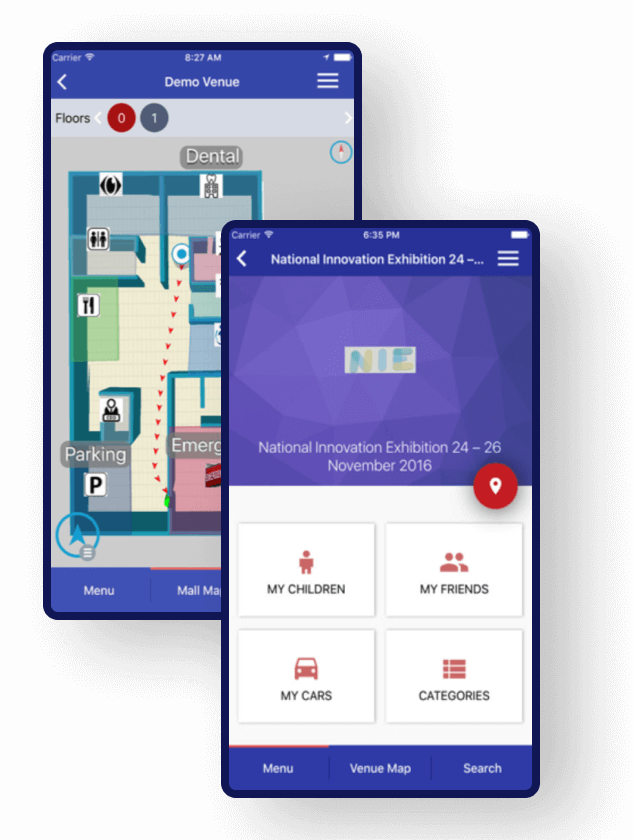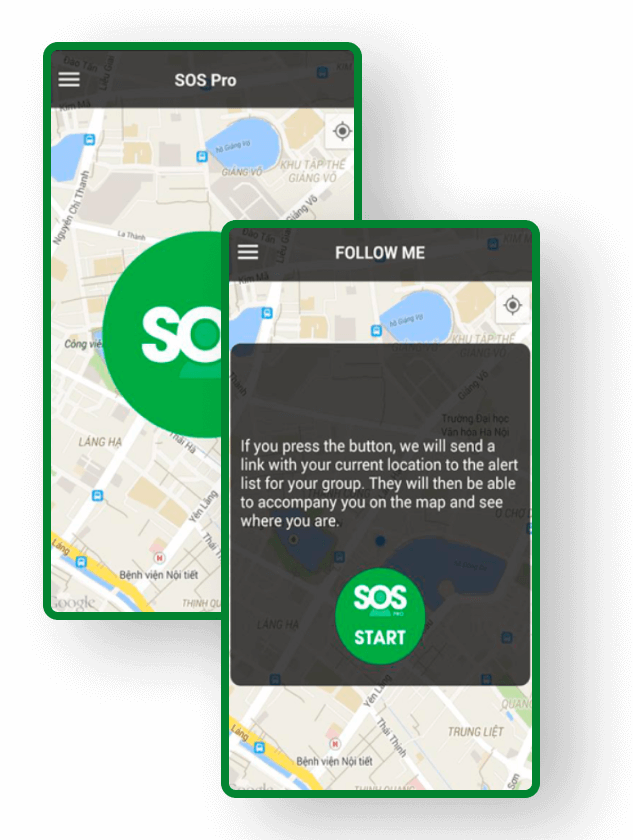 SoS Pro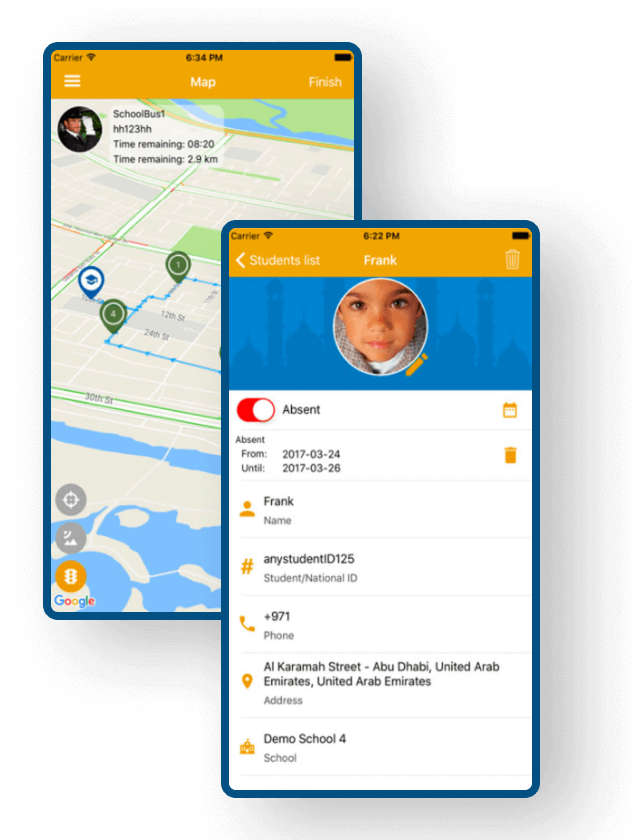 Our School Bus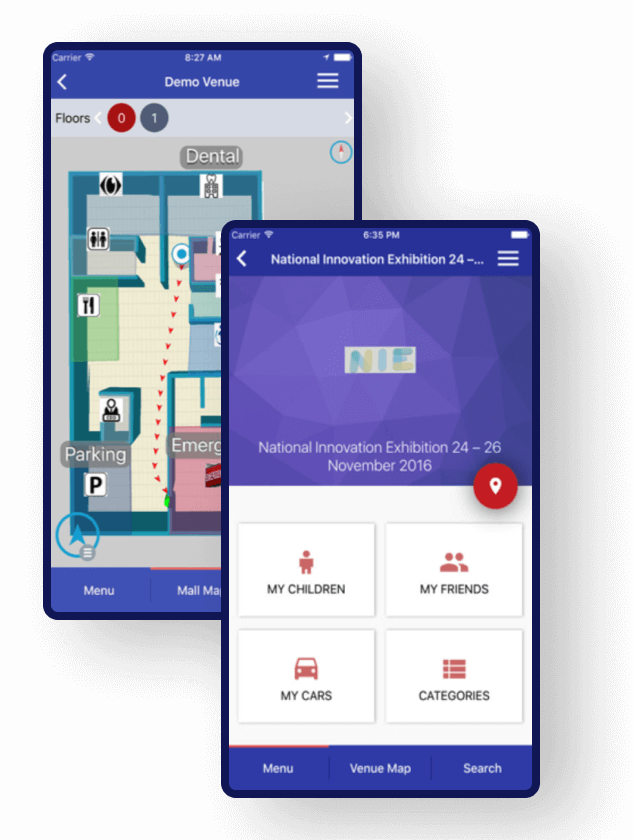 InNav
Contact us, we can help!
Not sure which indoor location tracking software is best for your needs?
contact us
Industries
Do you think GPS is cool? An indoor location tracking system can make your organization more efficient, effective, and productive.
Logistics

monitor inventory location for fast access
audit internal processes
guide site visitors
map and test new flows
detect equipment to eliminate idle time

Airports and railway stations

help passengers find correct gates
guide in parking lot or to transportation line
manage access to restricted area
map busiest areas
create and execute promotional campaigns

Hospitals

navigate patients to appointment rooms
monitor portable equipment
send emergency alerts to doctors
send update notifications to patients
provide access to restricted area

Museums

guide visitors through an exhibition
offer extra content about events and services
activate guided information when approaching an object
activate quizzes and AR mini-games
collect user data to evaluate promotional campaigns

Shopping malls

provide visitors with precise directions to destination point
plan routes for people with special needs
locate friends and cars in parking garage
collect analytics on visitor behavior to plan new services and campaigns
send promotional and alert notifications
questions

from our clients
Indoor mapping is the process of creating digital representations for indoor spaces. It is crucial for indoor location tracking. A precise digital map of a floor makes it possible to locate users and objects, create routes, and navigate users through buildings.
How do you build an indoor navigation system?
An indoor navigation system is a complex piece of software that requires integration of several technologies and fine-tuning to different user devices.
Indoor navigation development includes several steps:
analysis of facility and choice of technological stack (beacons, geofencing)
purchase of beacons and/or subscriptions for navigation engines
iOS/Android indoor location tracking app
development of a location tracking app for wearables
development of Web admin panel
venue mapping
installation of beacons
tuning and adjustment
beta-testing
launch for wide audience
What are indoor positioning analytics?
Indoor positioning apps collect user data on user movement inside the facility. This data is then displayed via heat maps or diagrams. They track user behavior inside buildings to help optimize facility management.
Indoor positioning systems can be also used for object tracking, e.g., inside warehouses or hospitals, helping optimize flow, monitoring costly equipment, and preventing theft.
How much does an indoor navigation system cost?
This all depends on the required feature list. A basic feature list costs between $30,000 and $350,000. The estimate varies based location and hourly rate of chosen software development provider. Regular subscriptions for indoor navigation engines and costs of BLE beacons are additional.
How does indoor positioning system work?
Briefly, a smartphone detects signals from three beacons. It uses the strength of beacon signals to determine its position. Geofencing helps create facility maps and specify location. Smartphone motion sensors help track user movements.
For asset tracking, beacon tags actively transmit signals that gateways detect. Gateways detect signal strength and send the data to the server. The server calculates position and sends it to the user app. Geofencing helps precise location and determine the area from which assets cannot leave.