Dedicated Software Development Team
A dedicated software development team is the most powerful solution of available cooperation options for your project.
When you select a dedicated team, you:
Speed up project delivery. Decrease costs. Enjoy transparency.
Let's discuss
Benefits of the
Dedicated
Development Team
Full-Time Availability and
Commitment
Problem: 72% of projects experience delays and coordination issues due to part-time or dispersed developers.
Our solution: A Dedicated Development Team provides commitment, ensuring consistent progress and timely delivery.
Circ. 40% Increased Expertise
and Specialization
Problem: Approximately 22.8% of startups fail due to needing the right team with specialized skills, leading to suboptimal solutions.
Our solution: Our solution: Our specialized team achieves an approx. 40% improvement in problem-solving and high-quality solutions, reducing project failure risk.
Up to 25% Improved Team
Alignment and Cohesion
Problem: 22.8% of startups fail due to not having the right team, 16% fail due to disharmony in the one. Combined, the team alone contributes to a 38.8% failure rate.
Our solution: Our emphasizing team alignment and cohesion led to an approx. 25% productivity increase and reduced team-related failures.
Scalability and
Flexibility
Problem: 64% of businesses struggle with resource limitations and inflexibility, leading to project delays and missed opportunity
Our solution: A team offers scalability and flexibility, adjusting resources and skills to meet evolving project needs and ensuring optimal resource allocation.
Check out the approximate rates of desired experts
With our staff augmentation calculator, you can find the cost ranges to build your product.
Calculate now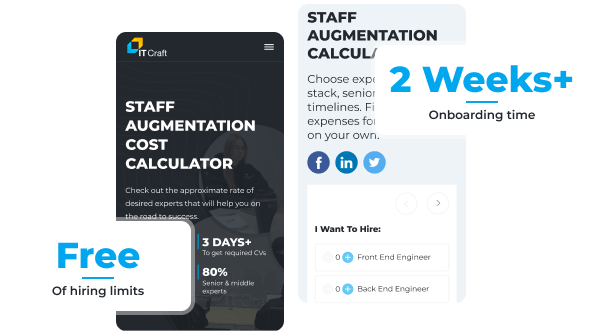 Our Portfolio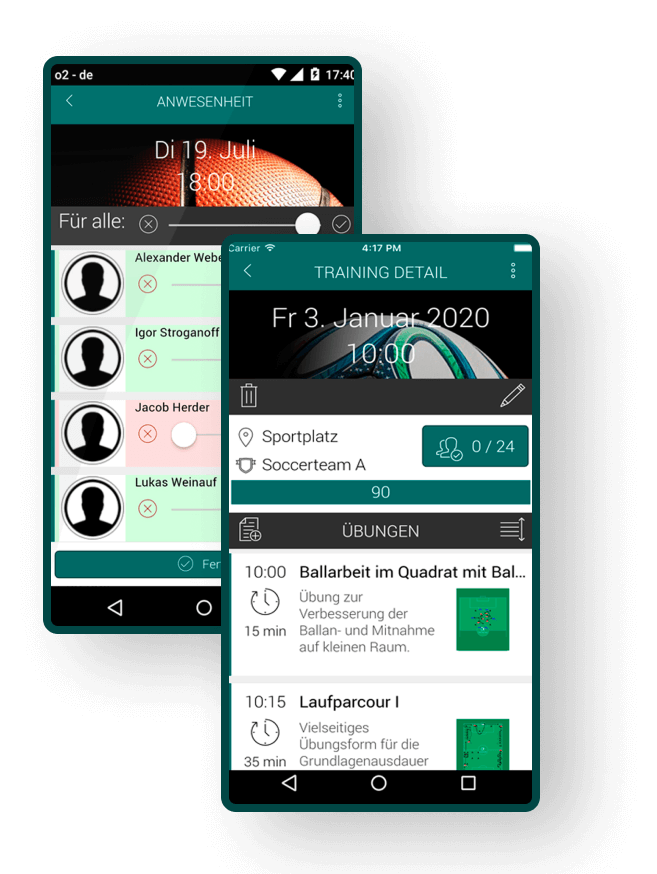 Our clients'

success stories.
We love to hear what they say about us.

Stories of people impressed by our service offerings
USA
Adam Orsi, VP of Development at Flexwise
"They have great project management skills and there haven't been any problems with onboarding."
USA
Chris Scheid, Founder at MyCarrier
"Impressive design complements rigorous development, resulting in positive feedback from stakeholders."
Germany
Martin Berg, Co-founder at 99coaches
"…The Agile approach of IT Craft to develop the app is just meeting our needs perfectly to scale the product in the best possible way."
Get your ultimate staff augmentation guide
Explore opportunities, benefits, how to avoid main issues, and squeeze maximum out of team extension.
Download now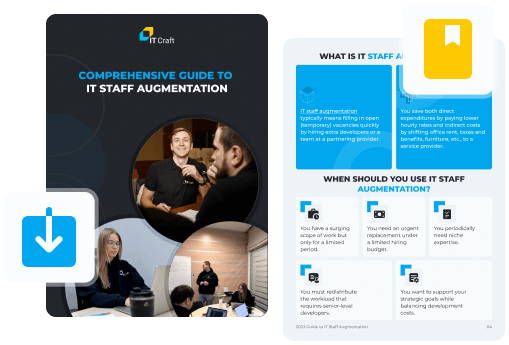 How we work
IT Craft's Setup Process
Send your project request

Send us any relevant information on your project. We sign an NDA to ensure your peace of mind for a safe, transparent discussion.  

Get a roadmap

We carry out a detailed analysis, prepare documentation, and put together a team that meets your requirements.

Kick-offproject

As soon as details are finalized and approved, your dedicated software development team starts working on your project.

Get your product delivered & launched

Agile development applies to ensure both adjustments to changing business goals and timely, high-quality deliveries. 

Expand and scale

The team optimizes app performance, provides required security updates, and adds functionality end users want.
Engagement
models
Needs differ. You might require delivery of your entire project or only a portion.
Or you might want a team to keep working after product launch.
At IT Craft, we ensure you get the best value for your investment.
TeChnologies
Laravel

Node.js

Angular

Vue

React. JS

C#
Yii

HTML5

JavaScript

CSS3

Java

Symfony
Java

Objective-C

Flutter

Kotlin

Swift

React Native
Xamarin

Ionic
Kubernetes

Docker

Terraform

Google Cloud Platfrom

Microsoft Azure

AWS
Chef

Puppet

Ansible

Bamboo

TeamCity

Github Actions
GitlabCI

Jenkins
Zeplin

Figma

Adobe XD

Sketch

Balsamiq

InVision
SoapUI

Selenium

Apache JMeter

SpecFlow

nUnit

Postman
Why is IT Craft?
Extensive Expertise

Our dedicated team of software development experts brings deep industry knowledge and diverse skills. We assemble tailored teams for your project.

Flexibility and Scalability

With a flexible approach, we adapt team composition, scale resources, and adjust workloads to meet your changing requirements efficiently.

Client-oriented Approach

Your project's success is our priority. We prioritize open communication, regular updates, and proactive problem-solving for a successful partnership.

80% Senior & Middle Team

We boast a team composition where our team comprises senior and middle-level professionals. Your project is handled by a competent team with extensive expertise.
questions

from our clients
What is a dedicated team?
A dedicated software development team means a team with predefined skills and competencies assigned by a software development provider that works on the provider's side. A dedicated development team can take over an existing project, augment in-house team, or start development from scratch.
How do you structure a software development team?
Approaches to team structuring depend on your requirements.
The team always includes a project manager and technical specialists with a specific focus: front-end, back-end, or mobile software developer(s) and QA engineer(s).
Usually, a client interacts with a project manager, the primary contact point. Regular meetings with the entire team are possible to enhance project workflow.
What are the roles in a development team?
Dedicated teams include distinct roles:
Project management – plan and coordinate team activities.
Business analysis – prepare project requirements.
UX/UI design – work on software visual parts and improve user flow in the system.
Front-end development – program the visible side of an app.
Mobile development – develop iPhone/Android apps for smartphones, tablets, or wearables.
Back-end development – design and develop server-side software.
QA and testing – ensure software meets requirements and works as planned.
DevOps – optimize both app and development workflow.
These activities can be full- and part-time, depending on anticipated scope of work.
When would you use a dedicated team?
Dedicated team model works best for large projects with complex or open lists of requirements.
Here are the signs that your project will win by outsourcing software development partially or fully to a dedicated team:
You pursue long-term success. You plan to add multiple details for user convenience.
You remain open to changes and challenges to best serve your customers. You are ready to pivot to beat your competitors.
You want to maintain your software in perfect order. Regular updates and 99.8% and higher uptime are necessary. No excuses.
You have insufficient resources to recruit, onboard, and retain tech talents. Your project's scope of work needs a full-time team.
You need someone responsible for all tech details on your project. That number is high and keeps growing.
Your project requires well-organized processes. Developers must communicate with each other regularly. For project success, they must share details and knowledge.
What are the benefits of hiring a dedicated team?
When you hire a dedicated software development team, you get a complete, cohesive team with all needed experts. You also get:
Established workflow – Team members who have worked together on many projects have a balanced routine and established practices. They can meet any unforeseen challenges with experience and expertise.
Time and cost savings – Software development becomes one, "all-included" line item in your expenditures. You do not need to keep separate track of taxes, insurances, or office rental.
Missing talents – You get access to all required expertise in your development process.
Focus – The team is fully focused on your project. No distractions on side projects or sudden transfers of leading developers.
Efficiency – The team is your external, off-site department and develops software specifically suited to your stated business goals. No micromanaging on your side.
Team scaling – A specialized provider can scale the team on your project to manage an increasing workload or meet a deadline. State your plans clearly in advance.
industries where we excel
HealthTech

Apps for doctors, CRM systems for clinics administration, patient data management solutions.

Logistics

Warehouse management, asset tracking systems, route planning, and optimization software.

Fantasy Sports & Gaming

White label fantasy sports software, flexible approach, any degree of customization.

FinTech

Financial marketplaces, cryptocurrency trading solutions, payroll solutions.

Ecommerce

Online stores, catalogs, POSs, retail shops.

Education

Let users progress at a pace using your app for learning and practicing when they have a free minute.