AR: the secret ingredient to increase curiosity about content inside printed books.
Remember the heydays of Pokémon Go? Pokémon Go success was a worldwide phenomenon. Developers combined digital content and real-life objects for a blockbuster hit. Augmented Reality was the glue that merged video games, outdoor activities, and fun in perfectly balanced proportions. And, Pokémon Go showed that  smartphone-obsessed users happily spent their time outside walking in pursuit of the next Pokémon Go challenge. 
Innovation with technology: 
Not all people love reading. Yet, full-length books remain popular, surviving in the era of television and digital media. Technology has been the publishers' helping hand for years. Technology keeps providing them with new ways of telling stories.
Looking back, books have come a long way from printed, text-only editions through illustrated albums and pop-up books to fully interactive multimodal stories. Now it's smartphone's turn to partner with books. 
This is where Augmented Reality app development services help: Augmented Reality for publishers is the next big thing.
Books that combine text, pictures, and digital content is the latest trend and in great demand. 
Many readers prefer vivid, intriguing illustrations to engage their imagination and boost creativity—a challenge for some when books have only words. 
Augmented Reality book publishers have accepted the challenge.
What is possible with AR today?
To answer this question, we have analyzed which book categories are best-suited for AR. Also, we have collected a list of Augmented Reality books for your inspiration. Stay tuned!
iStorm: Wild Weather and Other Forces of Nature
The Good Fight: America's Ongoing Struggle
My Very Hungry Caterpillar AR
Thomas AR World
The Golden Rule: A Duggin Adventure
The Little Mermaid
Masters of the Sun: The Zombie Chronicles
Popar Dinosaurs 4D Smart Book
Jurassic World – Where Dinosaurs Come to Life
Alice in Wonderland
Crayola Color Alive
Ravensburger Augmented Reality Puzzle 3D
Bonus section: must-try AR visualization apps:
Do you too want an AR book?
Contact us for an estimate.
What books can benefit from Augmented Reality apps?
Augmented Reality is the exact point where readers become participants.
Augmented Reality adds new dimensions to almost every book, so it is read and reread, played and replayed again and again and again. And we all know, that repetition is the mother of learning.
Want you child to learn? Join the AR book train!
AR: the new growth direction for book publishers.
Augmented Reality makes it possible to add extra content that engages users to learn more on a topic:
animated 3D models
video and audio explanations
website links with interactive content
short notes on important facts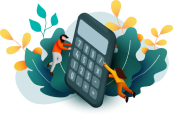 Are you thinking of an app? Wondering how much app development costs?
Check out this mobile app cost calculator. Get an estimate only in 5 – 10 minutes.
AR books you might like to read
Below are several types of books that have already benefited by adding AR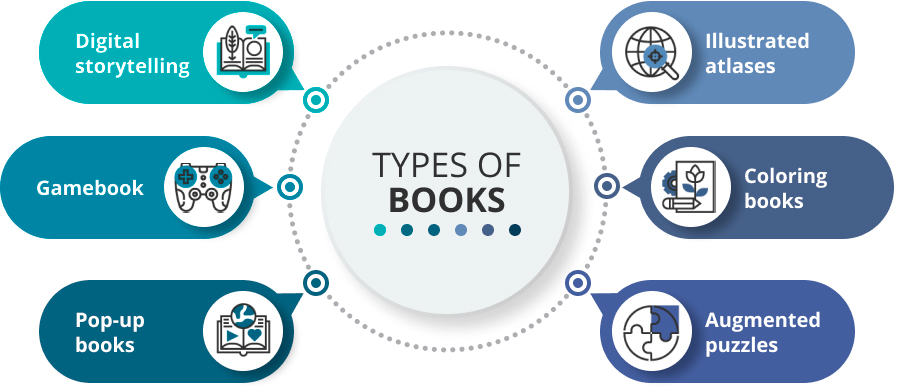 Digital storytelling.
Augmented reality greatly helps different kinds of narratives. With an AR app, readers get more context about things they might have incorrectly imagined. For example, they can see how ginormous Moby Dick compares to the doomed Pequod or how Old Jolyon Forsyte was attired.
Children's literature.
This is the most successful use case of Augmented Reality for publishers to date. Children are curious. They love picture books. They love playing. They LOVE making up stories! A perfect match to become engaged AR book readers.
Gamebooks.
Users can choose an option and enjoy watching a short video flashback. The app can also show animated characters. The app showcases their skills and progress, plays different storylines, and much more. As result, AR increases playability.
This Augmented Reality-like technology has been around for a long time on almost everyone's bookshelves. Now, static pictures appear in three dimensions, move, and even interact. The book is thin. The content, rich and engaging.
Illustrated atlases.
Children (adults too) can enjoy seeing different animals, historic buildings, the human body, and hundreds of other amazing things placed on the dining room table. View them from different angles, watch short videos, or read quick facts.
Coloring books.
Now children can color a character and interact with it on a device screen. They even make it respond to their touch. Or, they can play a mini game featuring the character they have just colored.
Augmented puzzles.
AR can be used in publishing beyond illustrated books. Puzzles, perhaps? Indeed. Players spend long hours composing a picture from thousands of tiny cardboard pieces. As an extra reward after they finish, they can aim their smartphone camera at the finished puzzle and enjoy a 360-degree picture of their achievement.
Playing cards.
Playing cards can also be interactive. Use them to play mini games, model animals, monsters, gameplay characters, collect, or make up battles and more.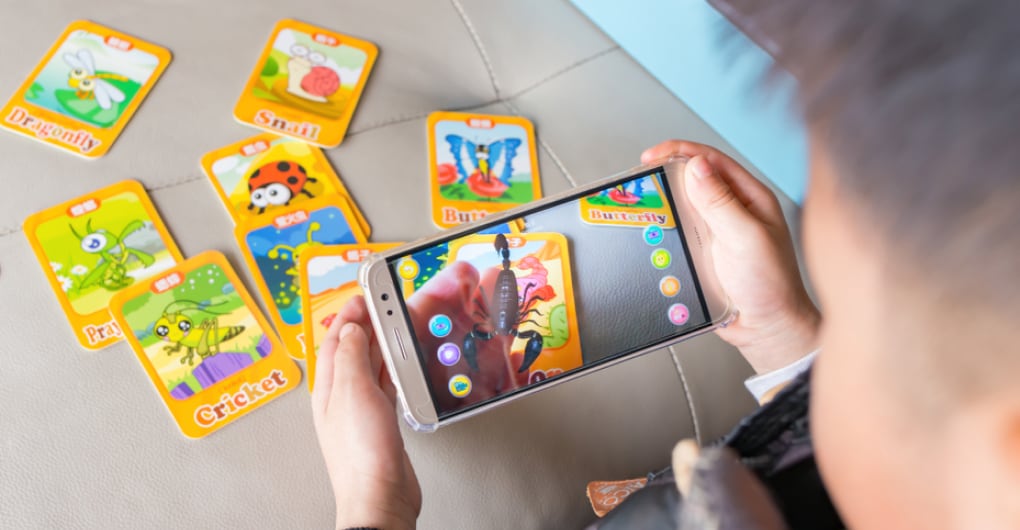 Augmented Reality books currently published
How do you know Augmented Reality works today, not sometime in the distant future? The best way is to look at Augmented Reality books that are already out.
Check out the list below of Augmented Reality for publishers. AR made the difference for these books. Yes, it was exactly AR that prompted customers to choose that book from the bookshelf.
1 iStorm: Wild Weather and Other Forces of Nature
In her book, Anita Ganeri has collected a variety of climate disasters, from earthquakes through wildfires to thunderstorms. This Augmented Reality book for children explains how nature at its most devastating works.
Each book page describes a single phenomenon, including why it is never safe to stand near a real tornado (just ask Dorothy). Using the free app, users can activate an AR tornado and learn more about its nature. AR illustrations destroy nothing in your house and raises children's awareness of natural disasters and how they affect our Earth.
2 The Good Fight: America's Ongoing Struggle
Rick Smolan and Jennifer Erwitt have written a book to show how much US society has accomplished as a nation in its struggle toward freedom and equality.
In order to bring the stories to life, Smolan and Erwitt collected over 180 memorable photos. They enhanced 60 of these photos with more context provided through videos and audios. These extra materials are available through The Good Fight Viewer app. When the reader points a camera at a selected photo, the app displays relevant material.
This way, authors celebrate the successes society has made and illustrate the point of how fragile each accomplishment is.
3 My Very Hungry Caterpillar AR
Several generations of children have enjoyed adventures of a book character, a very hungry caterpillar eating its way through a brief, but gloriously food-filled life. The new generation of preschoolers can raise their very own caterpillar until it turns into a butterfly.
The app reproduces the main storyline in an interactive way. App developers offer an intuitive, child-friendly design, and wide range of activities aimed at awakening children's curiosity to nature.
The app provides a non-competitive game: no dashboards, no right or wrong way to play. Just to play and enjoy.
his free AR app complements the famous series of books about Thomas the Tank Engine and his friends. This app works specifically with The World of Thomas book, a marker-based AR book.
Via the app, users can see Thomas in life-size dimensions and take selfies with him.
They can also play with other characters in the book. They can fly Harold the Helicopter around the room. And even organize a mini race while driving trains to the station.
In order to activate 3D models, users must find special red boxes (markers) in the book, put the book onto a flat surface, and point the camera at the book.
5 The Golden Rule: A Duggin Adventure
just as in The World of Thomas, this Augmented Reality book for children is also based on interactive storytelling.
Through an AR app, authors wrote an immersive story about a little koala and his friends.
The app offers children fun animations, sounds, and stories. This helps increase attention span, and focus. It also helps develop motor skills, language, and problem-solving aptitude.
The app also uses marker-based AR in which book illustrations activate AR scenes.
Founders for the Danish startup, Bookandmagic, previously worked on Lego's AR app before they started their own entrepreneurial venture.
Basically, children can read the classic fairy tale. The app encourages them to do more. App users ignite their imagination by interacting, playing, and learning. Every illustration is a door into an interactive adventure.
Readers enjoy a detailed, magical, 3D universe. They can play sidequests, or search for hidden objects. The book is also an opportunity for the entire family to spend fun time together.
7 Masters of the Sun: The Zombie Chronicles
Will.i.am, known for his works with the Black-Eyed Peas, has presented a futuristic zombie thriller. He strived to integrate several technologies into one solution.
This graphic novel was published by Marvel as a traditional book with both AR and VR apps included. Augmented Reality adds special effects to comic book pages. With its help, zombies come alive and book characters start speaking with familiar voices. Many well-known celebrities performed the voice-overs.
Why do they participate? For the sheer novelty and technological creativity of the venture.
8 Popar Dinosaurs 4D Smart Book
Popar offers an illustrated book to help children discover ancient reptiles.
Children can point the camera at an illustration, discover just how large dinosaurs were, and how they really looked. They can play games of logic and read informative notes, thus gaining knowledge in a fun, easy way. And, they can take photos and share them with friends.
Included are a series of smart books by Popar. Each interactive smart book is accompanied by a special, free Augmented Reality app to enhance children's creative perception.
9 Jurassic World – Where Dinosaurs Come to Life
This is the official book tied to the movie, Jurassic World. Readers can use book illustrations to activate models of different dinosaurs. They can choose between single user, dual user (two friends – two dinosaurs), and life-size mode.
Dinosaurs "come alive"! They roam and roar. Users can take snapshots and share them with friends.
The app contains quite an extensive list of Augmented Reality dinosaurs. It is also available to those who do not own the book. You could download a sample trigger and start your AR experiences. (Unfortunately, the app no longer works properly.)
10 Alice in Wonderland
One of the best AR books is Alice in Wonderland by Design Media, UK and Parramon, Spain. And, it's a pop-up book!
Because of the fantastic nature of Lewis Carrol's story, this story perfectly suits an Augmented Reality book. The Augmented Reality mode (Virtual Reality mode also available) lets readers follow the storyline with interactive illustrations, play games, etc.
Activate your smartphones and follow the White Rabbit (but not Jefferson Airplane's)!
11 Color Alive
Crayola has a collection of amazing Augmented Reality coloring books with many of children's favorite characters including Frozen, Avengers, and many others.
Children can animate pictures in three simple steps: color a favorite picture, scan it with a tablet or a smartphone, and interact with a 3D model on the screen having the same colors.
Color Alive had such great success that Crayola introduced Easy Animation Studio. In addition to a coloring book, children get a new AR app and a mannequin. Children color a picture, then activate the app, and make a snapshot. The children can then animate the picture using a mannequin. They can change the mannequin's postures or make it move. The picture on the screen changes accordingly, so children can take different snapshots. They can even produce their own movie!
12 Ravensburger Augmented Reality Puzzle 3D
This is an extra for puzzle fans: a series of Ravensburger thousand-piece landscape puzzles accompanied by an AR app. When all the puzzle pieces are in their proper place, players activate the AR app and enjoy extra content. For example, the app provides an astonishing view of a Paris night together with notes on the visible landmarks such as the Seine, the Eiffel Tower or Notre Dame Cathedral.
Bonus section: must-try AR visualization apps
Technically, these AR startups do not relate to publishing. But we couldn't resist including them for you. They could fit in perfectly with book illustrations.
Three cheers for a French-based startup, Histovery, with its inspiring example of Augmented Reality storytelling. They created an iPad app showing visitors how Chateau du Chambord looked during the time of King Francis I of France (1494–1547). The Histopad app, offered as an extra service, makes it possible to recreate a historic atmosphere showing things that do not exist in real life for example, wall tapestries, coffers (also used for a mini-game), benches, tables, and much more.
This startup was a success on Kickstarter and keeps rocking on. AstroReality offers a 3D-printed, painted Earth model and an Augmented Reality app with in-depth information on several categories. These include wind and weather, geological patterns, animals and migration, plants, environment and climate change, anthropology and human experience—plus paleodata.
The educational interactive AR globe is suitable for all ages, but even more so, for enthusiasts curious about what happened before and what is happening now to our planet.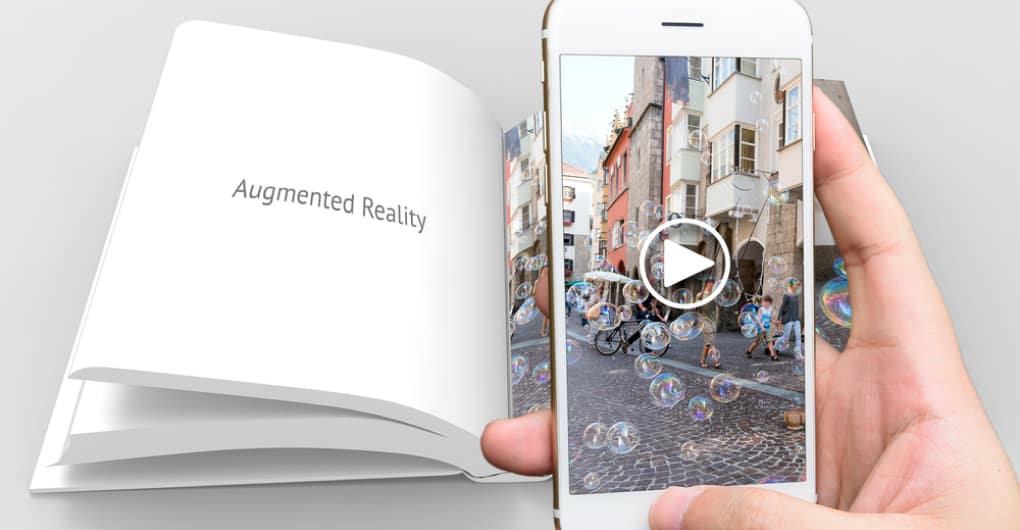 In conclusion.
Pokémon Go made Augmented Reality a recognizable and fun-filled technology. The fusion of books and Augmented Reality has a promising present and future. Augmented Reality mobile apps help readers engage their imagination by making characters seemingly come alive.
Even more important: just as Pokémon Go is good for one's health because it makes players walk long distances and interact with other people, Augmented Reality storybooks help children learn in an enjoyable way. They don't even realize they are learning: they are just enjoying the wonderful world of books. The app supplies them with information which they are more likely to read because it is structured, context-based, and right at their fingertips. No need to scan the whole Internet to find relevant information.
Here is great news about augmented reality software development: simple apps do not cost too much. While the next Pokémon Go or Ikea app might require months of labor-intensive development, a simple AR app can be completed in just a month. So, you can present it to your clientele—and, perhaps, almost immediately enjoy a spike in business. 
Do you want the same or similar features for your app?