Since introduction of iBeacon in 2013, businesses have realized they can benefit from promotions and/or navigation inside buildings and adopted the technology. Now we can find enthusiastic reviews as well as statistics on BLE beacons used inside groceries, retail stores, museums, airports, and stadiums. However, there is little information on how beacons can be used in banking. However, at IT Craft we believe that soon BLE beacon technology can work for banks, too. We would like to show you what makes us think so.
Do BLE beacons navigation have Pros?
Today BLE beacons is the most advanced indoor navigation technology. You can read here about how it works. They are easy to use – you just need to put the transmitters on the walls, map the room, set up the devices, and voila! You can start reaching your customers with push notifications.
Just a few pros of beacons:
tiny size
long time of battery life
best used indoors
more precise than Wi-Fi and more wide ranged than NFC
the technology supports most of the existing smartphones (Android 4.3, iOS 7 and above)
The main benefit for all possible use cases is contextual proximity: BLE beacons help send a targeted message when and where needed based on user's proximity to a particular beacon (e.g., send a notification saying '25% off for our new chef salad' when the user lingers for more than 20 seconds at a salad bar). Beacons allow gathering statistics on decisions, the time user spends etc., depending on what your app can do to engage customers.
That's is why beacons look so good for retailers.

So, how about beacons to improve the experience for clients of banks?
With beacons' help banks can offer an upgraded personalized service for mobile banking inside the bank facilities. The target audience of BLE beacon banking services are mobile wallet users. Beacon-based apps allow detecting customer's device, and so help banks gather analytics like number of mobile customers, peak days and branches, statistics on rejected/accepted notifications etc. to anticipate customer behavior.
Beacons can also be used to manage lines. When entering a bank branch, a client can receive a push notification with a menu where they can see their number in the line to their special manager or decide who can help them best. Via the same menu, a client can get an invitation to try new services. In return, banks can use user's reaction as a quick feedback from a focus group and test their programs or services that way.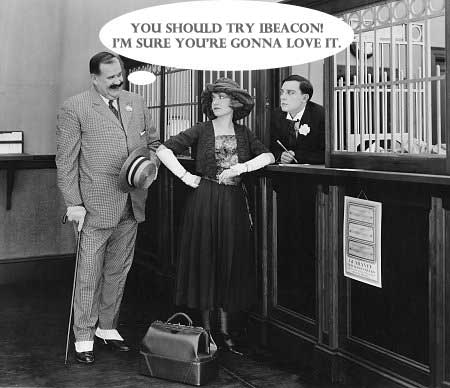 Via BLE Beacons, banks create safe environment for mobile payments and transactions. Visitors can use beacons to make payments, perform transactions, place money on deposit and more – and do it all offline. This is a benefit for banks as it should decrease operation time and boost bank staff efficiency.
An achievable use case is ATM interaction. This is another option for those customers who already use their mobile phones to make payments. Smartphones can replace debit and credit cards with apps that manage PINs. In this case, beacons help recognize customers' smartphones while allowing ATMs, e.g. to dispense cash.
To sum it up, beacons applicability in banking might seem relatively narrow right now, yet beacons allow to focus on a target group of users that's quite homogenous but open to new technologies; beacons can help in making surveys and developing the mobile apps for banking ecosystem.
You can read more about ibeacon app development .