IT Craft is proud of the great experience its experts in Augmented Reality app development have acquired recently. IT Craft's four-tech team heroes successfully participated in the 2023 Lightship
Global Jam organized by Playcrafting, one of the largest developer networks worldwide.
During the event, developers from Invisible Toys—IT Craft's special department laser-focused on AR/VR development and visualization experiences—crafted and presented a multiplayer AR game "Gold Quest AR".
Launched by Playcrafting and supported by Niantic, creators of Pokémon Go and Ingress, 2023 Lightship Global Jam is an event aimed at helping teams explore opportunities from the innovative Niantic Lightship platform. Developers use Niantic Lightship Augmented Reality Developer Kit (ARDK) to deliver great features in their apps.
The event was spread out over time and territory. The European part of the event took place on July 25 – 31.
The challenge was to produce a concept of a fun, cooperative multiplayer, experience, and implement it in an AR app during the jam week. A perfect match for our developers who constantly try out myriad visualization technologies for fast AR and VR development!
The team was confident about its app idea from the very start. A quest game gives friends a great opportunity and fun time playing together. Moreover, players stay active both physically and
mentally!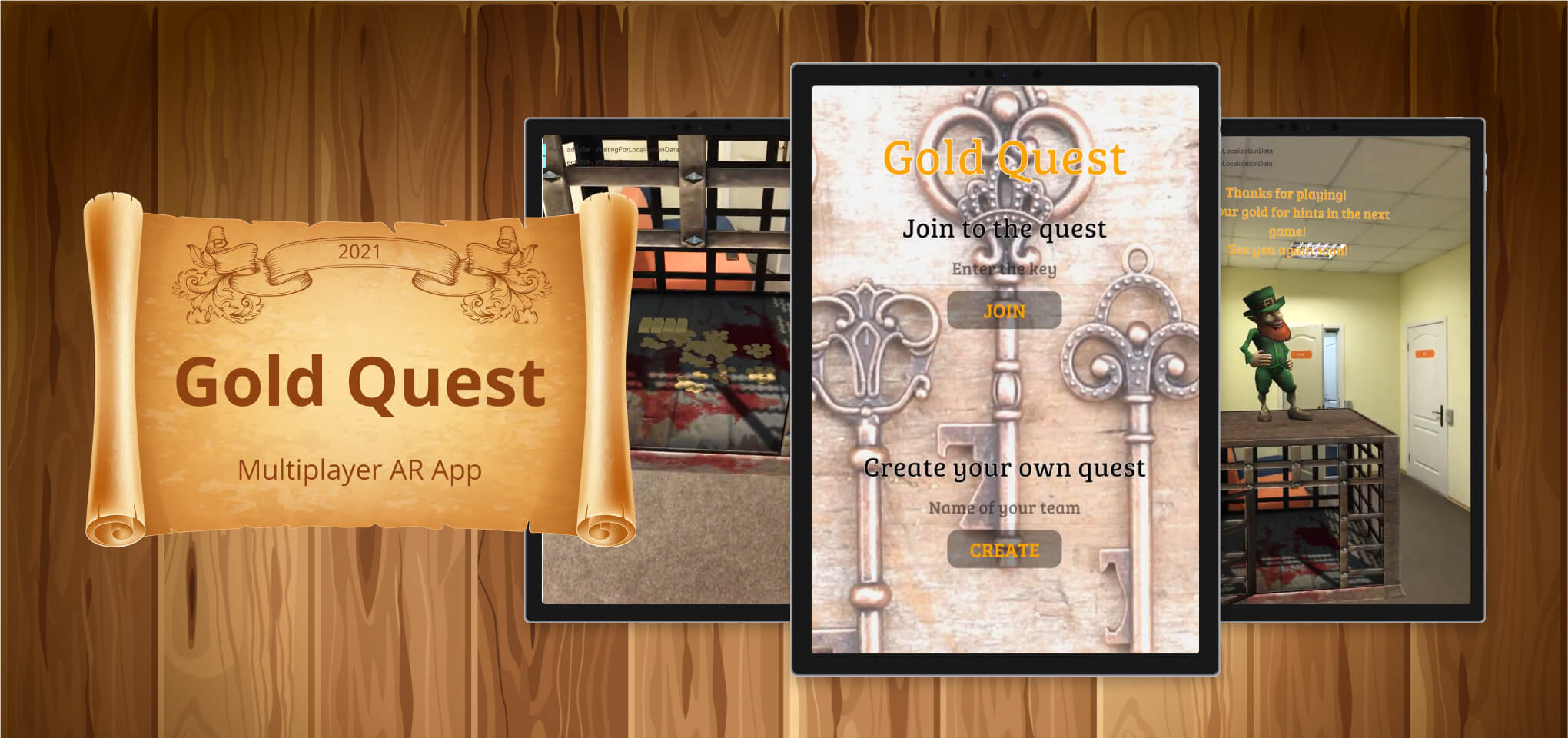 The goal of Gold Quest AR is to collect keys by winning mini-games and open a cage that holds a treasure chest. Currently, the game has three mini-games. Each mini-game contains one key. Players must find all three keys within a preset time limit. With the three keys, they can unlock the cage door and collect coins.
If players run out of time, the door locks permanently.
The first three mini-games are:
Kill Spiders (available)
Hit Targets
Find-the-Treasure
In the mini-game, Kill Spiders, players go on a hunt looking for a spider with the hidden key inside it. They launch the mini-game and see a dirt mound with a hole. Spiders jump out of the hole and hike from players behind and under real-world objects. Players kill moving spiders by tapping on them, trying to find the one that contains the key. Players must be active and move quickly with smartphones in their hands.
The Hit-a-Target mini-game helps keep user excitement high. Long periods of mental activity can be exhausting resulting in multiple mistakes and frustration. It ensures players take a short break from mental activities and test their shooting skills. Players must hit moving targets three times with a bow when those targets appear on their screens.
Find-the-Treasure mini-game lets players benefit from its cooperation component. One player gets the map of its position. Players must find and dig up a key located somewhere outdoors. When they find the spot where the key is buried, all players must center their devices on the key simultaneously and keep pressing on the key to retrieve it from the ground. The key can be extracted only when they act together.
The multiplayer mode is available for up to eight players. The successful players act as a team. The more team members they have, the more they can achieve.
A game session for completing mini-games and collecting coins is limited to five minutes. The faster the players complete the mini-games, the more time they have for collecting coins. The clock
starts anew upon completion of a game session.
Certainly, more features are yet to come, adding more fun, difficulty, and competition between players. Our development team plans to add more games with higher difficulty levels. Players will be able to spend earned coins on buying hints if they are stuck.
Also, a global leaderboard adds competitiveness into the gameplay encouraging players to spend time with their friends.
Playcrating 2021 Lightship Global Jam provided a week-long, intensive workshop for those who wanted to explore innovative instruments for immersive gameplay. The development team had a
fantastic opportunity to learn the perks and benefits of Niantic's ARDK. There is so much to explore and implement!
We didn't hesitate even for a second about accepting the invitation to Lightship Global Jam.
It was the perfect time to challenge limits of new, powerful technology and acquire practical
knowledge. ARDK is a great tool for making vivid, real-life-like experiences.

Now, we are going to implement experiences that we've learned during the Jam event on real projects.
Lenur Dzhemiliev, Department Manager
Last but not least. Not only did IT Craft's AR developers enjoy experimenting with ARDK's features such as Multiplayer, Meshing, and Semantic Segmentation producing mesmerizing experiences. They also had a lot of fun playing Quest AR's mini-games and look forward to playing them with friends after work.