Web Summit 2018 is over. Now is the right moment for reflection.
This year, IT Craft was represented at Web Summit by its internal startup team, who introduced a special Augmented Reality framework. The framework speeds up 3D model downloads to a new app and makes AR development more Agile for less. The team wanted to check out if the framework appealed to others and get feedback from both industry experts and potential clients.
In short: Web Summit exceeded our wildest expectations. Everyone in the team unanimously agreed Web Summit was an absolutely must-attend event for anyone and everyone involved in web-related business.
It turned out to be a could-never-forget, three-day event that amazed in many ways: level of organization, speakers, participants, activities, hundreds of the craziest but useful startup ideas, a great city with so much sightseeing and so many opportunities to go out at night, and so much more.
Really, the list is very long. This is why we have summarized the top five impressions that our team got from Web Summit 2018 and Lisbon, and why you absolutely should mark your Google calendar for the next conference (your Apple calendar, too).
Participants
Almost 70,000 attendees, participants, investors from all over the world enjoyed their stay inside four pavilions at Altice Arena for over three days.
Participants represented all of technological trends, including MedTech, FinTech, Artificial Intelligence, Blockchain, Augmented Reality and much more. We were excited to see so many people so passionate about their projects. Apart from a traditional scheme when a startup comprises two people where one technical person is responsible for the technical aspect and the other person engaged on the business side with sales and promotion, there were surprisingly many startups consisting of either two non-tech people or even of one person with no technical background. But as usual, it is the start-up idea that really matters.
We are very grateful for all those who shared their hopes, ideas, and experiences with us.
Also, it was an enormous pleasure to receive kudos for the expertise level of Ukrainian outsourcing development companies.
Equal opportunities for every organization
Definitely, Web Summit was a tremendous opportunity to present our expertise in boosting Augmented Reality development. But there was more. There was place for everyone at Web Summit: startups, enterprises, government organizations, incubators, aggregators, investors, and even artists.
Every startup had a special stand among startups with similar ideas ensuring it would neither get lost nor look irrelevant. Also, everyone had enough opportunities for their promotion in front of investors and conference visitors. Each day, startups presented their pitches and then one winner was chosen. On the final day, organizers chose the winner from three finalists. This time, it was a Cambridge-based startup Wayve focused on autonomous cars with AI who became pitch winners.
Space Management
Web Summit 2018 showed a fantastic organizational level dealing with so many people walking an estimated total of 935,604 km during Web Summit 2018 week ensuring every participant would feel as comfortable as possible. (Putting it into perspective, imagine the number of people attending Web Summit equals those attending a packed football game but the football event lasts for only a couple of hours)
It worked well for many reasons, not least thanks to industry-specific clustering (medical startups exhibited together with other medical startups) helped attendees orient themselves between sections inside pavilions. Each section contained 10-15 startups, so that attendees could easily get an overview of the whole section. Every startup had one summit day to present themselves at a stand. On the next day, related startups exhibited at the same stand so that visitors could easily memorize every interesting location.
There were many stands with coffee and cool water inside the pavilions for Web Summit participants to refresh themselves.
Also, when organizers saw too many people crowding around one exit, they rerouted some of the people to another exit to avoid large queues.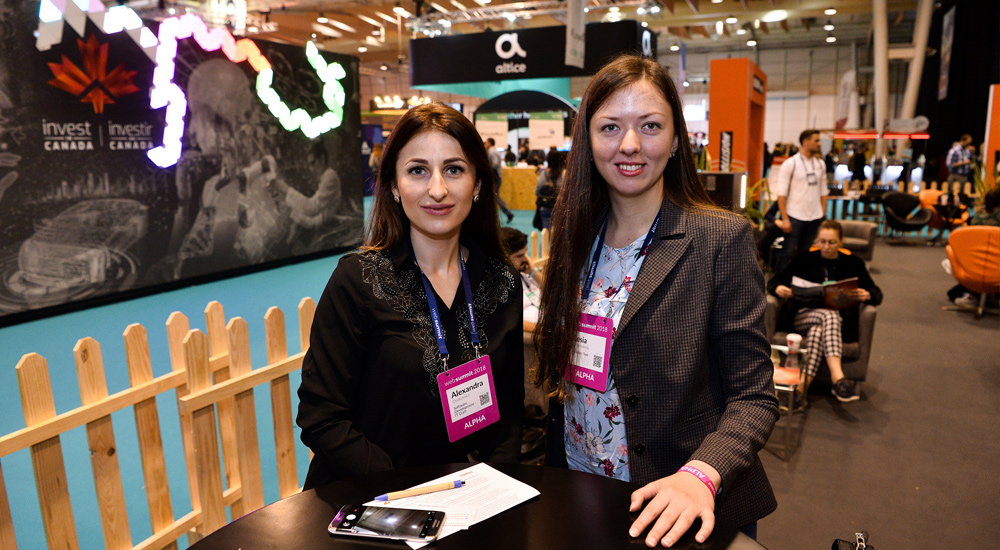 Problems/challenges raised at the Summit
On the opening-day, speakers on the main stage (and not only them) shared their vision of the future of the Web, addressing technological threats and opportunities for the modern world through the lens of humanity.
Sir Tim Berners-Lee, being proud of his creation of world wide web, discussed his disappointment on how people choose to use his work.
Many discussions were devoted to disrupting trends, including loss of morality and trust due to "grey-area" business practices and loss of critical thinking because of  incompetence of dealing with hate speeches on social platforms.
Also, companies addressed the question of meaningful, trusted interaction between brands and companies.
The issue of women in tech was definitely on the bright side. There were so many women present at Web Summit so that there was even not enough place when they joined the scene for a group photo. on the scene for all of them , and got on the scene twice.  
Beautiful city of Lisbon
Last but not least, Web Summit was a true technological festival in a gorgeous European city with many places to visit. Lisbon offered magnificent architecture, museums, delicious Portuguese cuisine, and warm hospitality. Lisbon: the city where everyone could find what they needed—entertainment or a relaxed, calm place after a busy day.
The night summit—Web Summit after party—was a great opportunity to talk to new contacts and get to know more about each other.
And the visit would not be complete without a visit to Atlantic Ocean coast. So we did: we rented a car and enjoyed the great vastness of the ocean, felt its power and was refreshed by the wind.
To sum up, Web Summit was a large, fascinating event organized in an exceptional way.
Undecided whether you should go to Lisbon for Web Summit 2019? Don't hesitate, just plan it.
And we are greatly looking forward to see everyone on the next year summit!