Google, Apple, Cisco, Oracle, Uber – and many other enterprises now worth billions of dollars – made the journey from an unknown startup to a world-leading corporation. No wonder, so many people worldwide strive to duplicate their success.
Below we present a reflection of the start-ups picture in 2018.
"We'll lose our money, but at least we'll have had a company."
Steve Jobs
1. Essentially, startups are young companies that consider or have just started entering the market. At the preliminary stage, most startups have an entrepreneurial idea, some savings, and ambitions.
When we have a look at startups, they are mostly male, often Hispanic or Afro-American, educated, active, flexible and might have experience of having previously run another startup. They come from the USA, Canada, Europe, UAE or South-Eastern Asia and India. Startups are often founded by one person but more likely by two where one is responsible for the project's technical side and another for marketing and finances.
"If I had asked people what they wanted, they would have said faster horses. "
Henry Ford
2. All startups are based on innovative technologies that are barely visible in the existing market. This makes it possible for startups to compete with established businesses. However, startups need to have the pulse on their audience. Revolutionary products usually bring enormous profits but they often create high risks, especially when targeting unspoken needs.
3. In the early stages, startups need financial support because they do not generate profit when working on development, testing and promotion of their concept. During this time, they often get financing from:
state government or nonprofit organizations,
traditional or government-sponsored bank loans,
special places called incubators and accelerators.
The financing schemes depend on the startups' goals and monetization strategies.
"Don't wait for someone do it instead of you."
IT Craft
4. No one knows who is going to be the next big story. However, from our experience working with startups, we can say that the following characteristics give our clients that crucial edge to develop their businesses
clear vision of their strategy
accurate budget management
attention to details
readiness to make changes into the plan to keep pace with the budget, timeline or audience
Also, when a startup has a development team that is ready to work on their concept, it increases not only their chances to get to the incubator stage [see note 5] and receive financing but a chance for overall success.
5. Incubator – what is that ?
When we imagine that a business is a child, the incubator will be a place where it learns elementary things like walking, speaking and taking its first steps in the business world. Startups find everything here they need for quick development, from comfortable workspace to seminars and workshops that help them build business processes. When needed, the incubator even helps provide a team. Also, incubators attract investors or make investments themselves.
Usually, this step takes from one to three years.

6. Accelerator is the next step.
As soon as the business passes the stage of "childhood," it enters into the teenage period with high school. Any parent knows that this time is difficult. Business is no exception. If you create a development strategy in a wrong way, the company might no longer have the pulse on the market. And at this moment, business accelerators take up the case.
The main goal of accelerators is to boost the launch of a new project and make it attractive for investors. In return, the project can count on investments from foundations that cooperate with the accelerators. Startups spend on average three-six months in this stage.

7. Main advantages
– mentorship and support (sharing experience of typical pitfalls such as poor management)
– investments and teams
– public relations and attention from experts and media
8. To flourish, startups need to find the right accelerator that syncs up with the startup's plans. Often, the accelerators' programs are sponsored, thus not focused on a particular concept or industry, so startups must choose carefully.
Also, a dedicated development team that offers their expertise for a reasonable price will not only be an advantage when seeking financing but also boosts the entry to the market with the ready product.
9. What countries rock?
The USA is at the very top when talking about tech startups. Northern California is the top leader of startup funding, but there are other areas that attract venture investments (including Boston, NYC, Seattle and Washington D.C.). According to the National Venture Capital report, about half of the total funding was done in Silicon Valley and San Francisco.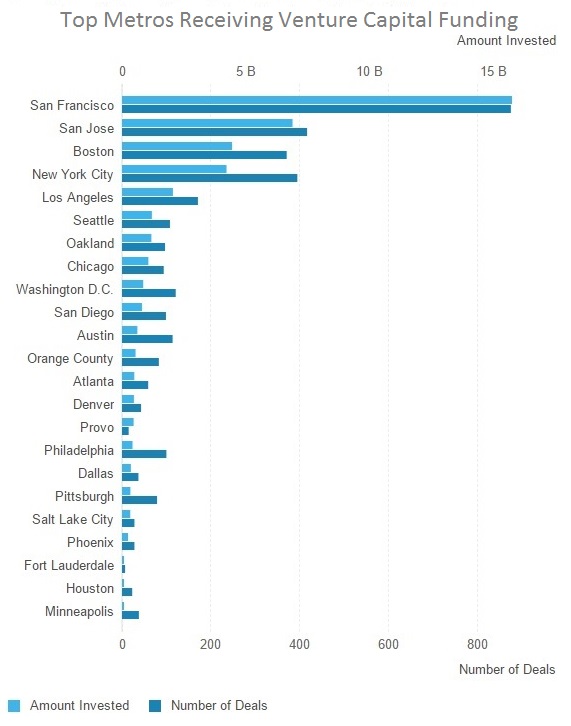 10. Apart from the USA, the following countries take the lead:
EU (UK, Germany, Estonia, Netherlands),
Canada,
UAE,
 India,
Qatar,
Iran,
Malaysia,
Singapore,
Indonesia.
Certainly, Europe is among the leaders with several start-up centers.
The following top Startup-friendly European cities include:
| | | |
| --- | --- | --- |
| City and country | Startups AngelList | Angel Investors |
| Berlin (Germany) | 848 | 5392 |
| Budapest (Hungary) | 168 | 4646 |
| London (United Kingdom) | 4112 | 7143 |
| Barcelona (Spain) | 404 | 4985 |
| Amsterdam (Netherland) | 500 | 4935 |
| Tallinn (Estonia) | 151 | 4674 |
In conclusion.
We love working with startups because their ideas are exciting and mind expanding which helps our team grow: a total win-win. Development for startups means new challenges and acquistion of new technologies, so developers never get bored.
The hardest thing for every startup is to latch on to the right idea. However, when you do have an idea and want your startup to grow successfully, we recommend that you have:
Competent management
Support from accelerators through financing and mentorship (this step can be skipped easily)
Founder's experience and self-belief (but not this)
Reliable development team