Who can create Virtual Reality Content?
If you are reading this article, you are probably wondering if YOU can create VR content.
Good news – you can.
Non-technical people can create VR content now. Simplifying the whole process of VR content creation is heading our way. In this article, we review 2 basic ways of how to create VR content – with the programming and without it!
But let us start from the beginning.
Virtual Reality is an environment created by technical and programming tools and transmitted to a human through his sense organs. The main attribute of the Virtual reality experience is a special headset—a so-called stereoscopic Head Mounted Display (HMD). The full virtual reality picture could also include smells, sounds, tactile perception, and, in this case, the VR equipment should also include special robotic gloves and exterior simulation facilities.
For now, let us focus on the visual content that gives the greatest part of the information to the human brain.
Example video: Audi is working to turn their auto into a real VR simulator allowing to experience a voyage in any world you can imagine right in the back seat of the car.
How to create VR content?
Quick and easy VR content creation has become an essential challenge for companies looking to diversify their client experience. The technology is trying to fulfill this demand by inventing different tools to create 3D objects.
There are 2 ways to create VR content now:
1 To shoot a 360-degree video
This is the simplest way to create VR content. If you want to immerse your spectators into an environment close to the real world, consider filming a proper place on the Earth as a 360-degree panorama. There are special spherical cameras that do this, for example, 360 Penguin, RICON THETA. When creating this kind of VR content, remember your spectators see the world from where your camera "sees" it. They can swipe the panorama around but cannot get closer to or farther away from the picture. The whole user experience is programmed by the video, as you shoot it.
Example 360 video from National Geographic:
A virtual tour to Google Data Center:
Some technical tips on how to create VR content of this type:
Install your camera in a still position, either on a tripod or on a drone. Attaching it to a cameraman or to you with steadicams is an option. Note that the binding equipment might be visible in the frame. However, you can edit the video afterwards and hide the unwanted parts.
Make sure the video is shot "smoothly", with "even" moves, to prevent triggering nausea during the virtual reality experience.
Prepare a scenario for your video in advance. Let it surprise, impress, and stay in the minds of your spectators. Create an emotional response, but don't overdo it: do not cross the line leading to horror or aversion.
Use creative shooting tricks like camera acceleration, bold angles, "reach out and touch" effect. Again, do not visually overload your spectators. By the way, the "reach out and touch" effect has proved to be an interesting "mind game": even if spectators cannot grab the thing, they want to touch it!
Stitch, synchronize and process your video with a special software like VideoStitch. When packing it into a virtual reality application, make sure it works well on different devices: desktops, smartphones, tablets, headsets.
360degree video: Flight over Dubai
2 To create 3D animation
If you would like people to be able to "walk around" your virtual world and look at it from different points just like users of Google street view can do, consider creating 3D animated VR content.
So how is it possible to create this 3D animation for Virtual Reality?
1. Animate 3D scans of real objects as a base for VR content
There is a strong demand from businesses to get easy tools for VR content creation, and the technology is trying to fulfill this need with 3D scanners. Yes, it is possible to scan real objects, premises, interiors, and even people with special cameras and then get their 3D versions. For example, this is possible with Structure Sensor. It works best with iPads.
Check out how Structure Sensor works:
There are also some platforms providing similar services, such as Matterport, Entiti Creation, YouVisit. This is how they work:
scan the object with a specialized camera
upload photo to a definite software platform that processes the image
receive a 3D copy or virtual tour based on your media from that platform
Each of these platforms targets a special market segment and suggests its own playing rules in terms of pricing and technology.
2. Create 3D objects as a base for 3D animation from the ground
If you would like to create unique 3D animation, consider VR content creation with the help of specialized programming tools. The following environments allow VR development: 3DS Max, LightWave, Modo, Cinema 4D, Houdini, Maya.
At the disposal of experienced developers is VR content creation software for complicated 3D game programming engines like Unity and Unreal Engine. These are professional VR content creation software solutions. They allow creation of really sophisticated Virtual Reality worlds.
How Virtual Reality content can be used?
The technical tools for creating VR content described above make it possible to develop VR apps for a wide range of human activities.Below you can get some inspiration of how to use your VR app:

Automotive industry – some auto giants like Audi, Ford, and Volvo have turned their attention to VR as a great tool for working with clients. Their VR applications allow showcasing and customizing car models even before they come off the production line.
Tourism – the possibility to virtually demonstrate foreign destinations is a great gift for travel agencies. Clients get a really engaging experience guiding them in their decision-making process.
Real Estate – a virtual real estate tour is a great sales tool for agents. With a 3D scheme of a premises that clients can visit online, it is so quick and easy to make great deals.
Education – with VR apps, students get a memorable impression of the subjects they study.
A VR tour to exoplanets:
Training – it is much safer and easier to train people in Virtual Reality for everything, especially for activities assuming extreme risks – like divers, drivers, astronauts, pilots. One of the first purposes of VR app development was to train pilots in a laboratory rather than in the air.
Conclusion
Virtual Reality technology has been met with great interest from the business side. Marketing minds have already understood the great perspectives VR content opens for product presentation and sales. There are also many other advantages both service providers and their clients can benefit from, for example, the possibility to model a future product in an easy and comfortable way.
Simplifying VR content creation and making it accessible for non-developers is one of the great questions technology tries to resolve now. Another approach—not simplification but rather making the whole 3D animation programming process more comfortable and refined for professional developers—is also taking place.
We are witnessing the advent of Virtual Reality into our every-day life, as technical experts find a way to make it easier and cheaper to use.
However, Virtual Reality is already quite accessible and still fresh. You can take this innovative tool straight from the pages of science-fiction books and provide your clients with a great new experience. Make your product shine and stand out from the crowd, literally. Create catching VR content and win client loyalty.
From our side, we are ready to help you. ITC can create a great VR application based on your ideas.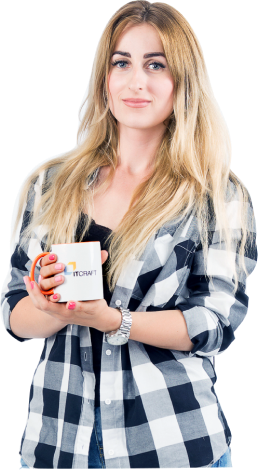 ALEXANDRASALES MANAGER