Augmented Reality (AR) Applications

Augmented Reality App Development
Augmented Reality (AR) applications: is there a person who has not yet heard of them? If you are on this page, you have definitely experienced playing and/or testing one or several AR apps. You might even be considering development of an augmented reality mobile app for your business.
Do you have some lingering doubts whether an AR app will work for your business? Still trying to decide if you really need an AR app?
Despite the fact that augmented reality originated in 1990s, its popularity just recently skyrocketed thanks to Pokémon Go. Since then lots of other applications have been working on AR.
Little wonder because AR helps to visualize objects perfectly—it AUGMENTS REALITY—which is certainly a big plus for any industry.
Let's explore some of the industries together: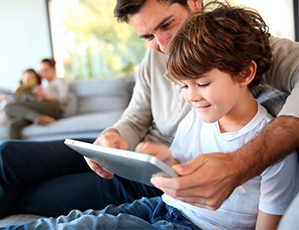 1) Toys and Games Industry – let kids put a marker in front of a smartphone or tablet camera and play with their favorite character. You can extend with an augmented reality app outdoor and indoor games, technical and educational toys, puzzles, experiments, comic books—everything. By showing kids and their parents your special augmented reality products, you create the WOW! effect that makes them play with your toys again and again.
2) Museums, exhibitions, virtual tours – there is little doubt that the AR app will be a stellar replacement for any and all audio tours. Imagine how much fun it will be to find information about a showpiece, to examine a piece of art digitally, as well as visualize different historical periods and re-create certain historical events related to the object being viewed.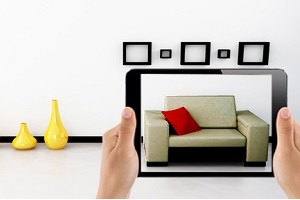 3) Furniture manufactures – IKEA brilliantly demonstrates how useful an furniture augmented reality app can be if your company is a furniture manufacturer. Using the catalog as a marker with AR applications, arrangement of furniture in your home will be fast and easy, saving time on seemingly endless measurements and drawings. Selecting the required piece of furniture from an available list within the app and pointing your mobile device at the right spot, you will see how and where it is best to place—for example, a sofa—and determine whether or not there will be enough room for the sofa.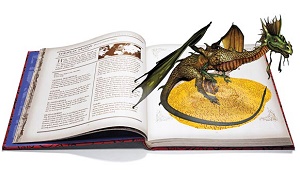 4) Publishing business – AR opens up endless possibilities for book publishers. With AR apps, books become easier to read as well as more comprehensive and stunning with visualized stories leaving even greater lasting impressions from reading.
5) Marketing – another type of business where AR apps become simply irreplaceable.
The Wow! effect of providing advertising information with advertisement objects being overlaid on our real world will add confidence to potential buyers and help them make a decision about the purchase.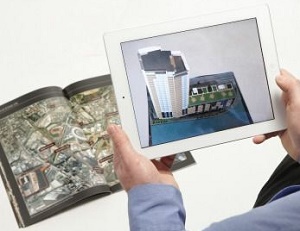 6) Real estate – augmented reality apps in real estate help show information and visualize buildings available for sale by projecting images of these properties. In addition, potential buyers are able to see what the interior of buildings will look like after construction has been completed. They need only direct their mobile devices to the building while standing outside.
Besides the above-mentioned five categories, there are many more professional fields where AR apps can be extraordinarily helpful—even those that, at the first glance, seem to be far removed from AR. For example using AR apps in:
7) Medicine – able to visualize techniques that can be applied in surgery and in studies at research laboratories.
8) Education – create far more dynamic material with AR illustrations.
9) Transportation and logistics – determine the parameters of shipments.
10) Sports – provide a more informative description of rules of the games and scores.
Forecasts predict that in 2017, around 2.5 billion AR applications will be downloaded from mobile stores. This means that AR applications will prove to be just as popular and as widely used as regular mobile applications today.
Time is of the essence. Every day you wait is a day lost. Why not stop wasting your time and jump on the AR bandwagon?
If you have any questions about how to make your augmented reality app, we will be happy to answer them all and create you an AR app that will open up new opportunities for your business.