Innovation: The secret ingredient to increase audience curiosity about content inside printed books.
Not all people love reading, but full-length books still remain popular, surviving in the era of television and digital media. For years technology has been the publishers' helping hand providing them with new ways of telling stories.
Looking back, books have come a long way from printed, text-only editions through illustrated albums and pop-up books to fully interactive multimodal stories. Now it's the smartphone's turn to partner with books for augmented reality publishing: the next big thing in publishing.
Many readers prefer vivid, intriguing illustrations to engage their imagination and boost creativity—a challenge for some when books have only words. Many readers need visualization and interactivity. Books that combine text, pictures, and digital content is the latest trend and in great demand.
How do Readers Benefit from Augmented Reality Publishing?
Augmented Reality is the exact point where the reader becomes the participant.
Augmented Reality adds new dimensions to almost every book so it can be re-read and replayed again and again – this is a new growth direction for book publishers.
Even more, Augmented Reality makes it possible to add extra content, starting from notes on important facts through website links and videos to 3D models for study engaging users to get to know more on the topic.
Below are several types of books that have already benefited from adding AR to their pages.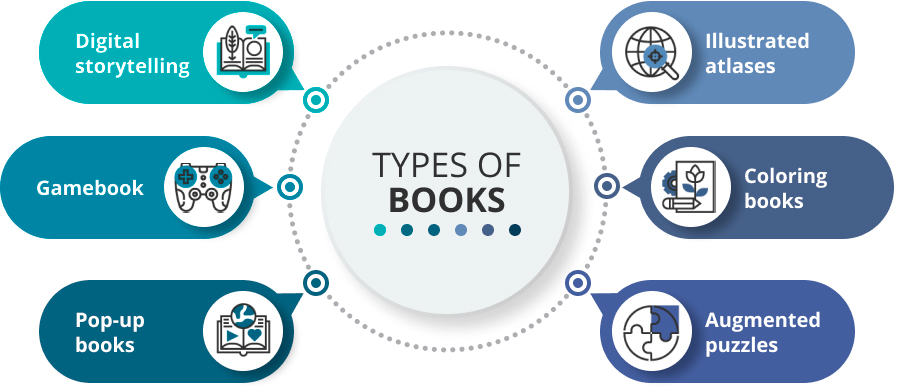 Digital storytelling
Augmented reality will definitely be a great help for classic literature. With an AR app, you can see how big Moby Dick compares to Pequod or how Old Jolyon Forsyte was dressed.
Three cheers for a French-based startup, Histovery, with its inspiring example of Augmented Reality storytelling. They created an iPad app showing visitors how Chateau du Chambord looked during the time of King Francis I of France. The app Histopad, offered as an extra service, makes it possible to recreate historic atmosphere showing things that do not exist in the real life for example, tapestry on the walls, coffers (also used for a mini-game), benches and tables, and much more.
Gamebook
Users can choose an option and enjoy watching a short video flashback. The app can also show animated characters, their skills and progress, play different storylines, and much more.
Included are a series of smart books by Popar. Each interactive smart book is accompanied by a special, free Augmented Reality app to enhance children's creative perception.
For example, when opening Popar Dinosaurs Smart Book, children can point the camera on an illustration, discover just how large dinosaurs were and how they really looked, play games of logic, and read informative notes, thus gaining knowledge in a fun, easy way.
Pop-up books
This augmented reality-like technology has been around for a long time on almost everyone's bookshelves. Now, static pictures can appear in three dimensions, move and even interact.
Alice in Wonderland is probably one of the best Augmented Reality pop-up books ever—no kidding!
Because of the fantastic nature of Lewis Carrol's story, it has been recreated by a dozen Augmented Reality book publishers. One of the best AR storybooks is probably, Alice in Wonderland by Design Media, UK and Parramon, Spain. The Augmented Reality mode (there is Virtual Reality mode too, by the way) enables readers to follow the storyline with interactive illustrations, play games, and more.
Activate your smartphones and follow the White Rabbit.
Illustrated atlases
Children (adults too) can see different animals, historic buildings, the human body, and hundreds of other amazing things placed on the dining room table. View them from different angles, watch short videos or read quick facts.
Fresh off the AR press from Kickstarter: AstroReality offers a 3D-printed, painted Earth model and an Augmented Reality app with in-depth information on several categories such as wind and weather, geological patterns, animals and migration, plants, environment and climate change, anthropology and human experience—plus paleodata.
The interactive AR globe suits everyone for education, but more so for enthusiasts curious about what happened and is happening to the planet.
Coloring books
Now children can color a character and interact with it on a device's screen and even make it respond to their touch. Or, children can play a mini game featuring the character they have just colored.
Crayola has a collection of amazing Augmented Reality coloring books called Color Alive with children's' favorite characters such as Frozen, Avengers, and many others.
Children can animate pictures in three simple steps: color a picture they like, scan it with a tablet or a smartphone, and then interact with a 3D model on the screen having exactly the same colors.
Augmented puzzles
AR can be used in publishing for a wider range of cases than just illustrated books. Puzzles, perhaps? Indeed.
Players spend long hours composing a picture from thousands of tiny cardboard pieces, To give them an extra reward after they finish, they can aim their smartphone camera at the picture and enjoy a 360-degree picture of their accomplishment. For example, Ravensburger Augmented Reality Puzzle 3D provides an astonishing view of night Paris together with notes on the depicted objects such as Seine or Eiffel Tower.
Playing cards can be also interactive. They can be used to play mini games, model animals, monsters, gameplay characters, to collect them or make battles and more.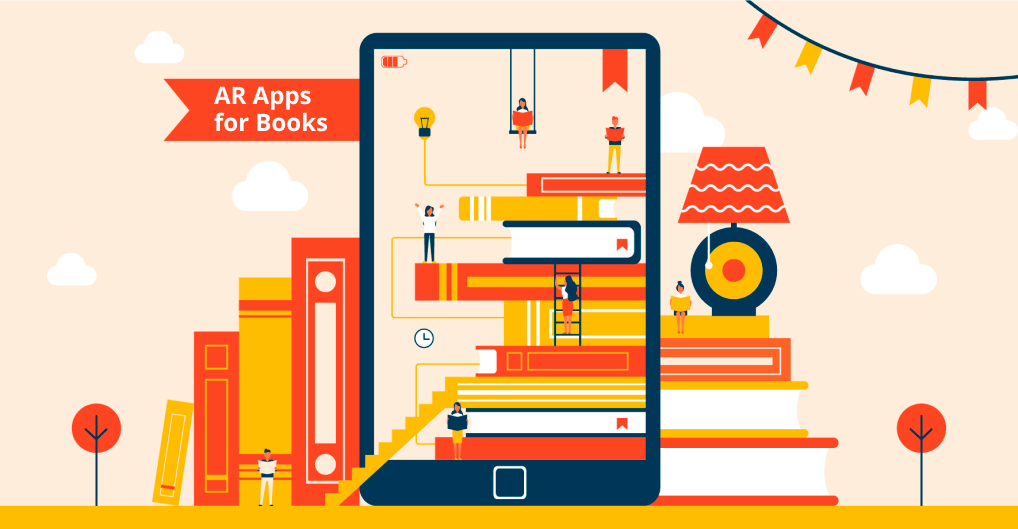 In conclusion
The success of Pokémon Go has made augmented reality a recognizable technology. The fusion of books and augmented reality has a bright future because augmented reality mobile apps help readers with their imagination, by making characters seemingly come alive.
Even more important: just as Pokémon Go is good for one's health because it makes players walk long distances and communicate with other people, augmented-reality-based books help children learn in an enjoyable way—they don't even realize they are learning. The app supplies them with information which they are more likely to read because it is structured, context-based and right at their finger tips: no need to scan the whole Internet to find relevant information.
Also, here is the best thing about augmented reality mobile app development: it does not cost too much. While the next Pokémon Go or Ikea app might require months of labor-intensive development, a simple AR app can be completed in just a month, so you can present it to your clientele—and, perhaps, almost immediately enjoy a spike in business.
Do you want to get more about this topic?