Education technology (Edtech) keeps growing as society continues adopting digital technologies.
Who would have thought…
thousands of teachers using teleconferencing platforms for their classes?
top-ranked universities opting to create elearning websites and offer their courses online through third-party services?
smartphones starting hundreds of training activities?
These were but dreams ten years ago. Now, they are a part of the new normal.
By 2023, the elearning market will reach USD 115.82 billion.
What comes next? No one knows.
But Edtech is different. What works well for college students does not work for primary school and vice versa.
Maybe your idea will be a game changer. But how do you know in advance?
Verify it: create an elearning website.
Formulate a hypothesis and build an MVP.
Study user behavior.
Collect essential information via user feedback.
Offer users an improved version of your product.
Check out the nine most practical tips on how to create an elearning website. Benefit from the experience other startups have already accumulated. Remember to read the seven stunning examples of how to make a great elearning site.
Best elearning websites in 2020
1) MasterClass
2) edX
3) Blackboard Learn
4) Babbel
5) Open Culture
6) Big Think
7) Thinkific

Tips for making a perfect elearning website
These nine tips on custom elearning solutions and development of relevant experiences gives you a clear roadmap to move forward NOW to start your elearning solution.
1 Choose your type of elearning solution.
You might already have been astonished by the diversity of elearning solutions.
You need to narrow your focus to produce what your audience needs.
Most elearning websites can be grouped by the following types:

MarketplacesThese apps provide digital space where teachers or institutions offer their course collections (Coursera, Masterclass) and/or tutoring help. (italki, Preply)
Learning platformsAs above, but the difference is that these services provide more control on content distribution. They help save on elearning

Learning Management System (LMS)These apps help teachers optimize the learning process. Teachers can prepare programs, manage activities, track individual performance, and more. (99coaches)

Virtual classroomsThese elearning solutions work in a similar way to business-meeting software. The difference is they are focused on a more interactive workflow. They offer virtual whiteboards, screen-sharing options, and even VR-based features. (LearnCube, Zoom)

Content productionThis software helps authors prepare visual components of their courses. This can be videos, animations, interactive elements, audio tracks, voice over, etc. (Adobe Captivate)
Why is it important to know this? You need to check your future competitors for industry's best practices. If you miss tiny but significant details, you might not retain your audience.
Or you might discover what can be done differently—what you can do better. Many successful elearning websites started with a high degree of frustration using existing models. You know what your favorite learning solution is missing. You improve it by building your own online platform.
2 Make your choice: wide audience or niche elearning website development
One size does not fit all.
Do you already have a community and want to create an elearning website to serve it better? Or do you have an idea and want to present it to the wide public?
In both cases, you need to find out what suits your audience best.
Be precise. Focus on one group as your main target audience.
This can be:
Your future solution is affected by:
learners' aims (both short and long term)
their learning habits and pace
complexity of learning material
delivery of learning material
timeline required
demand for tutoring (self-paced learning has rather limited capabilities)
degree of motivation and probability of dropout.
Based on desired reach, you need to choose between:
basic and advanced learning
local and international users
B2B and B2C segments.
Once you have a portrait of your audience with their aims and problems, you can start designing a path from here to there.
3 Determine requirements. Design user flow.
Now you have your primary target audience—your customers. However, learning is a collective endeavor. You will have more user groups in your system. They help your target audience reach success. They can manage the learning process. Or they can administrate your software.
Different groups will take different steps in the system. Also, they will need to interact with each other.
Determine:
Apart from user flow, define technical requirements:
How many users do you anticipate?
How long do sessions last? Will users upload and/or save materials?
What type of content will there be in your system? Do you anticipate AR/VR content? (In case of AR/VR content, you must look for mobile app development.)
How will they communicate?
Will there be alerts or notifications?
Do you plan to use any AI-based innovations?
…and others.
Requirements and user workflow establish your feature list and, eventually, scope of work on the project. The numbers do not have to be exact.
Do you have difficulties formulating requirements or designing user workflows? Ask business analysts for help. They turn ideas into requirements and make a user flow based on them.
4 Establish feature list
A feature list depends on both short-term and long-term strategy. If you plan to launch fast, you need an MVP, a product with 1 – 2 core features. You can add new features later, but always keep them in mind (a.k.a. your nice-to-have list). This will help you scale and expand your solution with new functionality later.
What are elearning common features?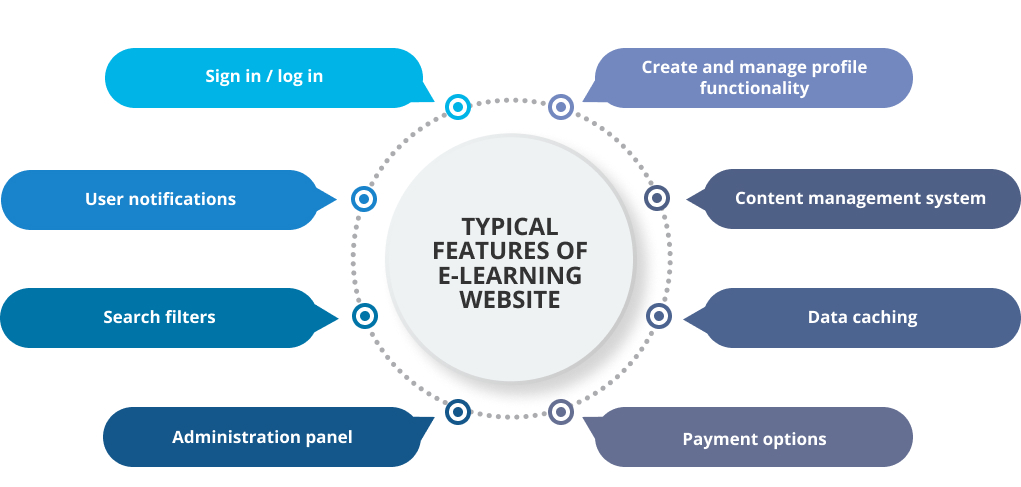 Plus some others—the list gets longer with system updates.
You can find more information on common features of a project in the post, Startup Development with Project Booster Toolkit.
Of course, there are specific, custom-built features. It all depends on whether you want to be different from your competitors.
Not sure what features you need? Tell us your idea and get a free, detailed roadmap.
5 Establish a basic range of costs of elearning development. Factor in flexible budgeting.
The pricing formula for elearning development costs is straightforward: hourly rate times number of project hours.
A company's hourly rate depends on its location. Elearning development costs decrease from West to East. US programmers are the most expensive and Southeast Asian programmers the cheapest. Eastern Europe provides a plausible quality-for-the-price ratio.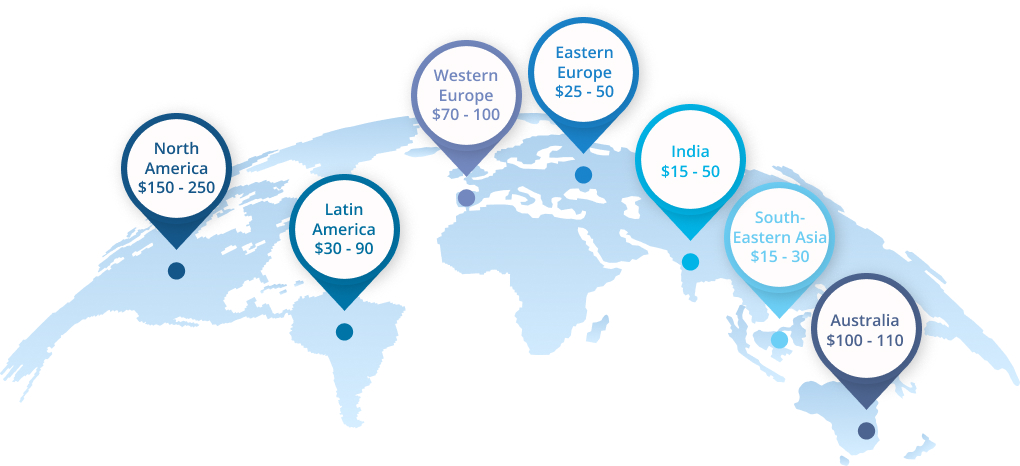 Important note. A typical MVP project takes between 1,000 – 1,700 hours. It is impossible to tell in advance the exact number of hours a development team must spend on a project. Requirements can change; the development team could run into unexpected issues. Be ready for flexible budgeting.
As with any other costs of website development, costs of elearning development also include domain name, hosting, and issuing of SSL certificate.
Also add maintenance costs. They usually make up 10 – 15 % of initial development costs per year. These include:
Server maintenance
Upgrades and updates
Payments for third-party subscriptions
There is always risk of unforeseen costs due to server migration or to migration if a third-party service shuts down.
6 Choose strong technical expertise
Mastering elearning website development takes time. It is never cheap. But it does save you from future hassles.
You can have a website for a small budget or even for free. How is this possible? You can find information in the post How Much Does a WordPress Website Cost to Develop?
This information helps when you want a pet project or are at a very early stage of your startup; you only want to check if anyone is interested in your idea.
Otherwise, it makes sense to invest in professionals. If you want to do business, you need:
cutting-edge technologies
expertise in custom elearning development
someone who can manage your project
You should not opt for the cheapest development team with no proven experience. And be careful with "free" technologies!
By being wise and cautious, you ensure your elearning site keeps working when it's at its most crucial point. No down time is crucial for success.
IT Craft's expertise in custom elearning websites
XPERTyme

XPERTyme is a platform where users can schedule a billable consultation with an industry expert. Users can search through different categories. They can choose among several search criteria. Users can enter the call either via their profiles in the system or through a special invitation link. Individual and group calls are available. The development team ensured video calls are possible even with an unstable Internet connection. Also, white-label solutions using the XPERTyme system are possible. Cooperation started with the client's request to improve the source code produced by another team. Our IT Craft team completed a small testing task proving its expertise in software development. The development team helped create the app's complex logic and improve the entire codebase. The team met an aggressive deadline by focusing on core features. Scope of work expanded after the app won regular clients.
7 Suggest tutorials and help. Determine pricing
Your elearning solution is only sustainable when you have enough users willing to pay you.
Most custom elearning solutions are complex even though product owners do not think so. You need step-by-step guides and tutorials explaining how things work.
You also need to provide transparent pricing to satisfy user needs. There are different pricing models. You can offer:
one-time purchase
subscription model
commission fees for transactions
You must offer different pricing levels based on user demand. When people do not use your service to the full extent, they are likely to search for cheaper alternatives. Conversely, if your service looks limited to them, they will find something more powerful.
In every case, you need a free version. This can be a trial period for users to study your service then decide whether to purchase. Or you can offer a limited version for those who do not need premium features right now. This way, you keep your audience growing and retain loyal customers in the future.
8 Analyze user feedback
Successful elearning website development rarely happens at first try. This is a process rather than a result. Be prepared to initiate several iterations before you reach the right UX.
How do you know what your users want?
Ask them.
Based on feedback, you can introduce new features or offer new pricing models. Eventually, this will help you grow your revenue.
Do you know how users actually use your system? Study user behavior, how users accomplish tasks, how they use features. This information gives you a bigger picture.
Also, collect user feedback on technical errors and correct them quickly to eliminate user frustration.
9 Consider mobile app development for your idea
Omnichannel: your key to success. Websites and Web apps are usually the first step in custom elearning development. Why? Because they let you reach the most devices with one platform. You save development time.
Mobile apps are the next step in your journey. Mobile apps let you significantly improve the UX level through access to native features. Also, technologies like AR/VR work on mobile platforms.
Other benefits include optimal consumption of smartphone resources and faster response time. Mobile apps work offline and synchronize with user profile when users go back online. This can be essential for outdoor activities such as physical training.
Remember: your icon on users' smartphone screens creates a strong connection with your brand.
What about elearning industry's leaders? The services listed below started as simple elearning websites. The owners then formulated best practices and grew their startup into large platforms with active communities and millions of fans worldwide.
You can, too.
List of best elearning websites to learn from in 2020
Check out these great elearning solutions.
Key takeaways
To sum up, there are different ways to build a successful elearning website. Keep the following in mind when you choose your way:
Choose the right type of solution so that users know what your offer contains before they open it.
Provide your audience with a package: a path towards completing a task plus a set of instruments they need. For it, you need to go through this path multiple times together with your development team.
Offer customization based on degree of technical proficiency. Some people are fine with drag-and-drop; others need advanced programming tools out-of-the-package.
Test pricing models; offer a "test drive". When users know they do not pay for features they do not need right now and they can buy it from you as soon as they need them, this will help you establish credibility and retain customers.
Provide support and guidance—you know your software back to front; your users see it for the first time. When they do not learn your benefits fast you will lose them to your competitors.
Collect user feedback and work out what you can do better for your users.
Can users use your service on-the-go? Are they also heavy smartphone users? Then, you need mobile app development as your next step.
Remember: for some people, remote education is probably the only way to get any education at all! What are you waiting for? This is your chance at great success!