So, you are thinking about building your own website. Congratulations! This means you are going to take a new step in your business development. Great news!
Let me help you with your online journey. In this article, I discuss thoughts based on my experience working with hundreds of people looking for websites. I also include some tips on how to be more efficient in your decisions in this area.
There is always this question, how much does it cost to build a website?

To start, I would like to introduce the following comparison: each website is like a building. It might be a one-story building or a skyscraper. It might be an industrial building like a toy factory or a daycare center for children. It might require smart communications like a hospital or more basic like a bookstore.
So, how much does a website cost? It depends on which path you choose.
There are three basic ways to build your website:
use a DIY (do-it-yourself) builder
use a customizable content management system (CMS)
build a custom site
Let us review each variant in detail:
1 Do-It-Yourself builder (Weebly, Wix, Squarespace or other)
DIY builders are like children's construction sets. You select some features for your website then drag and drop them onto a screen. This embeds them into your web page. Easy, intuitive, simple—like building blocks!
But such builders can only offer predefined functions. Thinking of something original? You might need a more sophisticated solution.
2 Customizable content management system (CMS) like WordPress, Joomla, Drupal or others.
A customizable CMS is a good alternative for DIY builders. But it is not that simple. A CMS provides a premade website construction (like a concrete frame). You can add your content, set up functional modules, and manage website parts. This requires a bit more training and understanding than DIY builders. (Think of a constructor set for grown-ups:). Still this is a great variant.
WordPress is currently the leading CMS platform with a great market and community of developers. Because of this, there are functional modules for WP. You just need to find and install the right one(s) for you.
For example:
Stripe Payment Block – Stripe Payment Block allows creation of dynamic PayPal Donation Buttons on your website.
Akismet Anti-Spam – a plugin based on a global spam database defending website contact forms from spam. It also allows management of all suspicious messages from the admin panel.
bbPress – a trusted forum software suggested by WordPress.
3 A fully custom solution from the ground up
Building a custom website solution is like constructing a building: exclusive plan to fit the terrain, personal design, and functional preferences. You have much more freedom and flexibility choosing features to implement than when using premade functions suggested by builders (altho' they are very good).
I contend that a company can build a custom website better than a single freelancer. Why? Because one person cannot be an architect, a mason, and an assistant at the same time. A qualified team normally includes designers, programmers, testers and a software analyst who talks—and listens[!]— to you to understand your needs and requirements. . Each team member is dedicated to a specific area. This guarantees the job is done correctly.
We have defined the basic ways to build a website. Now it's time for you to choose the variant that suits you best. Follow the steps below and make your decision now!
Step #1: Define purpose of your website.
As you know, the purpose of a building defines everything: footprint, number of floors, internal infrastructure. Building a factory differs from installing a shop on wheels, right?
The same with building websites and, in its turn, with website costs.
If a one-page, online business card would be enough, explore the possibilities of DIY builders and self-hosted solutions like WordPress or other customizable CMS.
The great advantage of DIY builders is that they undertake the whole work of website setup and installation—including hosting.
Please note: With DIY, your website link might contain an extension like "wix" or "weebly" if you choose basic subscription packages. Visitors understand your website is built on those platforms. The website might also contain ads. Don't want any ads? There is an additional fee to get rid of them.
The table below compares the basic features suggested by DIY builders and WordPress. The following features directly affect costs when building a website.
DIY builder name
Weebly.com
Wix.com
Squarespace.com
WordPress.org
DIY builder cost per month

0$ – $22.3 

$4.6 – $24.50 from basic to VIP

$12 – $26 

0$ – $41.27  

Good for

Blogs, online stores

Blogs, personal pages, portfolio, online store, commercial websites

SquareSpace positions itself as an all-in-one platform for small businesses, artists, photographers, restaurants, musicians, bloggers. 

From blogs to online stores.

Disadvantages

Wix ads for a basic subscription plan

WordPress manuals are not as easy as DIY builders. To start working with it, you must have a definite level of technical knowledge 

Suggested features:
Domain name

Suggested for a separate price

Suggested for paid plans

Free for the first year

Suggested for paid plans

Hosting

included

included

included

included.

Bluehost

and

Dreamhost

are suggested by WP. 

SSL certificate

Not included

Included just for own domens

Included for domains purchased with Squarespace

Not included

Visual Design

Suggested as templates and design tools

Templates are provided. It is also possible to create design from the ground up with Wix design editor. Design optimization for mobile screens. 

Premade themes are suggested 

Free themes for all plans. Advanced design tools for paid plans

Content Management System

suggested

suggested

suggested

suggested

Marketing tools

SEO tools, business tools, analytics

SEO tools, email marketing tool, statistics 

SEO tools, email marketing tools, analytics, banners and promotions, social media tools

Free plugins cover most SEO, marketing, analytics, banners, statistics and social networks tasks. Paid plugins are available for uncommon goals.

Others

Mobile application to manage your website is suggested

Additional coding tools are provided (Wix Corvid). 




Wix ADI (artificial design intellect) allows an automatic creation of website based on your answers to some questions.
Explanation for the table:
Domain Name – this is your website name displayed in the browser window. You must register your domain name to own it. There are different services online to help you find available domain names: 1) free domain name generators like NameMesh, Nameboy, LeanDomainSearch, and 2) help with registration (domain name registrars, e.g., Domain.com, Bluehost.com). Prices for a domain name registration starts from $0.99 per year and might go up to $22.99 per year depending on the chosen domain name extension. That is, if you do not choose something like VacationRentals.com that costs millions of dollars. Hosting companies might provide a free domain name registration as a part of their service.
Hosting – this is the physical server where your website is stored and serviced. There are many hosting companies in the market offering different calibrated hosting packages depending on hosting space and functions. Good examples are Bluehost.com, GoDaddy.com, HostGator.com or virtual private hosting (VPS) with Atlantic.net. You can choose from a shared hosting $3.84/mo* or €2.64/mo*, a virtual private hosting (VPS) hosting $29.95/mo* or €16.97/mo*, and a dedicated hosting $119/mo* or €71.47/mo* depending on your website size and requirements. Some hosting companies diversify their marketing proposals for websites built with builders and with WordPress.
SSL certificate – this is a secure socket layer that encrypts sensitive data on your website. This certificate is a must for commercial websites where data, such as customer name and credit card info, are processed. SSL certificates are provided by special certification authorities on a paid basis (GeoTrust.com, NameCheap). Pricing starts around $7.88 per year per certificate. This website gives a good overview of SSL pricing by different providers: SSL2Buy. Some hosting companies might provide free SSL as a part of their service.
Visual design – this is the visual output you see on the screen—all those images, buttons, menus, scrolls. It is important the design complies with the technical features of your website (for example, to look good on the mobile screens). It is possible to get the visual design in 3 ways:
1. Purchase a ready-to-use design theme and use as-is (this variant is usually available for DIY builders and for customizable CMS, WordPress). There are several free design themes you may use, especially for WordPress. Paid themes start from $2! Check out Themeforest website to see examples. WordPress is the only CMS that has a really great number of free and paid themes.
2. Purchase a ready-to-use design theme and customize it as you wish (you can use it for CMS and for a custom solution, although it is a bit of a challenge). In this case, pricing would include purchase cost and designer work—or your time invested in theme customization. In case of a CMS, the customization work includes functional changes. Charges might start from $1500 for WP and up.
3. Create a custom design from the ground up. This variant is available for CMS and custom solutions (preferable for custom solutions). This variant includes the cost for graphics and for their integration into the code. It is defined individually for each website. Also, pricing depends on the contractor. Charges might start from $700 and up.
Content Management System (CMS) – CMS allows you to manage the whole content on your website pages: text, images, videos, ads. It also allows managing your customers and subscribers from a secure back-end panel (for example, to block or activate users, delete or add, assign rights, manage emails, etc.). There are many popular CMSs in the market. We strongly recommend WordPress CMS as one of the most developed and advanced systems.
Marketing tools – there are several tools you should use in order to be visible on the internet and get in touch with your potential clients. Marketing tools include: search engine optimization (SEO), pay-per-click advertising (PPC Ads), conversion rate optimization (CRO), attractive and interesting content, social media marketing. If you decide to use some marketing tools, you are going to spend hundreds and thousands of dollars yearly, because investing in marketing continues to cost if you use it.
You could also arrange one-time marketing campaigns, but you also must do this regularly to get results.
Item of expenditure
Cheapest variant for a few pages of personal static website or a blog
Portfolio website (for a photographer, model, artist, service provider), professional blog.
Entrepreneurs and freelancers 
Small Store
Medium to large online business
Domain name

A free subdomain based on the website builder domain name or a free custom domain name for a limited time

A personal domain name: 

– from $4.6 per month on Wix (though with Wix ads), 

– free for the 1st year on Squarespace,

 – $5-$12 per month on Weebly

Domain name is included in premium subscription packages

Included in subscription package or might be connected

Included in subscription package or might be connected

Hosting

Free, included in website builder platform 

Free, included in the website builder platform except for WP.

For WP: from $2.59/mo

Free, included in the website builder platform except for WP.

For WP: from $2.59/mo

Included

Included

SSL certificate

Not needed

Not needed

From $7.88 per year  

Included

Included

Design

Simple design from options provided by website builder 

Design tools included in basic subscription package

From $8.41 at WP

Efficient design tools for DIY builders

Unlimited premium themes, advanced design customization tools

Unlimited premium themes, advanced design customization tools

CMS

A basic set for free, included in website builder platform 

Management tools included in  subscription package

Management tools included in subscription package

Management tools included in subscription package

Management tools included in subscription package

Marketing tools

A basic set for free, provided by website builder platform 

Marketing tools included in subscription package

Management tools included in subscription package

Advanced marketing tools

Advanced marketing tools

Ecommerce

Not available

Not available

Not available

Basic payments, shopping cart, product management

Advanced ecommerce:

Unlimited products and services, international payments, Integration with shipping providers, tax and delivery calculator, etc.

Total cost
0 

– 0 for the first year for Squarespace




– From $4.6\mo for DIY builders




– From $5.47\mo for WP

– From $14\mo for Wix




– From $12\mo at Weebly




– From $11\mo for WP




PLUS, SSL from $7.88 per year




– From $12\mo for Squarespace (with SSL)

-From $18.45\mo for Wix




-From $18\mo for Squares- pace




-From $12\mo for Weebly




-From $22.9\mo for WP

– From $27.97\mo for Wix




– $18\mo for Squarespace




– $25-$38\mo for Weebly




– $41.27\mo at WP
Decision time.If you intend to create an original concept of an online business, I strongly recommend skipping DIY builders and customizable CMS. Consider a custom solution instead.
It is crucial to answer this question: how much does it cost to build a website? But you must also answer the question, how much does it cost to run a website. It might be cheap to build a website, but website costs grow exponentially as the number of visitors grows or as you continue to enrich your feature list. Hence, it is equally crucial to calculate how much website maintenance will eventually cost you.
If you go with the most expensive subscription plan at WordPress for $41.27 per month, you will end up with about $500 per year. This is just a "bare-bones" price without design customization and plugins you might want to integrate and without payments to developers to help you integrate all the parts together. With a custom-built solution, you invest thousands of dollars at the beginning, but you get a scalable and customizable tool for your business for years, tailored to your ideas, plans and needs, without compromises between quality, requirements, and prebuilt pieces you might use.
Step #2: Define your website growth plans.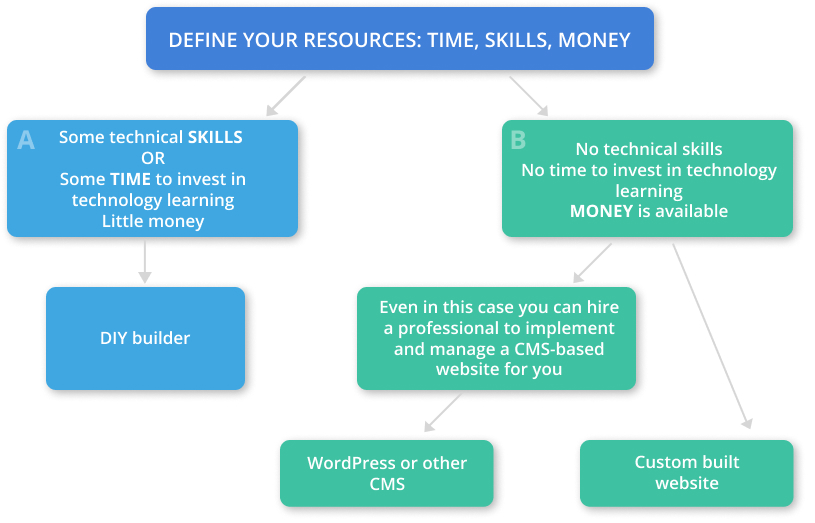 For example, the growth plan might foresee adding new functions to the website in the future. It also might foresee growth of expected number of visitors to the website.
When planning a building, it is necessary to understand how large the foundation should be and what kind of load it must carry in the future. This is crucial to prevent construction overload and destruction in the future.
When talking about website costs, it is always better to build your website on a scalable and reliable platform from the very beginning as it saves you money in the future. Adding some heavy pieces afterwards presents problems. You should understand whether or not a DIY builder allows everything you need. You might find out if WordPress or the CMS you choose provides the plugins you need in one year.
But if you expect a very heavy load from users and content, you might like to consider some special platforms and custom solutions after all.
For example, if you are looking to create a web service working extensively with "heavy" content like videos or pictures, you might need to consider dedicated servers, clusters of servers or special clouds to host your website. High user load creates the same necessity.
Step #3: Define your resources: time + skills + money.
When planning a building, you normally prepare a construction estimate to understand how many resources should be involved in your building project. The same applies regarding your website. At the website planning stage, you might evaluate how much of your time, skills and money you will be able to invest into your website development services.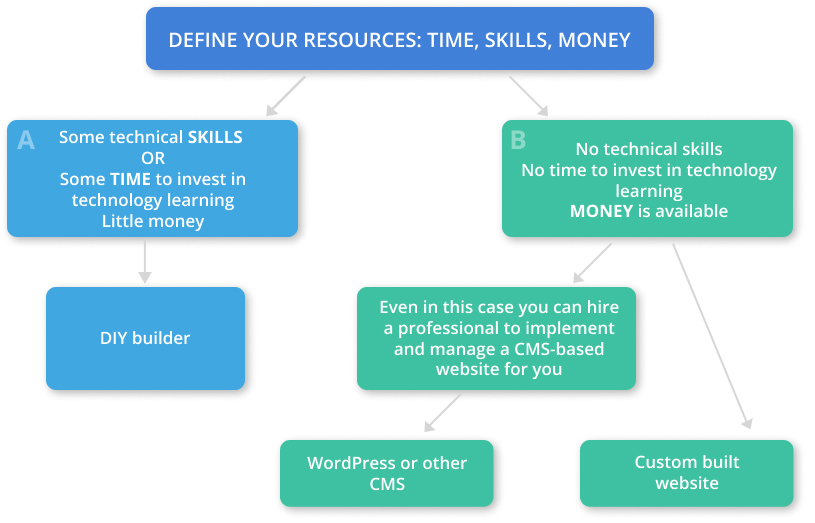 A Skills and time for learning.
In order to be able to erect a building, you obviously must study architecture and several related disciplines So, too, websites from the ground up.
DIY builders, you need no technical skills at all. Simple and intuitive interface, easy instructions. All you need is some time and attention. A few hours to read the manual and FAQs would be enough to start.
Customizable CMS (WordPress) require a bit more understanding of the World Wide Web. Their manuals are longer and more complicated. Weeks or months of learning and training might be needed to master the CMS up to advanced level.
Fully custom solution, you need no technical education and skills. Your contractor undertakes the whole technical background and explains any related questions to you when necessary or when you ask. This is the most expensive option in terms of website costs—dollar wise, not time wise.
But it is strongly recommended you understand your business purposes and requirements well; i.e., you know what result you want and can provide guidance in the form of requirements, vision, product specification.
But you already know this, right? With a hired team, you will invest your time in explaining your ideas to the analyst and in providing feedback during the development process. Your team will help you understand what they need. Sure, this variant is the most expensive in terms of money vs. builders and CMS. Using the building analogy, DIY is ground level, CMS is a few levels up. But with a custom-built website (and plenty of funds in reserve), you are building a business skyscraper.
B Money
There are several experts in every solution who help you understand the process and undertake to answer all the technical questions, such as setting up a CMS for you, up to building a fully custom website.
If you decide to proceed with a technical helper, you will need to invest your time to find the right one. This might be someone local or a contractor based in another country (a freelancer or company).
Software development experts in the USA could charge $100-250 per hour, in Central and Eastern Europe and Russia – $30-65 per hour, Asian and Indian companies – from $20-50 per hour. The question is still about quality (that has never been cheap), and communication.
Sure, it is more comfortable to communicate with someone local, though in the age of globalization and the internet, borders are gone, and talking via Skype is no longer an issue. Many foreign companies try to be closer to their clients and establish representatives in Europe and USA, where you can talk to an expert directly, while the development work is done overseas, in Eastern Europe or Asia. In this case, you benefit from close communication and a lower price at the same time.
To find the right partner, you could try Google. (Why not? Those guys know everything about web marketing,) Or check out the acknowledged listings like Clutch, online markets like UpWork, business social networks like LinkedIn. Or—the best variant—try to get a reference from someone you know directly.
Now the solution is up to you!
By the way, our team includes experts in WP and custom websites. We will be happy to give you advice on what would suit you best. Please, feel free to get in contact with us for any questions!