So, what is a mobile point of sale?
Now it is becoming more and more common for retail stores, restaurants, beauty salons and other kinds of businesses to sell goods and services using just a tablet, perhaps a card swiper and a QR code reader. In combination with certain software, they form retail mobile POS systems. We often refer to POS as to Point of Service – it is also a point of return or client order. Moreover, POS software includes features of reporting, fulfillment, inventory and sales management, customer service, accounting and more.
Evolution of POS Systems: the Milestones
Let's go back in history and see the steps in POS evolution by years of invention.
1870s: a mechanical cash register;
1906: an electrically powered cash register;
1973: a register operated by computer;
1974: the barcode and the scanners to process sales faster and more accurately;
1986: PC-based POS;
1980s – 1990s: card swipers, PIN and signature pads to speed up checkout lines;
1992: IT Retail, the first POS system software for Windows;
2000s: cloud-based software that shaped sales of today by bringing instant data centralization, access to data from any place with an Internet connection and decreased start-up costs.
POS of Today: how it can drive your business onto a new level
Today most of the POS systems consist of a touchscreen display. Retailers, restaurateurs and service providers expect them to leverage their business with the means of new payment options integration, delivering personalized sales promotions, etc. Speaking of interaction with the customer, entrepreneurs definitely want to go mobile, seeking smartphone and tablet integration, tableside ordering and/or payment, mobile wallet integration. As far as operations are concerned, centralized access to enterprise data, and cloud software are the most desired features.
How can your business benefit from use of a mobile POS system? Let's see what you can do if you're an on owner of:
A retail store
free up floor space by replacing traditional POS equipment with a tablet;
replace centralized checkout by mobile devices so that clerks can complete transactions from any part of the store;
email receipts and collect customer information easily;
increase your business security due to the high security requirements for implementation of retail POS software;
manage inrush of customers of your retail chain on sales and special events by getting more mobile POS stations to the locations where it's most necessary;
handle check-out lines faster than ever, even during the busiest hours
make cashiers sales consultants and vice versa: no matter where in the store an employee is, they can get the information needed for the customer immediately and sell on-the-spot;
sell anywhere – on a sidewalk or a parking lot outside of your retail store or take your products to places where your clients gather.
A restaurant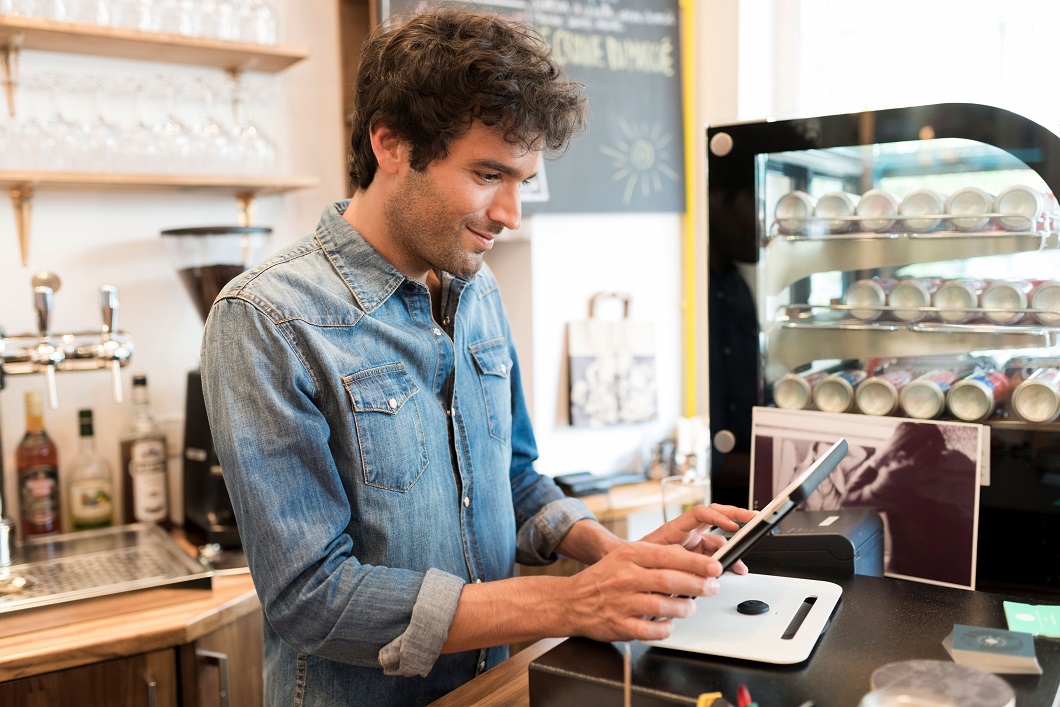 save money: the cost traditional POS systems can be over $2,000, while there is a great number of free mobile applications as well as moderately priced POS systems for restaurants. On the hardware part, the Square and the Amazon Kindle are a low-cost alternative;
maximize floor space;
use human resources more productively with instant communication from table to the kitchen;
improve accuracy and overall experience with digital tableside order-taking and, most importantly, reduced wait time;
finally, let customers handle it by placing a mobile device at the table as a digital menu, which they can use to search and order food and drinks, pay the bill and even leave a tip.
Some more ideas for mobile POS implementation:
car rental company can easily handle car returns curbside;
a hotel can send servers to the pools, using mobile POS to take orders on-the-spot;
a bus service: attendants can use an onboard POS system to check bookings, accept payments and print receipts;
small-size businesses like mom-and-pop stores, bake sale operators and flea market vendors can take credit cards and carry out transactions using a smartphone. Some of them, like a farm stand or a food truck, require mobility, and a small business POS software ensures this quality.
If you realize that there are no ready-made POS solutions on the market to fit in with the unique needs of your own business, you might want to purchase an industry-specific POS package. There are POS systems for retail stores, restaurants, garages, hair salons and nail bars, video rental shops, laundromats and dry cleaners and more. On the other hand, a custom POS solution can be the answer to the issues that off-the-shelf software cannot solve. You can also blend a traditional POS strategy with a mobile POS-based one. Such a combination will make your business more flexible, increase its efficiency, help you reach out to your clients and sell anywhere!