Yesterday a startup team met virtually to discuss how to protect people from robotic scanners interpreting human emotions.
Do you think this is a realistic concern to you?
It seems like a fantasy, but the basic idea…not so much. Read some true tech news or reports. IT is moving toward traveling in virtual reality (Google Earth App, Titans of Space App), detecting human feelings by machines, and many other semi-magical inventions. Researchers have already built a machine-learning model able to grasp people's facial expressions and analyze their moods.
What can these inventions give to society? What can they give to businesses? Surely every groundbreaking technology brings some insight to startups. New companies pop up all year round all over the world. But most go bankrupt.
Why?
The CB Insights database reported that the third most crucial factor for the demise of a startup is choosing the wrong startup team. To assemble an appropriate team, you need competent tech specialists who hear the heartbeat of current technologies.
Number #1 failure? No market. Make sure you study market tendencies, especially if you are building a B2B startup.
Tech Service Buyers and their Needs
According to Spiceworks, most of the North American and European companies can be regarded as buyers of IT services. Only 19 percent of them see their digital equipment at an advanced level. And 89 percent plan to increase their IT investments or maintain IT budgets in 2019.
For 2019, these are the tech upgrades in which businesses are ready to invest: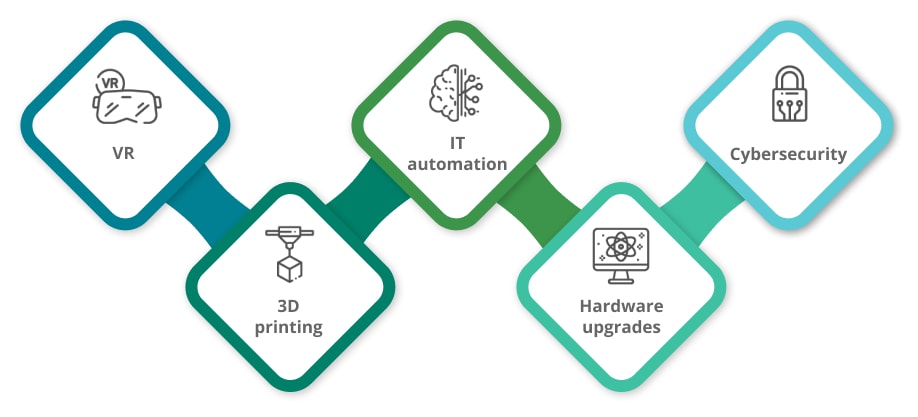 Stats prepared by Spiceworks show that investments depend on business size. For example, large companies take longer to update their obsolete IT infrastructure. They tend to develop cloud technologies, putting VR, AI, and 3D printing investments on hold. Small companies tend to invest in hardware upgrades. According to Spiceworks, 40% of all businesses that responded think IT automation has a great influence on their business dealings and positively impacts their revenues.
All companies regard data security as an important matter that must be enhanced. This tendency is backed up by facts: the security tech market reached $92.1 billion in 2018. And it keeps growing.
List of Tech Trends 2019
After analyzing research, reports, and news, nine of the strong 2019 tech trends were identified, as follows:
Robotic automation

This technology automates peoples' work, routine processes (mail delivery, correspondence, handling transactions, etc.). So, great new products and services helping do this will be welcomed with open arms in the market.

VR

Virtual reality technology requires special, expensive devices (helmets, glasses, vests). There are leading tech players facilitating the virtual reality market. Google, Oculus, Samsung, and other leading companies are among them. VR suits entertainment and education well.
And, there are plenty of opportunities to launch your startup with a new VR game or educational app.

AR

Augmented reality is like VR: both technologies deal with an extension of reality. But marketers see the difference between their implementation in business. AR apps, in contrast to VR ones, can be integrated with both mobile and desktop devices (iPhone, MacBook, etc.). Hence, spreading AR in the mass-market is easier and cheaper than VR. People use such popular software as AR Quick Look by Apple, Spark AR by Facebook, and others.
Catch the trend and build your unique idea that tomorrow might make you a millionaire.

AI

We got used to futuristic movies where people communicate with artificially intelligent robots that resemble real-life creatures. But current AI technologies are not as advanced. Developers have reached significant progress in this area (personal assistant apps, modern spam filters, Google's predictions powered with AI). But AI potential is far from being totally discovered.
Create something new. Amaze the world!

IoT

Internet-of-Things concerns all devices equipped with Wi-Fi. These are not just computers or smartphones. Iot also includes toys, fridges, clocks, and any kind of house appliance, and building management systems. IoT links separate devices and systems empowering them to transmit data via the Web. In 2018, people used more than 17 billion connected devices worldwide.
Analytics predict the number will grow annually and reach 34.2 billion by 2025.
Build your IoT device and make it the must-have of years to come.

Edge Computing

Edge computing is a new method of information transfer. It is more efficient than cloud computing. Why? Because it eliminates the problem of latency that occurs when using a cloud service provider. Edge computing processes data closer to source—at the edge of the networks, not in the cloud. No more delay between client request and server response.
Edge technology ensures fast delivery of time-sensitive data to distant places and speeds up responses of Web applications. Edge Computing demands specialists who configure and administer the whole system.
Find your Edge solution. Use it at work or offer it in the global market.

Machine learning

Some researchers regard Machine learning (ML) as a subdivision of AI because it "teaches" computers and gives them the capability to 'learn by themselves'. ML is a popular and essential technology, especially for companies that use big data. These are mainly for business enterprises.
Your machine learning startup can be useful for a leading market player. Just come up with a profitable app.

Blockchain

Blockchain is trending because cryptocurrencies are being built on it. Blockchain offers a high level of information security worldwide. Its mission of information storage or archiving shows enough potential to be developed and used for a long time.
Blockchain-related positions (firstly, developers) are fast-growing, greatly-in-demand jobst. Are you a blockchain developer?

Cybersecurity

Cybersecurity has been developing since the early stages of information digitalization. It is not new, but even more relevant today. Emerging technologies demand enhanced security because of the continuing high level of cybercrime worldwide. Cybersecurity Ventures reported that globally in 2019, ransomware attacks business every 14 seconds.
Find your data protecting product. Sell it to people. Become the go-to expert in Cybersecurity.
The Future of the Global Tech Market
The Business Research company experts forecast that the global IT market is going to widen over these next years and will reach a value of about $8,061.23 billion from 2019 – 2022 (with a compound annual growth rate of 8.8%). In particular, they estimate software and outsourcing services will take the largest share in the world IT market.
Meanwhile, there is a problem for startups (especially in the US) finding a reliable, cost-effective software development company to bring their ideas "to life". Toooften IT specialists' rates in North America and Western Europe are too high. So, young startups search beyond their borders for a vendor to fit their budget.
If you are a startup, you cannot go wrong with the price/quality ratio working with Eastern European software development companies. The engineers are highly skilled, work for reasonable prices, and understands on-time, within budget values——and lives/works by them. And, be assured, your point of contact speaks English well. Learn about Ukrainian outsourcing software development here.
2019 is still going strong. Nobody knows exactly what surprises will turn up before 2020 arrives. Who know, perhaps your app will launch. It's not too late.
If you have a great, useful idea, turn it into a profitable deal. Let's build the future together. Keep abreast of the latest technologies and improve your business with IT Craft!