Welcome back! 
In one of our previous articles, we touched on costs of Magento website development. This helps owners of big stores with large catalogs. 
But, as with everything in the world, there are always convenient options. 
Magento CMS can meet all your needs when you require a high-load store. 
But what if you have just started your business? You want to build a simple, small online store based on a tight budget. 
Is that possible?
Our suggestion: choose WordPress development services.
In this post, we discuss how much WordPress website costs based on the feature list and desired degree of customization. 
Why use WordPress?
WordPress is a CMS to help build simple-to-use-websites. Initially, WordPress focused on building different blogs. But now WordPress has over 10 years under its web-business belt. It has all the necessary features. And WordPress even makes it possible to build an online shop using different plugins.
The seven main reasons why different brands opt for WordPress include: 
Ease of installation;

Availability of themes and plugins, both free and paid; 

Customization—everything can be reshaped or redone;

Wide support through community and experts;

SEO friendliness; 

Ready for mobile—you can make a mobile app (PWA) out of your WordPress website within seconds. 

AMP —Google caches these pages on its own servers. Users can download instantly onto their devices. Also, AMP is displayed in rich snippets.
Do those seven reasons give you confidence to try out WordPress? WordPress offers a highly adjustable system with a wide range of options. It successfully meets different levels of expectations on WordPress website costs. You can: 
Start with the basics and use it for free. 

Add customization. Cost depends on customization requirements. It ranges from

$50-$5K.

  

Build a fully

custom WordPress website that will cost you

$10K-$50K.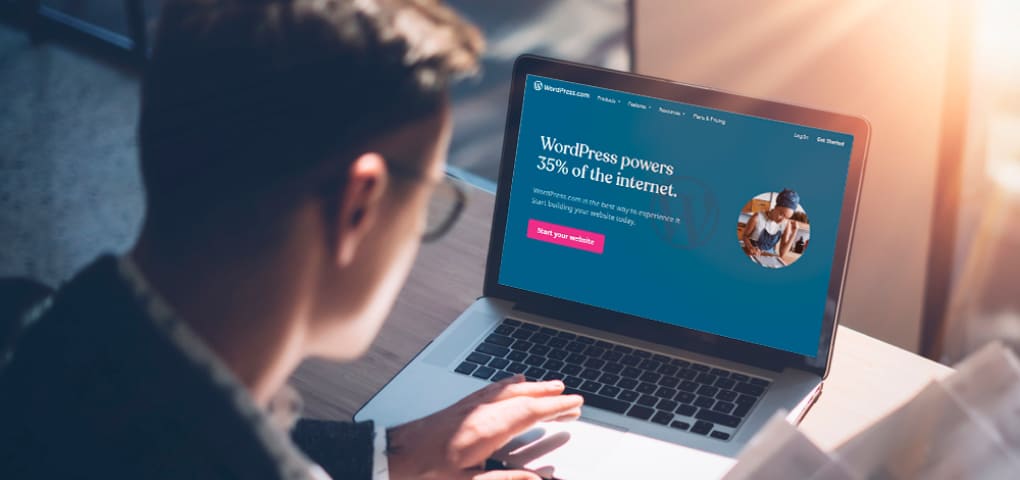 Famous brands using WordPress for their online store:
What aspects affect how much a WordPress website costs?
As with mobile app development, there is a formula:

Scope of work. Scope of work depends on the feature list and degree of customization for each feature. This affects number of hours needed to prepare the website thus, WordPress website costs. 
Do you plan to use existing functionality? 
We can integrate a plugin from WordPress store. 
Do need your own feature? 
We can either modify a plugin or develop source-code from scratch. 
As with everything, more work=greater expense.
Hourly rate.
Companies' hourly rates depend on their geographical location. 
India and South-Eastern Asia are the cheapest regions. 

Western Europe and the USA/Canada have the highest  rates. 

Easter Europe provides a nice quality-for-the-price ratio. 
Companies with in-depth experience and a solid portfolio have higher prices.
Promises made. Promises kept. 
Refer to the map below for more information on the hourly prices. 
Unescapable expenses.
Freebies are great. But not if you want to have a WordPress website for business: branding, sales or support. 
You need to assure your clientele their personal info is secure 365/24/7. 
This is possible when you have: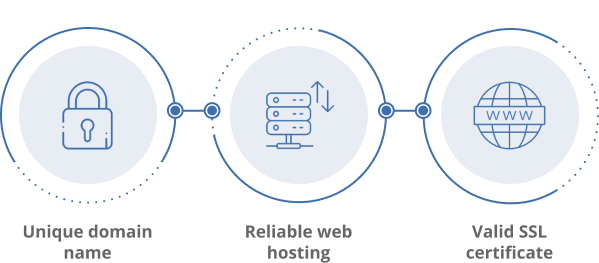 Every of the above expenditure items can greatly affect how much WordPress website costs. 
Domain Name
Your domain name is important. 
Finding and choosing a suitable, easy-to-remember domain name can be hard and/or expensive. 
The cheapest options start from $11–$20 but might require a lot of creativity. Millions of domain names have been already taken. 
A name for your business with a suitable top-level domain will cost you $50–500 to register. 
Exclusive names start from $2,000. For many, prices are negotiable. The price for the name can easily rise to $30,000-$50,000 and higher. The world's most expensive domain name, carinsurance.com, cost its owner $49.7 million in 2010.
Remember to renew your domain name every year!
Web hosting
As with domain name, price varies greatly. 
Unlike the domain name, where you can pay less if you have enough creativity, you always get what you pay for with web hosting. The price depends on how many visitors (= server load) you expect.
You can a WordPress website on any type of hosting. You can choose between: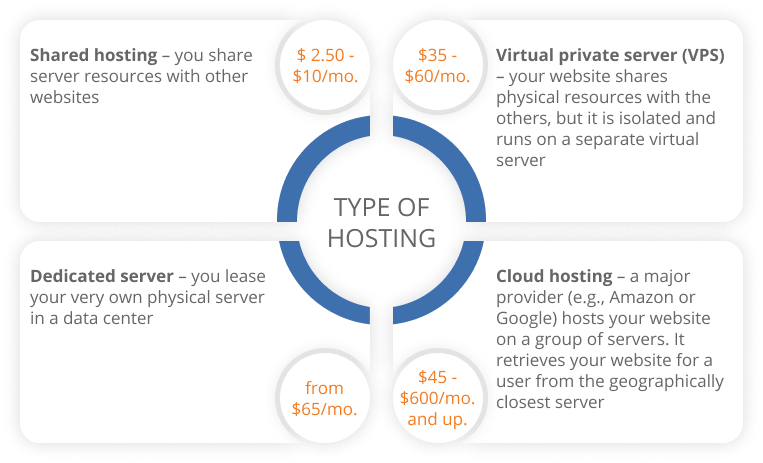 Your selected plan determines the amount of resources allotted (CPU, storage, amount of traffic, etc.). Plus, extra options.
You can choose between different service-level agreements (SLA). SLA determines quality and availability of provided service. And the responsibilities between parties. 
As with everything, the higher the level, the more expensive it is. 
Also, you can save on hosting if you pay annually. 
Rule of thumb: reduce expenses on web hosting wisely. When your business gets traction, cheap web servers crash under user demand. Only optimize resources you are not actually using.
SSL certificate
You need an SSL certificate posted on your site to establish you have a protected connection between your website and user browser. 
Some web hosting providers include SSL certificates in their hosting packages. Others do not.  Read descriptions of the packages very carefully. 
Find out whether you need an Extended Validation certificate for extra security. 
This cost for this option ranges from $0-$200/yr. 
Should you use pre-made themes and plugins to optimize WordPress costs?
Scope of work thus, WordPress website costs vary greatly due to two parameters: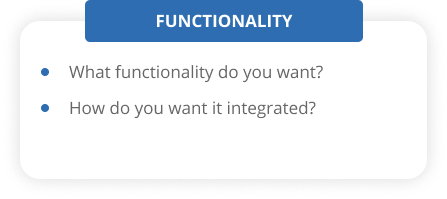 A fully custom WordPress website costs substantially more. More working hours to prepare and polish design. 
The same applies for extra functionality. WordPress provides various out-of-the-box features. They can be modified based on your needs. 
However, businesses have specific needs. If you have a business, you either install extensions or begin custom development of your own plugin. The latter might be expensive, but it would guarantee the best result. 
Design
Here you can choose the standard theme or choose one of the free WordPress themes. However, free themes are plain and lack customization. 
When opting for a paid theme, you get high responsiveness, various customizable options, and more.  
A paid theme will cost you $50-$200 either as a one-time fee or on an annual basis. The latter might include updates and extended support from theme developers.
Custom WordPress design could cost you the most. But for your money, you get the best look and feel. Also, you can reach the highest download rates and improve your Google ranking. 
It all leads to how well your clients perceive your brand image. 
Still, price corresponds to opportunities. The design of a custom WordPress website ranges from $1,500-$50,000. 
Plugins and extensions
In order to make specific things work, you need to integrate them into your WordPress website. For this, you can use specific plugins available for purchase. 
A plugin would cost you $45-$500. Depending on the terms of services, it can be either one-time purchase or a subscription. 
There are 53,000+ plugins available. They cover most kinds of activities, from anti-spam filters and contact forms to booking calendars and SPAs. 
The rule of thumb: test plugins you want to add to your website before you go live. They might conflict with the rest of website functionality, i.e. break your website. 
Also, your website will slow down with too many integrated plugins. In this case, it makes sense to have new functionality developed from scratch and adjusted to your website. 
What does it cost to build a WordPress website for e-commerce?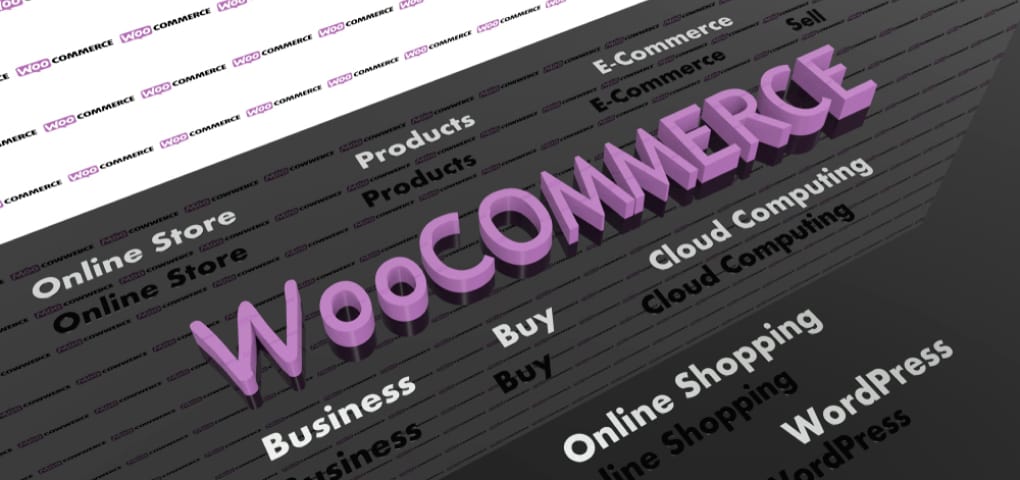 There are many plugins available for e-commerce websites, but we suggest WooCommerce. 
WooCommerce plugin is very popular.
Basically, this is not just a plugin: WooCommerce is a complete library to integrate with the existing blog or website based on the WordPress CMS. 
What is the main benefit WooCommerce? It provides an opportunity to build fully functional online stores. 
The main advantages of WooCommerce are:
Updated reporting system with integrated Google Analytics tracking

Ability to create catalogs

Coupons and discount systems with support of the coupons' terms of use 

Integrated mailing templates and different kind of alerts

Simplified product management, product categories and ability to sort goods
WordPress+WooCommerce website's unique design integration places no demands on server resources. And, it requires just a little time for integrating the custom design
We have collected a rough estimate of a feature list needed to build a simple ecommerce solution. 
This list answers how much WordPress website costs. It provides minimal number of working hours needed to design, develop, and set up a website.
Time required to set up: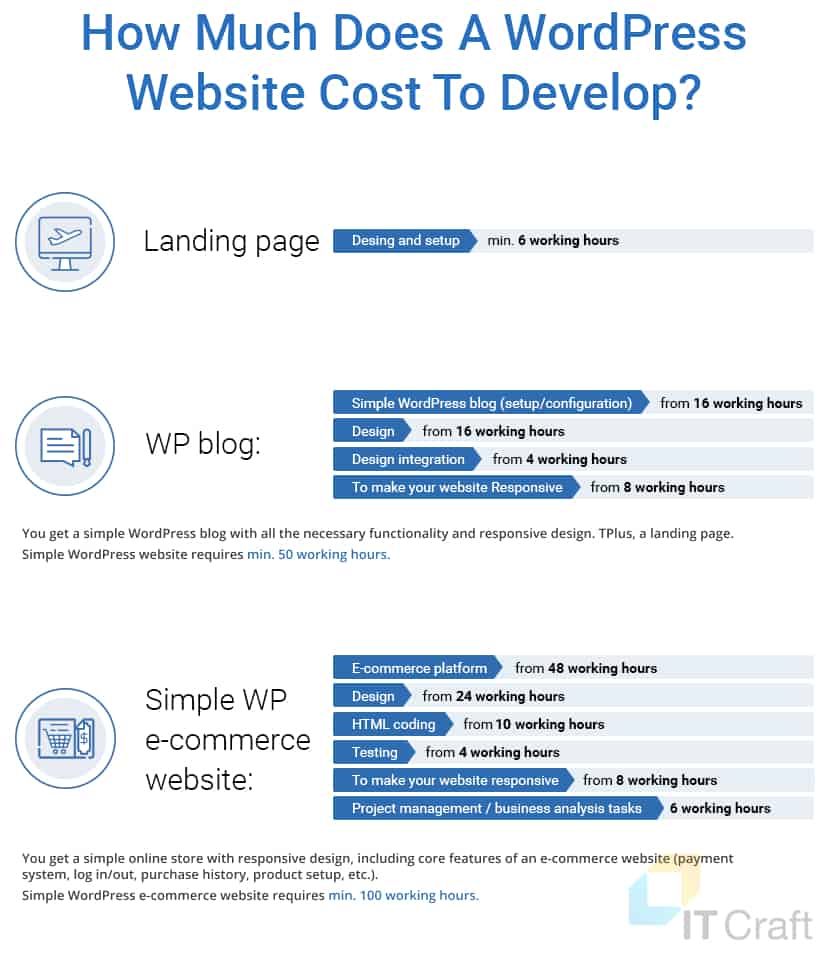 ---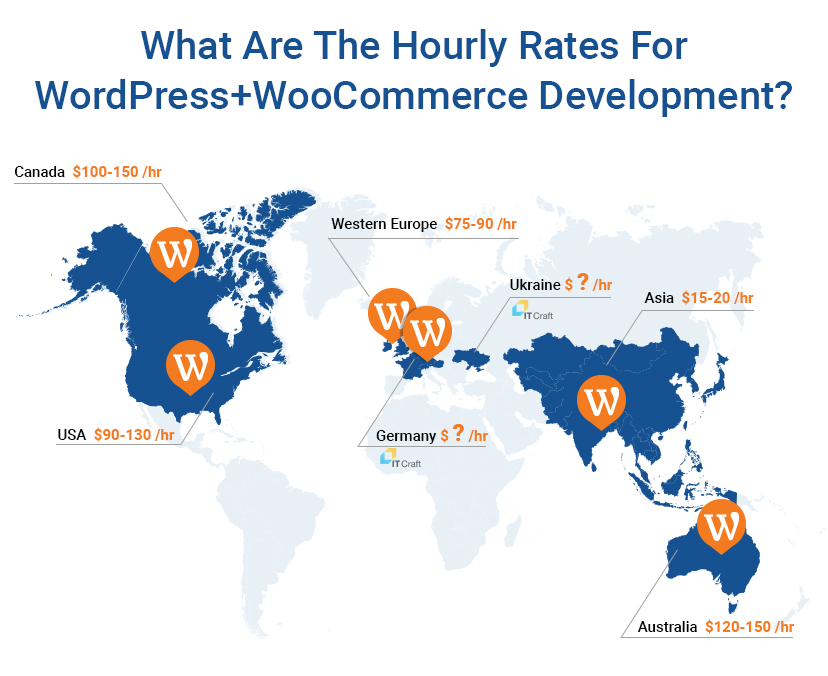 To sum up, technically, you can have a WordPress website for free or investing your own time. But it might not work well for your business. 
Therefore, the cost for a simple WordPress e-commerce solution starts from $2,000 at $20/hour to $15,000 at $150/hour. 
Costs of WordPress website development increase heavily with every custom feature. Also, you must choose an experienced team with proven rate when you plan custom functionality for your website. This increases your budget but ensures you get what you require, on budget and within deadline. 
Also, add here WordPress costs for maintenance, such as hosting ($3–$750), domain name ($20–$2,500), and certificates ($5–$200). 
Do you want an exact roadmap for your web solution? 
Contact us and get the numbers!