Do your customers prefer paying for purchases anywhere in the store or waiting in a long queue to pay? How many customers leave before buying because of a long line?
It's time to introduce a mobile retail POS.
POS software keeps pace with tech-savvy customers' current mobile habits including: Contactless, M-payment, P2P payment.
And for businesses: a well-suited POS system streamlines business processes significantly decreasing operation time while simultaneously and automatically collecting statistics on working hours, sales, stock availability and much more. All data can be entered and managed at any place: no need to be tied a heavy, immobile cash register. This is how it works.
What are the 5 POS components?
POS hardware is usually assembled into a single set:
Register screen – displays the purchase information

Barcode scanner – quickly checks out product information in a database
Cash drawer – stores banknotes in a special case
Card reader – scans information from client's credit /debit card and/or gift card
Receipt printer – provides summary information about the purchase. Additionally, purchase information can be emailed or saved in an app with purchase history.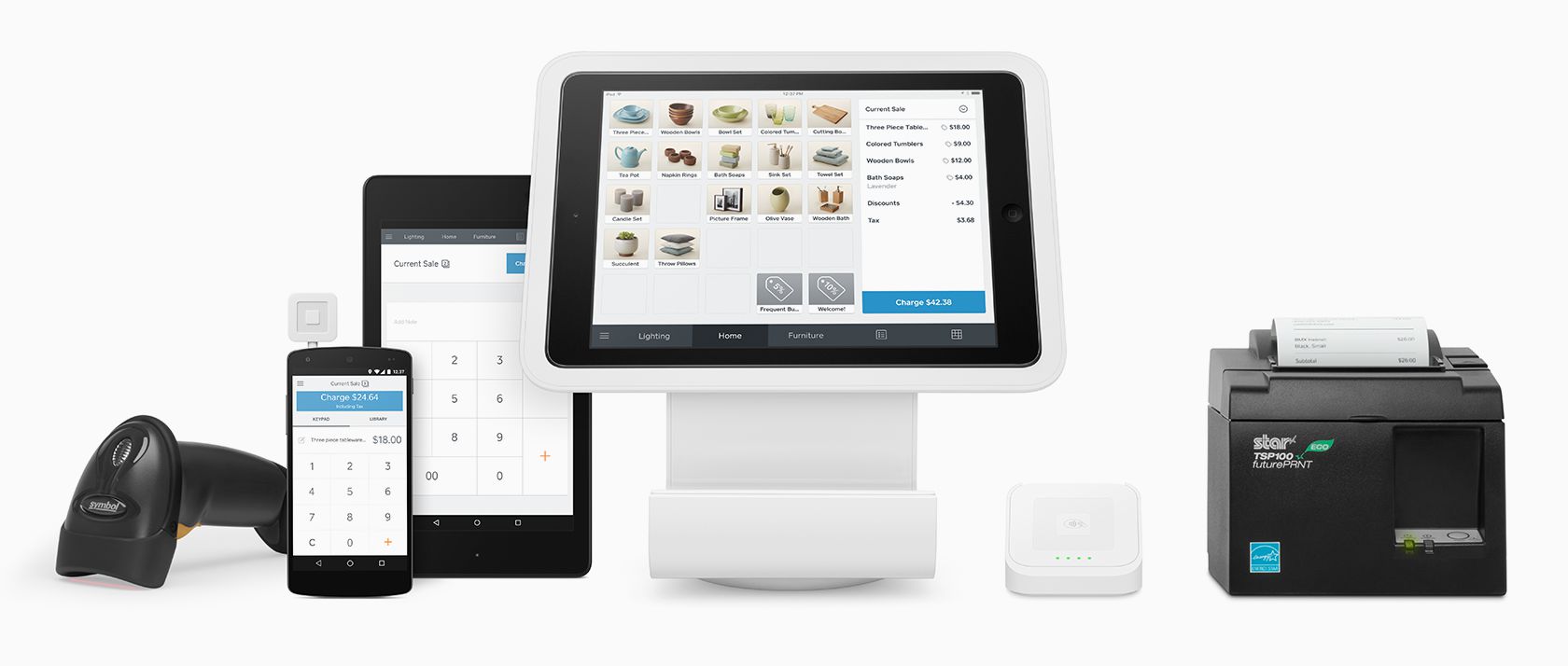 Unfortunately, traditional hardware set becomes slowly the history of POS: it lacks mobility. In today's world, people prefer the convenience of mobility—something they can easily carry with them throughout the working day.
Tablet screens can be used by store owners and assistants to register purchases while cameras can be used as barcode scanners. Additionally, manufacturers produce miniature hardware for their devices. Apple provides accessories for POSs. And when transactions have been completed, there are small wireless mobile receipt printers.
Customer independence: POSs for customer self-service. Customers use their own tablet or smartphone to scan a purchase and pay for it. When needed, sales assistants help them make an informed decision or register the purchase. Also, customers can check stock availability, colors, shapes, discounts and pay for the item showing the receipt at the exit.
The 9 core features of POS software
The core of a modern POS is its software. It must provide oversight throughout the entire purchase cycle, e.g., operations, items, costs, employees, and time.
The list of must-have features for a POS app system is the following:  
Transactions – receives payments from customers in different ways (cash, credit card, mobile payment, etc.). To do this, the app integrates different payment gateways.

Receipt printing – supports connection to mobile printers and sends a receipt to the customer's email (upon request).

Reports – generates reports based on several parameters: date, sales assistant, category, item, customer, etc.

Open day / Close day – balances the books: works in sync with "resident" cash register and helps verify transactions for bookkeeping.

Inventory oversight– manages product availability of stock, predicts sales rates and reorders items.

Reference information – maintains product descriptions that sales assistants can use to tell the difference between two similar items.

Integration – synchronizes data automatically with other business software to simplify the work of stock managers and bookkeepers.

Employee management – employees use the app to track their working time.

Synchronization and backup – functions seamlessly without Internet connection, saving data and sending it to the server when the connection restores. Regular backups eliminate information loss and, thus, avoid money losses.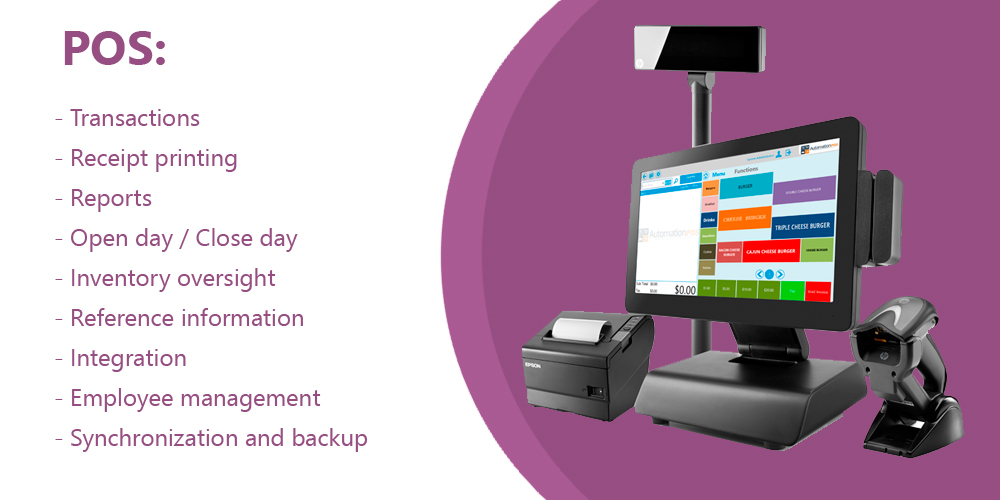 What is a better option for you: "out-of-the-virtual-box" solution or a custom app?
This depends on the size of your business and its special features. The more employees you have and the more you must look after software security and integrity, the more you need a custom software solution.
Usually, businesses start with current market solutions to try third-party POS services and adjust their business processes. But with growth, they eventually create their own mobile app based on their needs.
The core functionality of any tablet POS: makes it possible for shop assistants to expedite checkout. Also, tablets replace immobile  counter systems for their flexibility, e.g., at sports events, concerts, exhibitions, etc. Assistants serve customers anywhere inside the shop, accessing all necessary information from one mobile device and processing the purchase at the same place saving customers' time.
To add value, special self-servicing POS apps help customers create  their own unique patterns for the things they want to buy, providing customization features like shape, decoration, materials, etc., and making it possible to see the result right here, right now. For example, NIKEiD Direct Studio uses a special Augmented Reality app to project visual objects onto a sport shoe. A customer chooses preferences and pays; the purchase order is put into production and delivered to the customer within three weeks.
How much does a POS app cost?
The development costs for a POS system vary greatly depending on which features the future product owner wants to see in the new app. The price also varies based on where the development team works (development teams located in Eastern European countries have lower fees because cost of living is lower), their experience, and subscription fees for the third-party modules.
For more information, please refer to the post, "How much does an app costs".Or, get in touch with us for a free consultation.
In conclusion. In the long run, a mobile POS is cheaper than keeping your retail assistants stuck at the cash register. The possible negative result of dragging your feet to keep pace with current trends slows down operations resulting in loss of time, data, and customers to those who opt for a better service.
An introduction of new software might be overwhelming and requires work on integration with existing business software but this is probably the only winning strategy in our tech-savvy world.