Logistics management software digitalizes processes for logistic purposes. Logistics focusses on managing material, information, and human flow to optimize each and reduce cost.
Here is where logistics software development makes the difference:
When Amazon launched in 1997, it had two fulfillment centers. Now, Amazon has become one of the Big Four technology companies along with Google, Apple, and Facebook. Amazon works as a dealer for over 3 million sellers with 350 million goods. The company handles about 4 million deliveries daily through 75 fulfillment centers and 25 sortation centers. Amazon employees exceed 125,000. A fleet of trucks and an airplane park ensure Amazon meets its famous 2-day, free-delivery promise for USA buyers. There is even a 2-hour delivery provided for some American cities covered by Amazon's Prime Now program. The greatest postal services, like UPS and FedEx, do not provide anything like this.
The secret of Amazon`s commercial success is a perfect and scalable logistic scheme supported by custom logistics software solutions Amazon develops for itself.
Software solutions for logistic and enterprise management are no longer superfluous. Rather, they are major factors for company success and marketability—along with transparency, speed, and quality of service.
Thus, any company that would like to optimize and digitalize its inner processes needs logistics management software. In some cases, it might be called enterprise management software.
Who needs logistics management software?
Traditionally, the following categories of companies handle logistic processes and are first in line to use logistics management software:
It is also possible to introduce the following classification of companies that need logistics management software based on their goals:
Companies wanting to reduce expenses and increase profit by optimizing inner processes and systems.
Companies needing to digitize their logistic processes due to increased scope of work and manual processing is no longer possible or takes too much time and too many resources.
Companies already using software for logistics management but would like to expand it, add more features, improve user experience, or update it making available for new devices.
Companies choosing to stay competitive in the logistics market or enter this market soon.
Entrepreneurs and investors looking for new, profitable, start-up ideas.
Currently, logistic companies comprise about 10% of the global GDP.
In 2019, reports from leading market research companies state that logistic digitalizing is one of the top 10 trends transforming the global market. More and more companies are following examples of Amazon and other market leaders by bringing advanced technologies into their daily operations.
What questions does logistics management software handle?
Logistics management software can optimize processes in any sphere related to logistic or enterprise operation. Check out the table below for some examples.
Logistic sphere

Examples of tasks logistics management software handles

Supply chain

– Plan material supplies
– Provide form orders for suppliers
– Handle payments and documentation
– Distribute supplies within the company

Transportation

– Process transportation orders
– Interact with the customers
– Choose vehicle and delivery staff
– Choose the most effective route and route mapping
– Plan cost and monitor delivery
– Track loads and vehicles in real time
– Report delivery
– Manage documentation

Warehouse

– Manage supplies
– Plan warehouse space
– Quarter supplies
– Sort, pack, and label supplies
– Monitor warehouse operations
– Manage warehouse personnel

Informational flows

– Collect, process, and store information on goods, human, and financial flow in the company
– Analyze company performance and report analytical conclusions to the management
To find your best logistics management software , you need to search the market of pre-made solutions. Those solutions might work well enough, but the guaranteed method is to order a custom application. Choosing a custom application means you can take part in both the design and development of the logistics software specifically suited for your company.
Functional module

Goals

Management solutions

Plan, organize, process and manage:
– Transport
– Warehouse
– Supply
– Personnel
– Inner processes
– Informational flow

CRM (customer relationship module)

– Interact with customers
– Handle orders and payments

Reporting & Business Intelligence Software, Analytics

– Collect information on all logistic operations
– Calculate and analyze coefficients measuring company performance
– Generate reports for analytical and management purposes
Accounting and Solutions for Finances

– Track all financial operations
– Calculate revenue and expenses
– Generate financial documentation

Planning & Booking Software

– Human resource control and planning
– Material resources planning
– Vehicle planning
– Supply chain execution
– Order prognoses
– Warehouse load planning
What does logistics management software look like?
What does software for logistics management look like?
Let us review a possible logistics management solution for a transportation company.
The actions listed below help us make the following example more realistic:
A carrier company wants to have an application to go lock step with the whole process of transportation and delivery, starting from the order placement and finishing with receiving feedback from the customer upon delivery completion.
Software application users are:
The software should be integrated with a third-party application handling documentation for the customs office.
This software should handle the following logistic processes:
Receive order, payment, and feedback from the customer.
Combine several orders for the same truck automatically depending on the route, weight load, dates.
Choose a suitable truck and driver.
Calculate and map the optimal route.
Track and monitor the truck on the route.
Provide customer with the possibility to track his/her orders in real time.
Provide department manager with the possibility to monitor all the orders, customers, and drivers.
Send individual notifications to the customer and driver.
Send a set of data to the third-party system for custom documents generation.
It is convenient for both customer and driver to use the application on their mobile phones. The manager and dispatcher use it in the office on a desktop PC.
Taking all the above factors into account, it is possible to suggest a cloud-based solution that interacts with mobile applications for the customer and driver, and a web-based application for the office personnel.
Schematically, the desired logistics software can be pictured like below: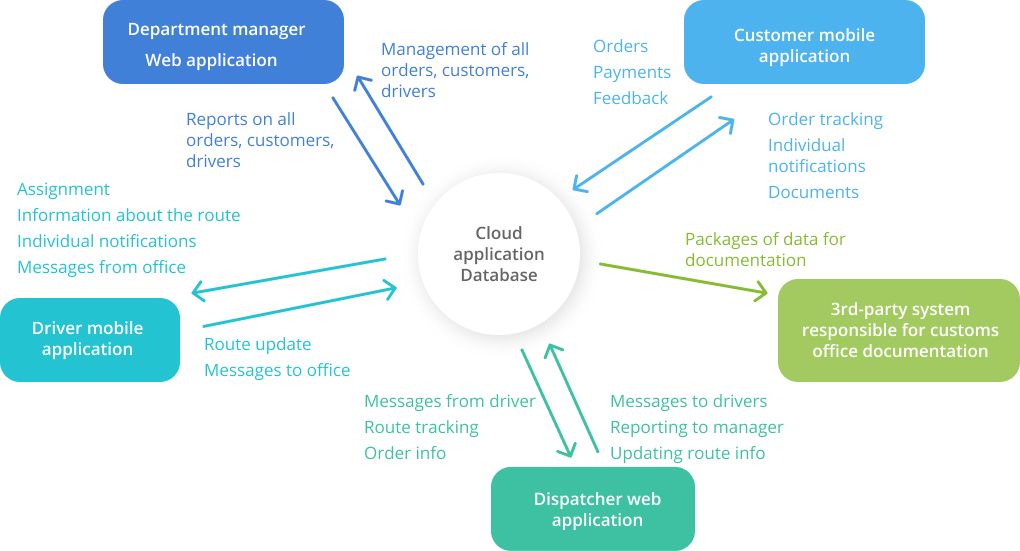 Summarizing tips for logistics management software
Logistics is a large and dynamic global industry very receptive to technical innovations.
Such up-to-date technologies, like operational scalability, big data processing, and machine-based forecasts, are being more and more closely integrated into the industry.
And we are not talking about drones and robots!
You might find some relevant thoughts from industry professionals to consider here:
To make all these factors work for your company, you need the essential foundation:
logistics management software.
Modern programming technologies allow creation of functional software applications with extensive data processing, as logistic requires. At the same time, it provides a clear and intuitive interface optimizing work for the end users.
IT Craft specializes in providing custom software solutions for businesses. There are logistic companies among our many happy clients. We provide our customers with up-to-date logistics software tailored to their specific needs, combining user demands from one side and industry standards from the other side.
Let's talk about your plans for integrating logistics management software to make your business—and your life—run more smoothly.
IT Craft: the Swiss Army Blade of IT Solutions