Indoor Positioning and Navigation Systems
For Businesses and Organizations we offer:
Plain workflow. 
At the start of the project, we provide you with an iteration plan.
Instant communication.
You can always be in contact with the managers responsible for your project.
Constant reports on project development. 
When the iteration is over, we provide you with the results which you can test, and you provide us with your feedback.
After-release support.
When the whole project is released we support you for a pre-arranged period of time to make sure the solution is running as expected.
Indoor Positioning and Navigation Systems Features:
Cost-effective implementation and maintenance
BLE beacons hardware is low-cost, low-power consuming so it does not require much expenditure on installation and maintenance.
Multiple application
BLE beacons-based solutions are well suited to all types of facilities. They can be used for any service that needs positioning, indoor navigation or user notifications. Also, they can be used to build solutions for augmented reality.
Exact location positioning
When placed on the wall, BLE beacons' designated position is displayed on the map. This makes it possible for visitors to quickly find their exact position in the venue.
Navigation and orientation
One of two possible modes of a BLE beacon is signal transmission that, combined with a dedicated app, helps the visitors find their ways through the venue to the point of interest.
Notification system
The other possible mode is notifications. Visitors receive short push notifications on their smartphones that can be used for promotion and advertising.
Tags
BLE beacons can be used instead of RFIDs as tags. Moreover, as BLE beacons are active transmitters, they can be used to track the location of an item in a warehouse.
For Indoor Navigation and Positioning You Need:
    smartphone that supports Bluetooth Low Energy technology;
    pre-installed navigation app with a facility map onboard;
    BLE beacons network tuned for your building;
    venue that is equipped with Geomagnetic fingerprinting.
Do you think GPS is cool? An indoor positioning and navigation system can make your organization more efficient, productive, and effective.
Find Out  How Indoor Positioning and Navigation Systems Work: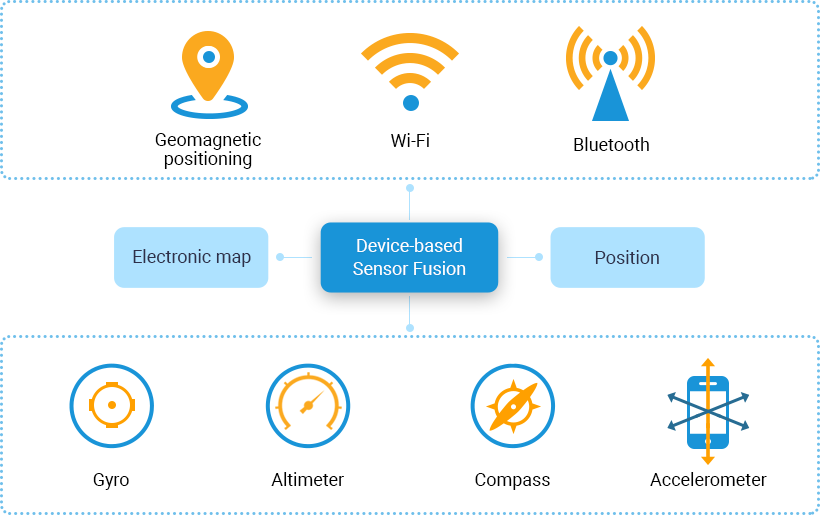 Why Choose Us?
Web and mobile development is what we have been doing every day for over 17 years. All this time, we worked on projects of various sizes, from simple web-based time trackers to complex ERP systems and flight planners. Based on your needs, we can help you with any service, such as inspect code of your app, implement new features into an existing system, port your solution onto a new platform, update it, test or start development from scratch.
You can focus on your key priorities while we focus on their technical implementation.
You collaborate with a dedicated team of professionals so your source code will meet the latest standards.
It is YOU who makes the final decision on every single piece of work.
You can be sure your contract has the best rates and terms.
We treat our reputation as we treat our clients: with greate care and respect. If any functionality is impossible within the desired timeline or the price is unreasonably high for you, we will always tell you. Honesty is the best policy.
Or Read More about Indoor Positioning and Navigation Systems
We Are Proud to Be The Part of The Following Projects: