Mobile devices permeate people's everyday life and take slowly more and more place and time in it. Tablets and smartphones conquer consistently the world. That promises in return the growth of number of users who might be interested in download and installation of applications. Therefore, the market of the apps for mobile devices looks auspicious despite of the fact that one-in-eight developers deal namely with mobile app development.
People prefer online
It seems that the new generation tends to use devices suited for the Internet access. Younger people want their phones mobile and smart. As the research indicates, more owners prefer cell phones to traditional ones, especially in younger age groups. Furthermore, there is an interesting trend: most of smartphone users are male, well-educated and have bigger income.
There is a similar tendency with desktops too. About a third of consumers who used to access certain content on their PCs switched to tablets and smartphones. Of course, with the notice that desktops or laptops are still used for particular tasks (like we still have printed books).
It means that we observe some shifts in consumer habits. Users get a "third device" – for incidental Internet access. However, they spend on a mobile device about three hours a day doing several activities.
Being online on-the-go or what mobile device users do
As the NPD Group mentions, the main activities of tablets and smartphones users remain web browsing and social network:
The top two activities are web browsing and Facebook when 27 percent of responders use their PC less frequently for accessing the Internet and 20 percent – for accessing Facebook. Consumers are still using their computers for many of the core PC-centric activities, but the tablet and smartphone are gaining traction.
These are the main battlefields where mobile devices triumph.
Other frequent activities are entertainment (games, watching TV and video on YouTube, listening to the radio or music) and getting information (maps and navigation, news and weather forecasts). Next come specific tools needed to accomplish tasks (e.g. medical apps, online banking, buying or selling online).
Nielsen found out that downloaders are more willing to pay for game apps, as well as for entertainment, productivity, maps, food and news apps:
Among their sample of app downloaders, 93% said they are willing to pay for the games they play. Large percentages of downloaders also said they were willing to pay for entertainment apps (87%), productivity apps (84%), maps/navigation/search apps (84%), food apps (77%) and news apps (76%).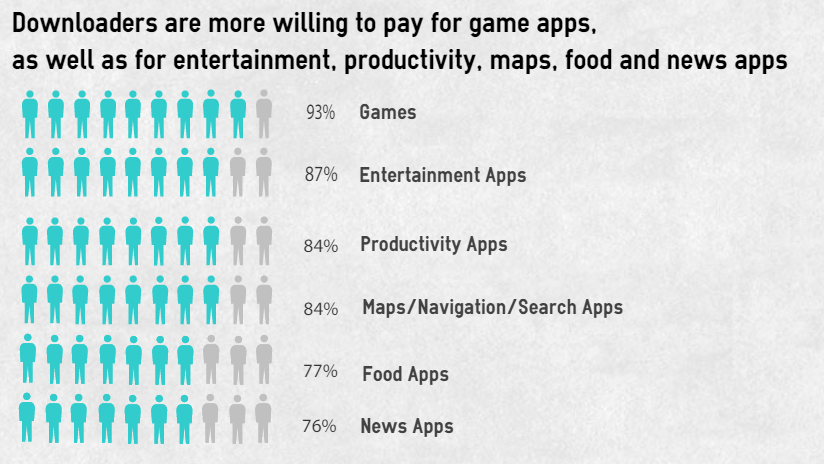 Why apps are interesting for business
Smartphones and tablets is a good place where business meets customers. Of course, with the help of developers. App market provide huge opportunities for brands to reach their customers through multiple channels: sms, e-mail notifications etс. Apps become distribution channels that offer infinite number of possibilities i.e. to stimulate, notify, test new technologies, trace customers' reaction on product, create a loyal community or make a survey. Though in the first line they offer communication channels with clients that allow making communication more personal that is, more effective for both parties.
That is why business is willing to pay for mobile application development and make apps free for users.
Any color you like
Current trend: Internet has become the main communication channel and its importance will keep growing in the next time with migration of more users' activities to mobile devices. It is quite possible that users get accustomed to mobile devices and will need to transfer more activities to their smartphones/tablets as well as receive more information through them. That opens up many possibilities for mobile apps developers:
To make a niche solution/a custom app;
To create a mass app (probably with ad and/or an upgrade to pay version);
To develop pre-installed apps;
Any app that user will find advantageous and worth payment.
You just have to decide what type of app you want to concentrate on and be ready to satisfy client's needs in a best way.
It just means for the mobile apps developers that there is a place for everyone. Just accept the challenge.