Telemedicine now takes center stage. We hear about it every day. Is it living up to its promises?
Telemedicine is part of medical science. It focuses on implementation of best digital practices, including, but not limited to:
rendering remote medical help
providing both patient consultations and case conferences
issuing and transmitting health information
sharing treatment methods
Telemedicine has become an integral part of modern public health far more quickly than anticipated.
That means telemedicine app development has ramped up to keep pace with demand.
What does a telemedicine app do? It provides quality medical care to all those in need. A patient's location and social status have no relevance.
Telemedicine apps form a rapidly growing trend all over the world. Distance no longer matters. We can even call it the modern version of the old medical practice of doctors' home visits.
Why are telemedicine apps so popular now? This is obvious. Because demand is high. Currently, unless it is an emergency, remote medical consultations are the sole means of getting medical advice.
Telemedicine makes it possible to use modern communication technologies for medical information exchange. Video, audio, and text messaging eliminate unnecessary steps.
Different telemedicine mobile apps appear with increasing frequency. They each tout different functionalities.
So, what are telemedicine apps and how exactly do they help? What does development cost? How are telemedicine apps made?
Read the answers below.
What is a telemedicine app? What basic concepts do telemedicine apps use?
Each telemedicine app development project has at least one unique feature.
But they all share common features.
Briefly, there are two main types of telemedicine apps:
1) "Doctor to Doctor" – These apps are for medical consultations and operations under supervision by a person long distance. These consultations have already been practiced in the US for many years. More and more doctors use telemedicine mobile apps to receive consultation from colleagues who are in another part of the world.
For example, a doctor needs an urgent consultation from a colleague regarding a current case. When there is no time to arrange an appointment, he or she can make it via a telemedicine mobile app.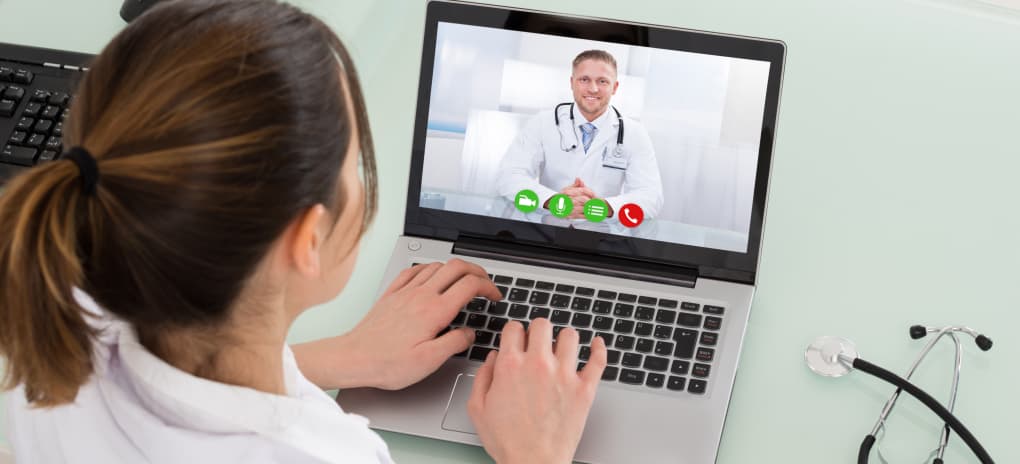 2) "Doctor to Patient" – These telemedicine apps make it possible for a patient to receive a doctor's consultation quickly. No need to make an appointment at physician's office or wait in an emergency room for hours.
Imagine this. You are on vacation of your dream in a distant land, somewhere in the mountains. You return on Saturday evening in your hotel room. You find a strange rash. Wouldn't it be better to receive a consultation and to arrange an appointment with the doctor? It may be insignificant but it may also require an urgent admission. With a telemedicine app, the quick answer becomes possible.
Of note, the two types discussed ("doctor to doctor" and "patient to doctor") have different feature lists.
Telemedicine app development varies based on these features lists.
What are the benefits of telemedicine apps for different user groups?
In many countries, telemedicine is already a well-known medical method. It has been widely recognized among doctors and patients for many years.
The United States and European countries chose their direction towards online telemedicine apps. In the USA, telemedicine was first used by military forces. Later, civilians began enjoying the benefits.
In the US, many surgeons practice online recording of rare and complex surgeries. This way, students and colleagues worldwide learn from these cases.
Medixine is an example from Finland. Diagnostic devices are integrated with a patient's tablet or smartphone and connected to telemedicine apps for doctors. Both are used daily. The device captures physiological parameters of the patient's body and transmits them to the apps for doctors. They provide access to patient's data for quick diagnostics. Based on the diagnostic results, a doctor provides a remote consultation via an online telemedicine app and/or writes a prescription.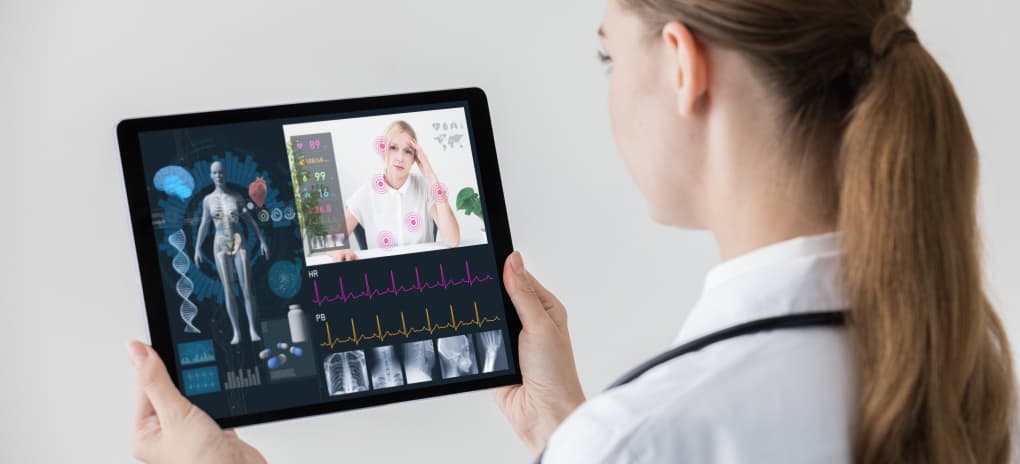 Norway and Finland were the first countries to introduce and benefit from telemedicine. Long distances between doctors and patients are a big problem in these countries. The introduction of telemedicine apps for doctors has become mandatory to ensure quality medical care in remote areas.
Why do different countries apply for telemedicine? Here are three main benefits of using telemedicine apps:

speed of diagnostic
Through apps for doctors, telemedicine helps medical specialists diagnose and begin treatment faster.

distance is no longer an issue
Telemedicine eliminates boundaries. Distance is no longer a critical factor in providing medical care. Using a telemedicine app, patients can receive a fast consultation. And doctors can supervise a treatment process remotely.

expanded network of professionals
Through apps for doctors, telemedicine opens opportunities for new, effective solutions or platforms. Interdisciplinary professional communication helps specialists from different medical areas expand their professional background.
What are the most common telemedicine app features?
What defines a must-have feature list for a telemedicine app?
First, there is more than one application.
Let's take the most interesting case, "Patient – Doctor'' solution. In this case, the development team must install:
Admin panel for management of the entire system (usually, a web-based platform)
iOS and Android applications for doctors
iOS and Android applications for patients
Functionality will be different for each of these apps.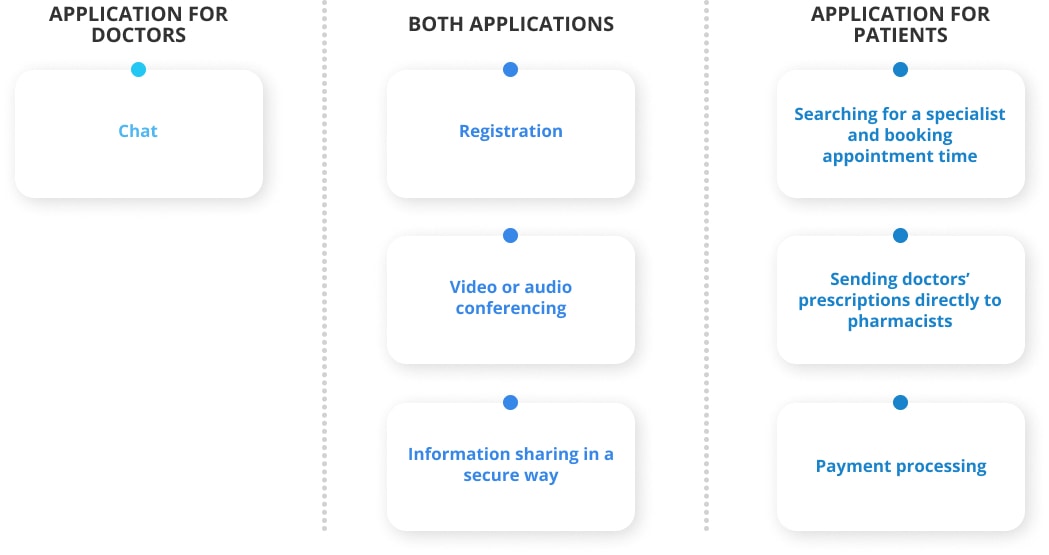 Registration is obligatory for both telemedicine doctors' apps and solutions for patients. The registration process is the first, basic step. Regarding healthcare, this step is essential. Doctors need to be thoroughly checked to ensure their competence.
Searching for a specialist and booking appointment time lets people search for a doctor with an essential specialization and schedule a call. This helps patients make an appointment from their homes in the most transparent manner.
Video or audio conferencing is a best-for-patient option in every telemedicine app. A video consultation provides more benefits to users, but a video-based telemedicine app development solution considerably increases development costs.
The one significant downside to video calls:
Chat is another useful feature. Doctors can use chat function as a quick reminder for their patients. Chat can quickly help clarify a remaining concern or question after a video appointment. No need to reschedule another new video call.
Information sharing in a secure way is crucial for both patients and doctors. Everything must be secure: communication, saving sensitive data, and sharing medical records. Security is possible only when users follow strict security rules and implement relevant protocols:
encrypt all browser-to-server connections using the https protocol
sign all requests with a short-lived token for user authentication
encrypt all patient files on the fly
implement country-specific local safety rules. For example, HIPAA applies in the USA; GDPR applies in the European Union.
Sending doctors' prescriptions directly to pharmacists simplifies the treatment process. What must patients do? Just go to the pharmacy and pick up their orders. Or have it delivered. No additional calls or appointments necessary. Fast and convenient. If businesses do not integrate this step, they ruin the entire UX.
Payment processing is another important feature of any telemedicine services app. There are different ways how patients can pay doctors. The most common include:
Insurance payment. Patients add insurance data to the system. The system checks whether insurance covers expenses. If it does, the system notifies the insurance company to pay certain services.
Payment by card. Patients pay using a credit card if they have no insurance or their insurance does not cover costs of an appointment. The payment system transfers payment directly to the doctor's account. This can be done through an account in a system with additional monetization.
Hybrid system. Part of a teleconsultation cost is covered in accordance with a patient's insurance plan and the rest is paid by the patient.
How much does it cost to develop a telemedicine app?
On average, it takes 2,796 working hours to complete core functionality on a telemedicine project. Costs of a telemedicine app cover development of an administration panel and dedicated apps.
A development team must integrate 3-5 apps into one complex telemedicine solution.
Custom functionality can add extra working hours (i.e., extra development costs) on a project. Also, HIPAA compliance and high-security standards add costs to the overall telemedicine app price.
Below is the minimum time required to develop a telemedicine solution:


We can easily calculate approximate telemedicine app costs by multiplying required working hours and hourly rates around the Globe: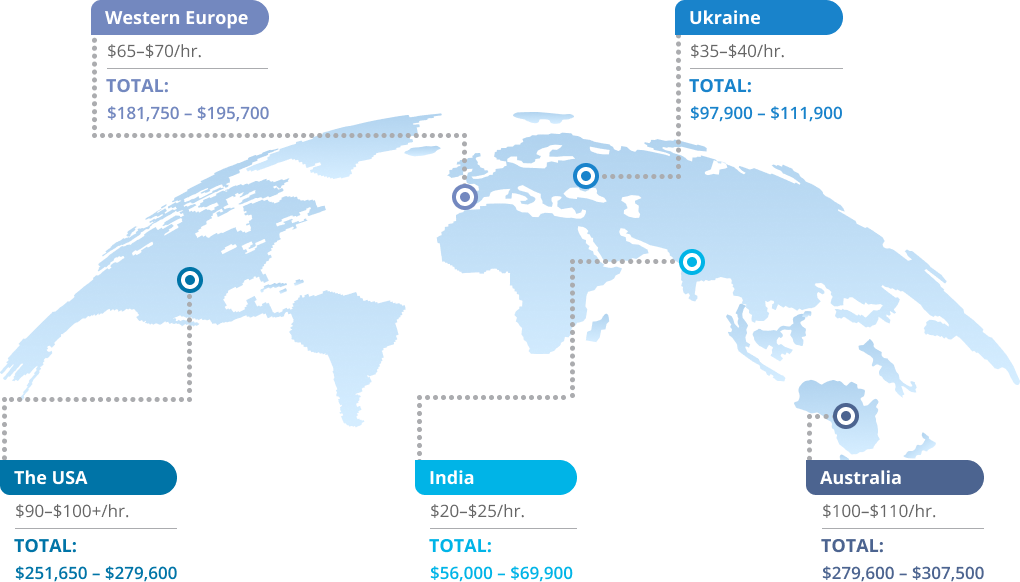 Do you want any extra features, apart from the mentioned above?
Figure out how much it takes to deliver your app.
What are the challenges of telemedicine app development?
Before you start building a telemedicine app, consider possible challenges you might encounter.

SecurityYou need to ensure your app is safe for your users. This truth cannot be stressed enough. Security of user data is the essential key for all telemedicine app developers. - Carefully attend to data encryption.- Provide multi-factor authentication during the implementation phase.- Follow security protocols.

UI/UXTelemedicine apps target a wide audience, including the elderly. Every step must be intuitive and easy. It is important to put well-thought-out effort into UI/UX phase. The development phase must ensure everything functions well. If users cannot easily understand the UI/UX, the app falls short.

RemunerationWhen you decide to create a telemedicine app, take payment into account. Patients and doctors want to ensure they can easily receive their money. App flow needs to be secure and clear. For this purpose, a secure credit card or PayPal payment can be offered. Stripe or similar also apply. .
Finally, regarding payment. Remember some insurance companies consider distant emergency assistance and related medical care activities as full-time work. They must be remunerated as regular work at a hospital. You need to create a telemedicine app with functionality that ensures insurance companies can make payments to doctors or medical facilities.
What are the most demanded aspects of telemedicine apps?
Introduction of information technology in medicine is required and timely, as confirmed by many studies. Highlights of the most valuable basic aspects of telemedicine apps include:
Telemedicine helps improve communication between doctors from small local hospitals and their peers from clinical centers. As a result of eliminating information isolation, doctors in villages or small towns keep pace with their professional development.
It makes better and more efficient medical services possible. Telemedicine apps help reduce the incidence and even mortality of a population by improving diagnostics and providing faster treatment.
With the help of "doctor-doctor" telemedicine apps development, instant consultations on urgent cases are possible.
What should you keep in mind before starting a telemedicine app with us?
What if you choose to create a telemedicine app with us?
Send your requirements and our Business Analyst will investigate project requirements on a deep level before assigning the team. This ensures the scope of work is clear and a detailed project plan is possible.
What if you do not have detailed technical requirements to share? No problem. Our Business Analyst will create a software specification requirements document (SRS). This document thoroughly describes exactly how your telemedicine app will work. A well-prepared and written SRS document provides a great guideline for every development and QA team.
Business Analysis and UX/UI are the key points in creating a telemedicine app users love and recommend to their friends. Once the wireframes are created, it is time to do the UI design.
Of course, app development is essential. At this stage, IT Craft assigns a team of required specialists to create the telemedicine app within set requirements and timeline. Experienced telemedicine app developers do what they love and do best.
IT Craft's expertise in medical app development
Flexwise

Flexwise helps administrators hire and manage temporary, qualified medical professionals—all virtually. For it, Flexwise has formed a special Flexpool where professionals go through an extensive onboarding process. Once selected to be in a specific Flexpool, nurses can determine their schedule and negotiate on price and specific position. They can accept a job immediately with the app. Professionals also use the app for Clock-In and Clock-Out records. Hospital managers can manage and approve timesheets in the app. The development team provided the Flexwise company with a flexible digital solution. To make this happen, its monolithic software was redeveloped into a microservices solution. More structured and effective development of new UI components was possible using Storybook.
What are common approaches to development of telemedicine apps?
It is worth noting, different project management approaches can be applied to develop your telemedicine app.
Agile
Agile is one of the most flexible ways to implement software development projects. The Agile approach allows closer communication with the product owner (customer). Agile enables flexibility in detailed requirements and priorities considering certain changes. Telemedicine app development will be split into phases—milestones. Results will be shown after each milestone.
Waterfall
Waterfall – the best way to describe this approach is to compare it with wall paintings. The walls are plastered first, then polished, prepared for painting, and, finally, layers of paint are brushed on, one after another. The next step does not begin until the previous step has been completed. This is Waterfall.
Kanban
Kanban is a continuous workflow structure that gives a team freedom of action and ability to change along with changing priorities during project flow. All tasks are represented by cards placed on a Kanban board. Cards move from one column of the work process to another. This approach does not require setting up an exact deadline for a task completion. If the task is completed earlier (or later), the result is released without the need to wait for others.
Scrum
Scrum – within this approach, a development process is split into short, 2-week Sprints with exact start and end dates. Due to the narrow time frame, complex tasks are divided into smaller ones. This allows a development team to improve their speed and learn faster. The key points in every Sprint are Sprint planning meetings, Sprint review meetings, and retrospective meetings. In addition, the development team has everyday scrum meetings (less than 15 minutes) to track progress.
Would you like us to advise the best approach for the development of your telemedicine app?