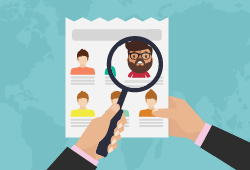 You are on the edge of life-changing decisions. You have already invested an enormous amount of time and energy – a veritable mountain of work – but the next step remains unclear to you: where and how to find a good, dependable software developer for your startup, someone to develop your app or website.
How do you find someone you can trust your money to and – even more importantly – rely on them with your great idea? With your future business?
You can keep reading this article. Alternatively, you can hire a dedicated team, and IT Craft will help your startup become a profitable business.
Do you have four minutes to spare? To help you arrive at the best decision, we collected advice from successful startups and present you with a five-step process:
Step 1. Make an action plan.
For best results, make a list of your exact requirements. After completing the list, put them in order of priority beginning with the most important. Based on your list – and your desired timeline – do you need a single developer or a team? Pay special attention if you choose a single programmer. Service cost is usually less. However, if you are going to start your project from the ground up, a single developer is not enough. Someone must test your project and submit it to live environment (to the mobile store, if it is a mobile app and to your hosting server, if it is a web-based system). And, a sole developer seldom realizes what he doesn't know or cannot do well. Herein lies the main advantage of choosing a team – it's a well-adjusted process from A-Z.
If you have no idea how to build a development process for your startup, what technology should be used, what solutions would be optimal to ensure the best results, if you even can't imagine what kind of hidden obstacles you meet head on, that could turn your idea around – choose a team to work with.
Side note regarding cost: If you have a limited budget, be wise not to choose the cheapest to save money: often the cheapest is the most expensive because there is a huge risk you might lose everything. Don't be distracted by a low estimate, because low estimates often mean low priority: your project will not receive needed attention to be successful. Also, some lower-price-range program developing teams, might say "Yes, of course, we can do that!" just to get your business.
Step 2. Make a selection pool.
There are a few ways to select candidates: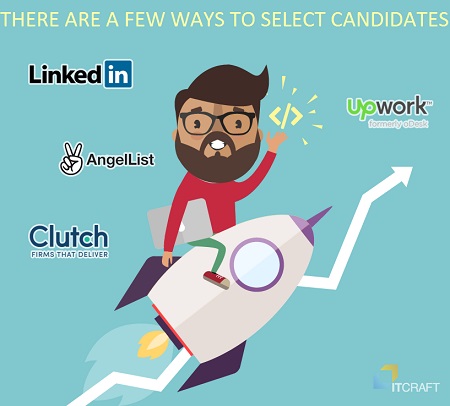 LinkedIn: an extensive professional network,
Upwork,  is a global onlline platform where businesses and startups have an ability to connect remotely,
The Platform for freelancers, startups and investors: Angel List,
DesignRush.com is a digital destination to inspire creative minds. The site features best designs by industry, spotlight interviews with top designers, trends, events & the top lists of global agency, marketing and technology companies.
If you are looking for a team – go to Clutch. That is a very trusted resource for clients looking for a dependable, trustworthy team. Because Clutch has a dedicated manager for every company listed, everything is tracked and verified very carefully: this is incredibly important for prospective clients. Before any testimonial – customer feedback – is posted on behalf of a service provider, Clutch contacts the customer and verifies the statement for its authenticity.
Step 3. Choose the top ten for your list.
Whether going with a team or an individual programmer, the process is the same. Here, we discuss choosing a team.
Look through the software developers' websites. Explore their rates: you can also find this information on Clutch.
Check out each team's portfolio and keep only 10 – the top 10 who are more experienced. Pay particular attention when you look at the developing teams' projects. If you like what you see, ask them to send references. Check out what clients have already worked with them; read through the testimonials.
Step 4. Shortlist the final five.
Now you are down to the final five. It's time to arrange a call with each of them. Prepare writing a list of questions: same questions for each team. If possible, record the conversation – but tell them in advance you are going to record it!
Choose a team who listens to you, asks relevant questions and tries to understand exactly what you want to present to the world. And, of course, you need to find the best team for your startup.
Don't forget about programmers' experience. Only years' and years' of experience could help you in the way of realizing your goal.
Then, ask them what kind of plan they suggest for moving forward. If they can't give you a plan – even a tentative plan – move on to the next team. This is crucial. If they can't give you a plan, they are not experienced enough.
Communication remains a key component in building a trustworthy relationship.
Take note of the way they communicate with you. If a company is interested in your ideas, takes an active part in discussions, and offers you some additional options, you can be assured your project stands out for them. They will care, they will listen – and together you will develop something great!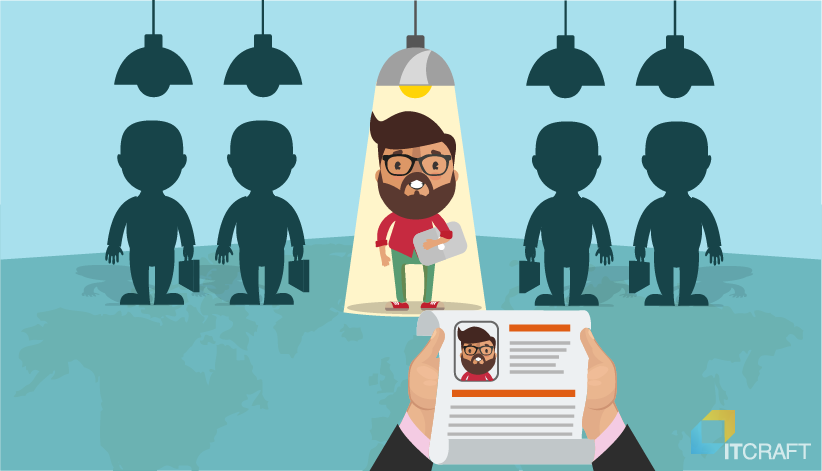 Step 5. Select your team/person
Three criteria: trustworthy, capable and experienced. Add good communicators and listeners. Your chances to increase success: find a team who wants to create not only code for you, but also a working relationship, a relationship based on trust.
Are you still doubting? Let's look at this situation from another angle:
If you are forced to choice between letting your health of expert surgeon or intern, whom would you trust it?
P.S. If you have any ideas to add, contact us and share your thoughts.