Custom Software for Logistics & Supply Chain Management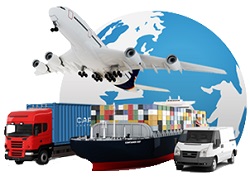 From here to there – automated, stress free, seamless:
Logistics and shipping services at their best
Logistics: In today's global market, logistics – this complex operation demanding detailed coordination – ranks #1 as the most dynamically growing environment. What does this mean? Constant changes. Fierce competition. How do these constant changes affect you? You – your company – must keep pace. Only companies able to quickly and efficiently adapt to constant change and provide their clients with instant, seamless and valuable shipment services survive.
Shipping services: Achieve high-quality shipping services with optimized logistic chains. And where do they begin? Proper warehouse management. Planning and scheduling continuous transportation is impossible without statistics of stock levels available at a certain time and place.  A seamless integration in successfully operating transportation and warehouse systems in real time requires an in-depth understanding of transportation & logistics operations plus fleet management processes. Companies face two challenges: reduce possibility of a logistics nightmare and stay competitive.
How is this possible? Either introduce new and unique solutions or do a better job than other companies. Companies who rely on the old-fashioned, antiquated manual method fall behind. Successful companies rely on automated systems. And it all begins here:
From granular to global: TMS (Transportation Management System) and WMS (Warehouse Management System) make it happen.
Many successful companies have turned to ITCraft for their automated, stress-free, seamless solutions for logistics and shipping services at their best.
What we offer:
Transportation Management Systems
processing client requests, improvement of request operation time, better customer service
planning routes, scheduling stops, optimizing cost-effective deliveries
determining transportation expenses, providing cost-saving options
live monitoring of vehicle progress and controlling deliveries via GPS
forecasting optimized load, minimizing wasted space and reducing freight costs
Warehouse Management Systems
warehouse stock arrangement, real-time entry, storage, packing and shipment of items
optimization of operators workflow – warehouse and traffic management to decrease number of movements per order
accuracy of inventory processes
sorting, multiple picking, final distributing to areas of consumption, delivering to warehouses and distribution centers
ITCraft stands ready to accept both challenges. We build custom solutions to help you automate business processes of your logistic and transportation company and provide seamless door-to-door deliveries.
Onsite or online: we do both. Our tailored software works perfectly both for companies that operate in logistics, freight forwarding, courier delivery, postal services and for online stores, ecommerce and auction businesses.
How it works?

Our projects