Get a free idea evaluation. Click here to opt for a project roadmap.
On-Demand Taxi App Development
IT Craft's robust engine for on-demand taxi app development means you get your app done quickly and reach your audience fast.
Let's make your idea put a reality!
Get started today
On-demand taxi app development: high-quality code, fast launch
Our development engine tailored specifically for on-demand taxi app solutions "fits the bill" for several types of business.
Taxi chains

Manage your fleet in real time with on-demand taxi app development. Optimize expenses by automating processes and data flow. Increase customer loyalty by offering the same level of service in all locations.

Single businesses

Expand your presence in your local market. Offer taxi on demand. Increase customer satisfaction with your services.

Startup marketplaces

Try out a new business idea. Launch your taxi on demand MVP quickly. Attain a sustainable business model.
Save time and money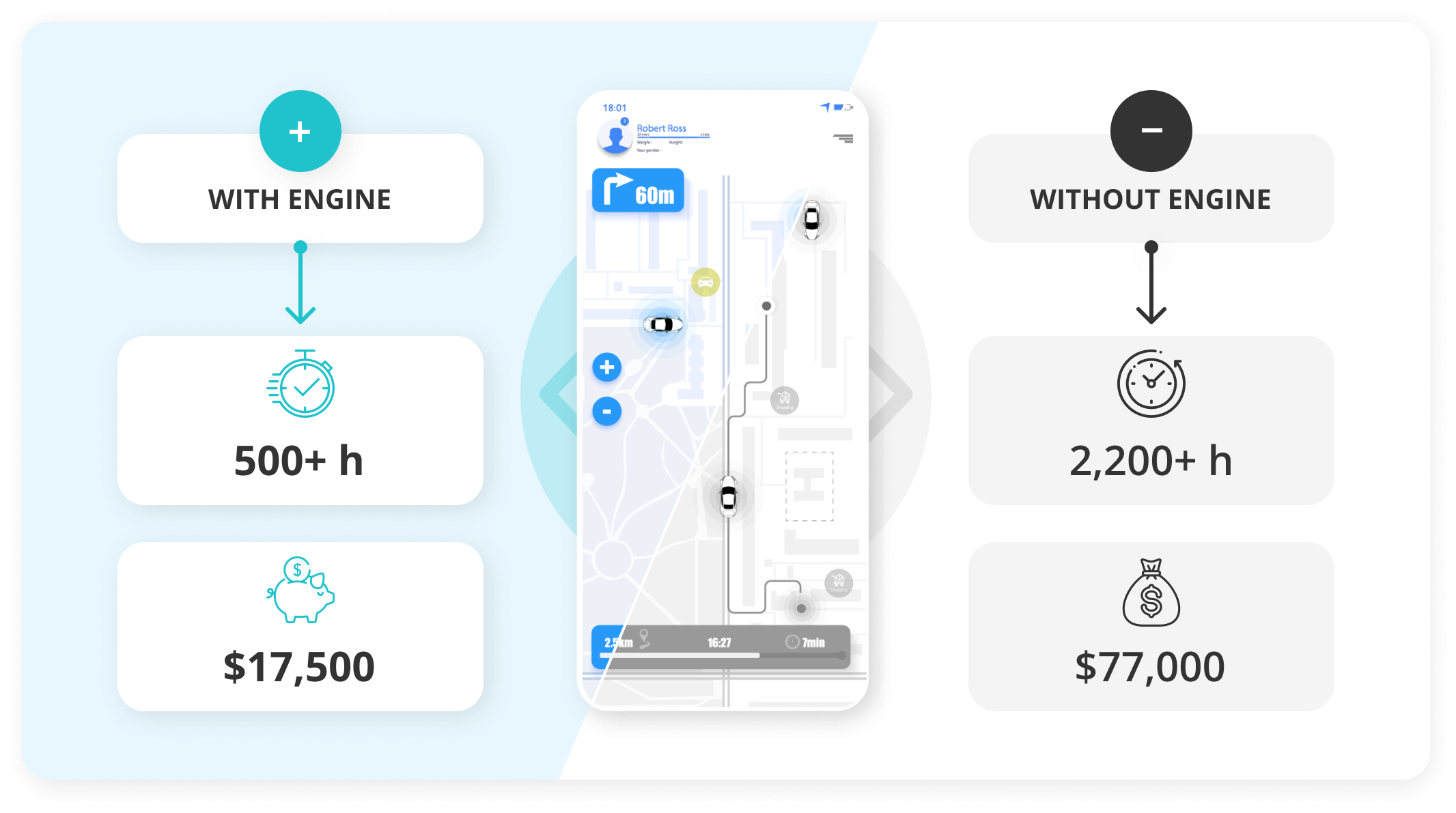 Are you looking for a cost-effective way to provide taxi on demand? Contact us!
contact us
What do you get with an on-demand taxi app?
We have developed a high-quality, thoroughly tested, ready-to-go code base. We adjust it to your requirements, add a design, and publish in app stores.
You benefit from on-demand taxi app development with IT Craft in so many ways:
Fast launch

Development time decreases dramatically. You can start testing your business idea soon.

Customization

You get a unique, custom app with your own branding ensuring you stand out from your competitors.

Scalability

Your on-demand taxi app solution supports a growing number of users to ensure availability of your service.

Third-party integrations

We integrate required third-party modules into your on-demand taxi service.

High performance

Our app code is optimized for all platforms. Your audience enjoys your fast, on-demand taxi app using their favorite device.

Support

Based on your choice, our development team keeps working on app updates and maintenance after its launch responding to all project challenges.
Functionality
The robust IT Craft app engine contains core, software functionality needed to provide users with taxi on demand.
Software consists of the following parts:
app for customers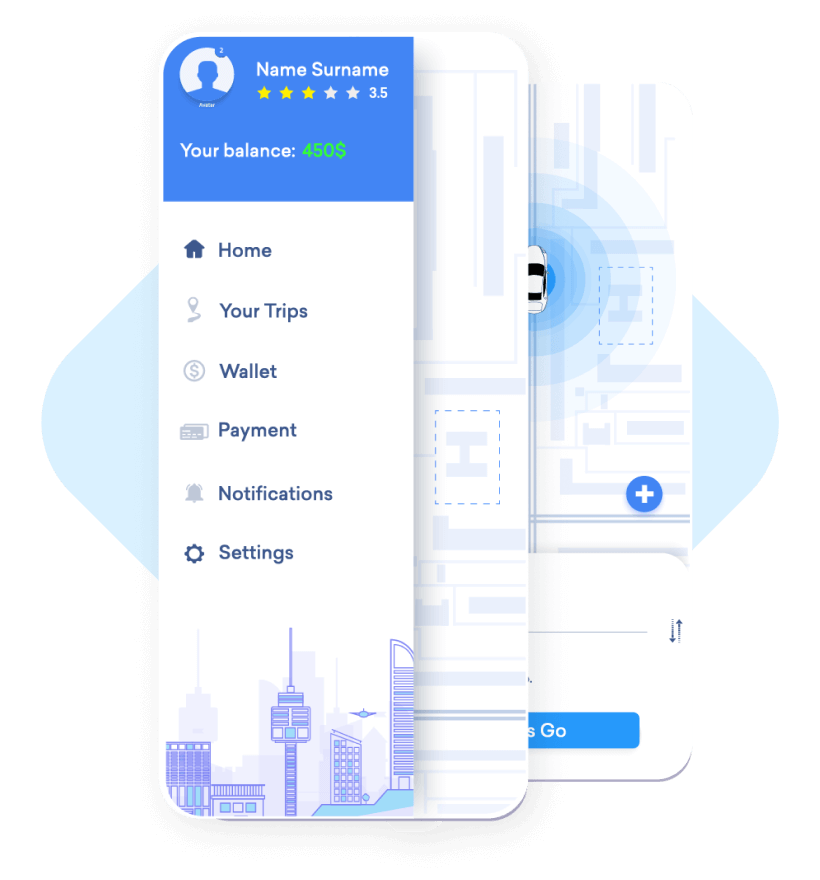 Sign up/Login/Registration using social media/Guest mode

Profile management

Order management

Order status

Notifications

In-app payments

Order history

Live positioning of a taxi driver
app for drivers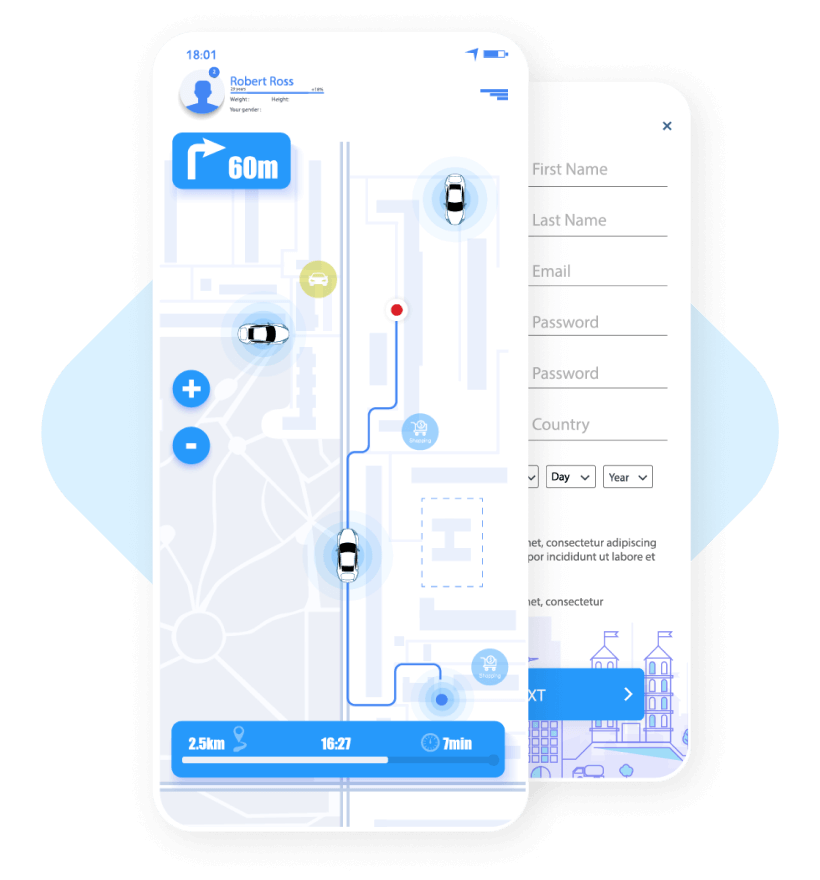 Login

Profile management

Route tracking

Order status

Order details

Order management
Administration panel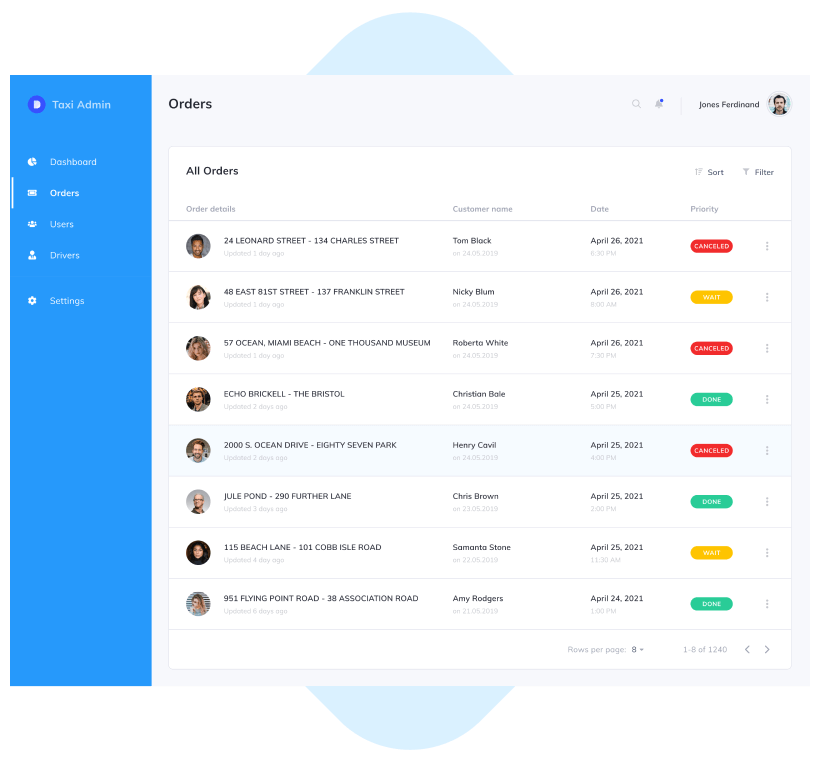 Role management

User management

Scheduling

Order management

General info about the app management
On-demand taxi app development steps
These are the essential steps to launch your on-demand taxi app solution—fast:
Message your idea.

Discuss features and requirements.

Prepare a design for your app. /
Apply your design.

Integrate needed third-party modules.

Test source code.

Deploy on the server. /
Launch in stores.

Start
maintenance.
Do you want to start today? Contact us. It's free!
contact us
Technologies
Language: Kotlin
Architecture: Clean Architecture + MVVM
Logic: Databinding, DI, MVVM
UI: Native
DB: Room Persistence Library
Auth: FB SDK, Firebase signup
API: Rest, Socket IO
Location: Native
Maps: GoogleMap
Payment: Stripe
3rd party: Retrofit2, SocketIO, Stripe, Facebook, RXJava3

Language: Swift
DependencyManager: SPM
Architecture: MVVM + FlowController
Logic: Combine
UI: UIKit, SwiftUI
DB: CoreData
Auth: FB SDK, SignInWithApple
API: Rest, Socket IO
Location: CoreLocation, MapKit
Maps: MapKit
Payment: Stripe
3rd party: Kingfisher, SocketIO, Stripe, Facebook, SwiftLint

Language: Python 3.8
Frameworks: Django 3.1, Django REST Framework 3.12
WEB Server: Gunicorn
DependencyManager: PIP
DB: PostgreSQL
Auth: OAuth2
Payment: Stripe
3rd party: Django MPTT, SocketIO, Celery[redis], Stripe, fcm-django,
django-push-notifications,
django-rest-swagger
Why choose IT Craft as a tech partner for your
on-demand taxi app?
Every non-tech business needs a reliable totally tech-savvy partner to support its clients' digital requirements.
Businesses need a partner to deliver promises made—on time, on budget. IT Craft is known for this.
As an IT Craft client, you get:
The company has been in the software development business for over 20 years helping launch and maintain myriad projects.

You get support and sound advice at every step of your project. You receive your ready-to-use on-demand taxi app that works on all major platforms.

To begin, we only need your app requirements and your signature agreeing to our project plan and estimate. The team starts working on your project straight away. No delays.

Communicate with your dedicated project manager as often as you wish during business hours. Receive Sprint plans and reports. Every step of the way, you know what the team is doing and how much it costs you.

The same development team supervises your project during the post-launch guarantee period. The team ensures your app works flawlessly and eliminates discovered bugs.

Your success is our success. We help find the right solution to your challenges and budget. Size doesn't matter: all our clients get all the tech help needed to launch on time.
Free project discovery
A reliable project roadmap is the key to successful launch. We are here to help.
We help you determine the optimum:
tech stack

budget

project timeline

team size and roles
All at no cost.
Make sure you know what it takes you to launch an app.
Back