Now is a great time to build a marketplace website. And, if you start small (as Amazon did), you can be up and running in 6 – 8 weeks.
Marketplace website development ranges between $13,500 and $176,000 for very minimum 900 and average 1,600 working hours.
The cost to you depends on your list of requirements.
Based on listed web development services, marketplace website development costs range, as follows: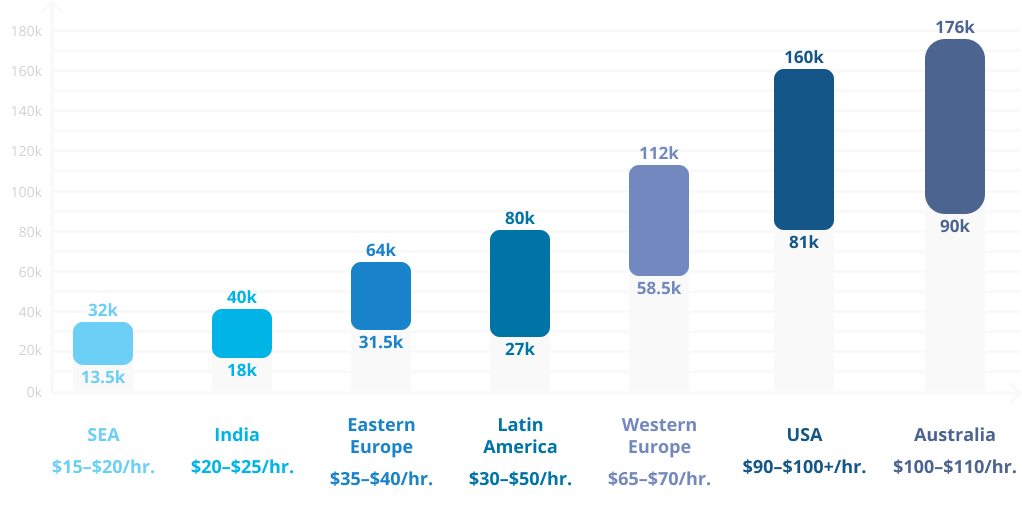 Are these numbers valid? They are.
Do you want to know how we figured them out? Keep reading…
Also included:
basics of marketplace website development
types of marketplaces
common features online marketplaces share
estimates on popular online marketplace websites
Enjoy!
Does every business need an online presence?
Yes, every business needs online marketplace websites in 2020, even small local businesses.
Stores have closed. Customers prefer sheltering at home even when official lockdown orders have ceased.
Home sales drive businesses.
How do businesses display their products for sale? They need a simple set of tools to:

This especially applies to small, local businesses that cannot afford to hire a marketing team or retain a large support team.
Why do customers need online marketplaces?
Customers want:
1) trusted space for safe purchases
2) timely updates from their favorite businesses
open hours
customer-friendly delivery terms
new catalogs and seasonal discounts
Marketplace website development helps connect buyer and seller.
Unlike brick-and-mortar stores, websites are always open – 24/7/365.
What type of online marketplace website do businesses and their customers need?
Users can be divided into three groups. Sellers want a place where they find the right customer for their offer. want a secure place for purchases from trusted sellers. Administrators maintain the marketplace and make changes requested by other user groups.
Users. It is crucial to determine target audience, its roles in the system (buyers, sellers), and motivation to start using a new service.
There are different types of online marketplace websites. There is no universal platform where everyone sells everything. Even Amazon or Kijiji are not exceptions.
Several types of online marketplace websites are possible: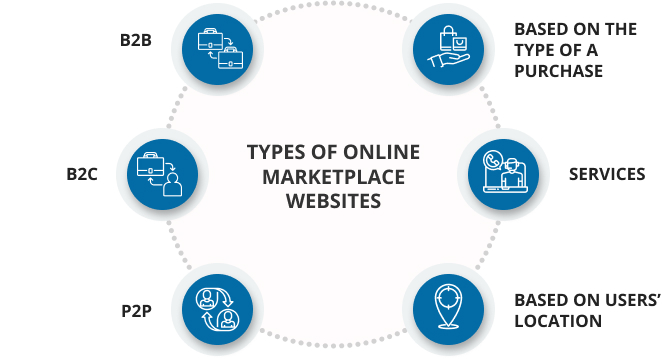 B2B – businesses buy from and sell to other businesses.
B2C – businesses sell to customers.
P2P – users can be buyers and sellers at the same time.
Based on the type of a purchase:
Goods and products – websites can offer all sorts of products or niche down and specialize in trading with certain items (e.g., paintings).
Services– sellers offer their expertise in certain professional activities (e.g., language tutoring).
Based on users' location, online marketplaces can be divided into:
Global – solutions target the entire world.
Regional – marketplace websites serve users from one region (e.g., EU or NA).
Local – these websites operate within a single country, administrative region, or city.
Amateurs or on professionals – marketplace website development can be focused on different user groups.
Can different types be mixed?
Yes, as long as customers buy what they want from a business they can trust. For example, users who want to buy from a local farmer should not end up buying from a big corporation.
The product owner must be aware that all users have equal competitive opportunities.
Hence, the type of online marketplace website depends on the sellers' / buyers' portraits, their needs, and amount of time they have on learning new features.
IT Craft's expertise in development of marketplace websites
XPERTyme

XPERTyme provides a marketplace where users can book video consultations with experts simply with clicks of their mouse. Users have all required functionality, including an extensive search with several refinement criteria. Individual and group calls are possible.

In turn, professionals know they are paid for their services. The system is secure; only authorized users or those who have an invitation link can join the conversation. Moreover, professionals can launch their own platform for billable consultations using XPERTyme as a white-label solution.

Cooperation between XPERTyme and IT Craft started when the startup was looking for a team who could improve source code, complete, and launch an MVP for them. The team focused on core functionality to meet the deadline. After users showed their interest in XPERTyme, functionality was expanded.

MyCarrier

MyCarrier is a Web solution for the logistics industry where users can book and manage less-than-a-truck shipments. They can track, manage, and review—all using one service.

On one hand, the portal makes it possible for clients to cut shipping costs of small deliveries by choosing the best shipment rate. On the other, logistics companies can optimize their expenses with more effective truckloads.

The Web development team started working on the project from scratch. The team used the Agile approach to ensure a consistent software development process. App architecture was designed keeping software maintenance in mind. Wide use of third-party services made meeting the tight deadline possible.
How to build an online marketplace website: feature list and crucial technical points
The idea of an online marketplace supposes there are buyer and seller roles. Plus, there are administrators responsible for the maintenance of user profiles.
Typical marketplace website development includes the following features: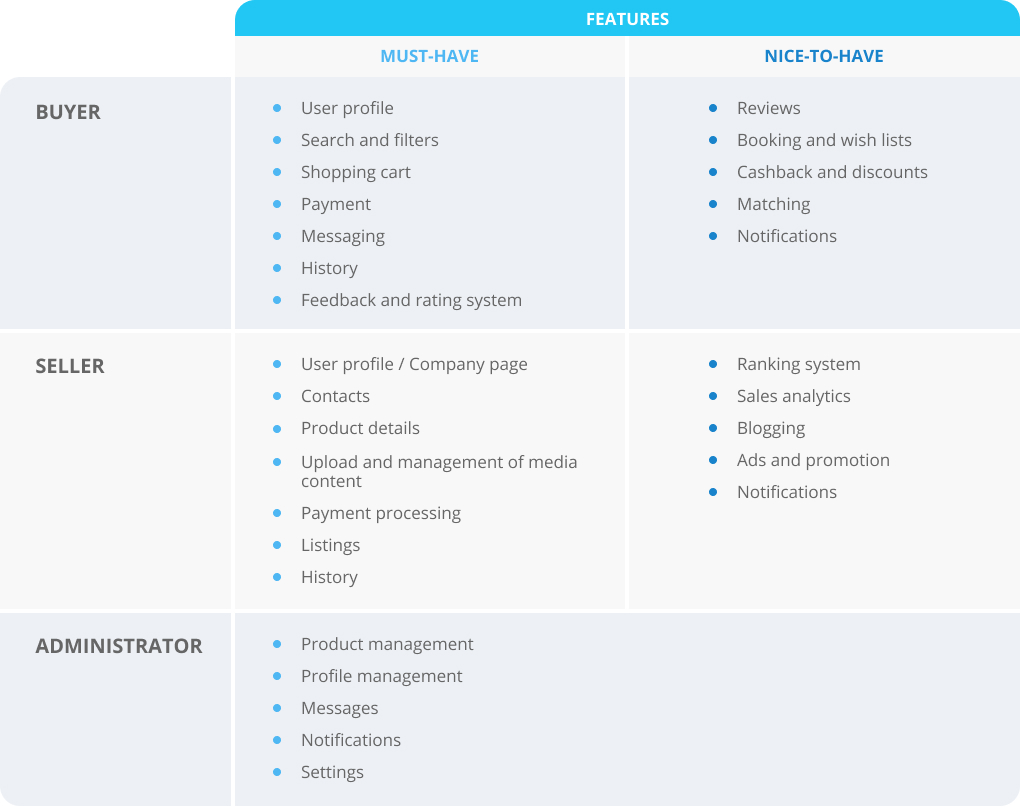 Must-have features mean just that: without those feature, it is impossible to build a well-functioning marketplace website. They form the User Experience (UX) and make it possible to guide both user groups through the entire sales process.

Nice-to-have features help buyers fine tune their search and get extra bonuses. Sellers need extra options to get more visibility on the platform and increase sales.
Also, these technical parameters help a marketplace thrive. The following technical aspects are critical for building a decent marketplace website:
Responsive design

– all users can open it on desktops, tablets, and smartphones. The website must display equally well on different screens.

Security

– website owners must ensure enhanced security, so that there is no lost or hacked personal or financial data.

Reliability

– online marketplace must work equally well for every user. Hence, it requires regular comprehensive performance testing. Do it or lose customers.
These aspects might increase total marketplace website development costs. However, losses due to dissatisfaction of any user group are higher.
Why should product owners focus on building a marketplace MVP?
Building a marketplace MVP saves costs—both time and money.
A quick reminder: an MVP is a basic version of a product. It functions, but only contains the core feature set, nothing extra.
Amazon is an amazing example of an MVP. It started as an online marketplace for books. Amazon offered the best choice and the best delivery terms as the core difference from its competitors.
When Amazon's idea proved to be correct, the business scaled fast. Amazon added new features and expanded to new categories. It started as a marketplace website development and gradually grew to be the most valuable retailer in the US.

An MVP marketplace makes it possible to verify a product idea with a relatively low budget. Since product owners do not order a fully featured solution, they do not pay for features their users might not actually need.
It is easier to turn the MVP into a fully-featured product after you get feedback from real buyers and sellers. You analyze feedback; you add what people want. You save development costs.
Why would it make sense to opt for a Web-based MVP marketplace rather than a mobile app? A website is less expensive to develop and maintain. It can be accessed from all digital devices.
In its turn, a mobile app would be the best option for an established marketplace business. In this case, mobile apps are the next step in product evolution. They help buyers and sellers who regularly access the online marketplace from smartphones.
How much does marketplace website development cost?
As listed above, an average marketplace website project takes 900 – 1,600 hours. Usually, it takes 1,520 hours for "standard" functionality. Multiply this number by the company's hourly rate and you get a rough estimate of costs needed to build and launch a marketplace website.
Marketplace website development includes several steps with the median workload:
Apart from must-have features, you can have custom-developed killer features. What would you like?
Choose from the following—and more!
Special algorithms for best price calculation
Cashback and discounts
Location-based promos and notifications
Detailed filters and ratings
AI-based recommendations system
An enhanced anti-fraud system
With the above, developers estimate them separately. Custom features always have a low degree of predictability.
Businesses should add 15 – 20 % to the cost of marketplace development when planning their budget. This is the amount businesses ought to spend on website maintenance. Marketplaces need proper maintenance to remain secure and available 24/7/365 for everyone. Maintenance includes costs of servers, upgrades and updates, third-party subscriptions, and scalability.
Also, marketplace website development costs vary from project to project. Even more, estimates and total development costs might be different due to unexpected challenges. Be prepared for flexible budgeting.
Are you curious how much it would take to develop software similar to a well-known product? Below are estimates for renown marketplaces:

What are some top tips on successful development of online marketplace websites?
There is plenty of advice on how to build a successful online marketplace.
Here are the most crucial points to help you along the path from idea to software release.
1 Start small
You definitely have many options. There are myriad ways to help people start selling on your platform. However, it would be too expensive to implement them all at once. Therefore, it is best to start with an MVP.
Focus on your core idea.
Launch as soon as possible.
Get user feedback.
Tailor V2 based on user feedback.
2 Find a reliable team
Marketplace website development costs might look too expensive. However, you should not opt for the cheapest price on the market. There is a reason when nine out of ten other companies quote higher than you. You can hire an inexperienced team incapable of implementing your idea. Then you end up with a pile of scrappy source code that will never work.
Here is an instruction on finding a reliable development team.
3 Invest in communication
Unfortunately, no team can guarantee you results if they do not understand what they are meant to be doing. You must invest your time in regular communication with your team. Explain your ideas and expectations. This will help your team build THE marketplace website you want.
From IT Craft's experience, product owners receive the best results when they participate in both planning and introspection, and when they give their feedback throughout the software development stage.
4 Keep pace with your plans
It takes time to launch an online marketplace website. It takes time and effort to build a place where people buy and sell. A place, which they are excited to recommend to their colleagues and friends. If you really want to create such a place, the best time to start is today. Keep doing it regularly until you get the result.
5 Be flexible
It might happen that you launch, get feedback, and it turns out that this is not exactly what users want. Learn from their feedback and introduce new features. Keep trying until you figure out the right scheme. If you opt for a team of professionals, this will not be hard. Experienced software development teams build solutions that are easy to extend and easy to manage.
To sum up, online marketplaces are popular. Their popularity is skyrocketing now. Soon, they will be the go-to choice for shoppers. Small and micro businesses need online marketplaces to meet customers who cannot visit their stores. They need a platform where they can easily launch a home page, a catalog, and start promotional activities quickly.
You can help them make it happen.
Popular questions on marketplace website development

Costs for software development keep going up. The reason is simple. Supply and demand. Large businesses and enterprises hire a huge proportion of the best talents and heat up the market. Many companies keep raising salaries to retain their employees. And when salaries go up, hourly rates usually increase.

But not everywhere and not with every company.

Here is the good news: IT Craft's hourly rate has not changed since 2018! It remains the same as it was in 2019 and in 2018.

How can IT Craft manage high quality and keep costs down? We are an outsourcing software development provider located in a cost-effective region. Top quality, keen minds—for less.

There are two possible ways to build an online marketplace website: you can either use an existing online platform or you can build a marketplace from scratch. The choice depends on your budget and goals. Using an online platform helps you save on design and development of basic features. However, if you want a website with custom functionality, we suggest you choose custom website development.

The costs to develop a marketplace app depend on the type of app (Web, hybrid, native, or cross-platform). It takes on average 1,520 hours to design and launch a marketplace app. If you already have an online marketplace and an API, you can save on back-end development. Please note: if you opt for native app development, you will need two separate apps for iOS and Android (read more about costs of mobile app development).

As above, it takes approximately 1,700 working hours to develop minimum functionality for an eBay-like website. Do the math: calculate developers' hourly rates x hours needed and you get the number. Attention: these numbers will skyrocket if you have custom features on your feature list, want an integration with a specific, less-common third-party service, or expect high load from the beginning.

Here is a question for you: why do you want to build the next eBay? How will your audience want to use your marketplace? How will they benefit?

We suggest you build a marketplace website based on your own idea and design.