Xamarin Mobile App Development
Xamarin is a framework for cross platform mobile development (iOS, Android, Mac and Windows) and is one of the most advanced ones. While Xamarin is aimed to code applications using the C# programming language, it is possible to use almost all the native libraries of both Android & iOS.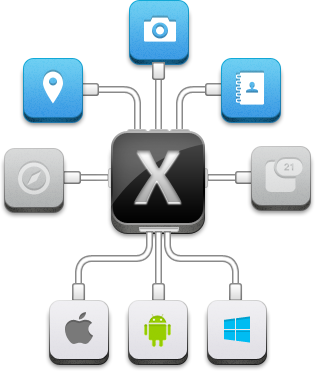 Using Xamarin is beneficial when there is a need to shorten development time and effort required to launch a project with two or more native user interfaces. An app can be easier deployed since Xamarin shares much of the source code and the app logic on several platforms.
Xamarin benefits:
Cross Platform: the framework targets all major mobile platforms (e.g., Android, iOS, Mac, Windows).
Code sharing: Xamarin allows sharing about 75% of code across different platforms with the use of same language, APIs and structures. Moreover, when using Xamarin.Forms for UI design you can share even more code.
Customizable thanks to native design: It is easier to make the app look native (and perform native) since Xamarin uses native API access as well as native components for UI on all major platforms.
Performance: Xamarin is integrated with SDKs of all OS's, which is why Xamarin-based apps have no performance loss. There are no issues with the app size as well.
Full support: Xamarin provides access to device-specific features and components like camera, accelerometer, GPS etc.
When Xamarin is worth considering:
the target is two or more operating systems while you want not to lose in performance or design customization
use native controls for certain platforms but do not want to multiply the codebase
share code, data or logic with minimum effort
What we offer:
experienced developer team
focus on our customers' goals
customer-oriented approach (you take part in the development)
transparency throughout the development process
support of the launched apps
We design high performance cross platform web development best suited to your needs.
How it works?
Contact Us